Market volatility as Russia moves on Ukraine
---
Volatility has spiked again as Russia deploys troops into separatist territories in Ukraine.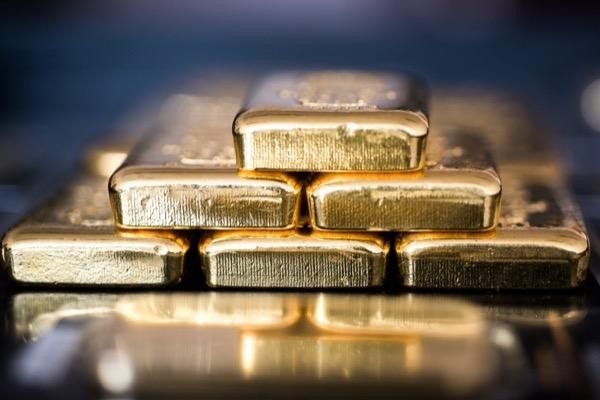 Source: Bloomberg
After weeks of speculation, brinkmanship and hot-and-cold rhetoric, Russia has breached Ukrainian borders, in a move described by Russian officials as a "peacekeeping" mission in separatist run territories of the country. For the markets, the concern remains what impact such a conflict will have on fragile energy markets, Europeans economic growth, and the broader financial system if sanctions are slapped on Russia. The situation remains fluid and dynamic; market participants, as a result, are finding it difficult to price-in the risks associated with it. But one major fear now is that troops lined up along the Belarusian border could be deployed to overrun Kiev and overthrow the Ukrainian government. Here are 4 key markets that are experiencing volatility around this event.
Oil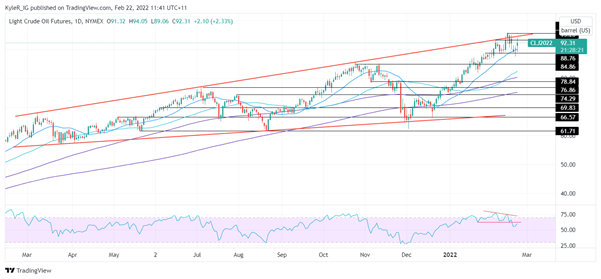 Source: IG
Oil prices have surged this morning, after what was a brief pullback on de-escalating tensions in recent days, to rebound and make a fresh move towards $US100 per barrel. For WTI, price has yet to make a new high. But with the heightened prospect of sanctions Russia and freeze of gas exports to Europe, the knock-on effect to broader energy markets will likely see crude push materially higher for as long as this conflict persists. The first major level of resistance looks to be around $93.25, before the market's recent high at 95.60 opens up. Key support seems to be around WTI's 20-day MA.
Gold
Source: IG
The risk of sanctions and flight to alternative stores of value has fuelled gold, which is forming a short-term uptrend now. Sanctions mean the effective locking out of Russia from the global financial system as well as SWIFT – the global payments system – rendering some currency reserves obsolete. Having broken resistance at $US1850 and $US1880, gold is running into resistance at $US1910 now. Should that level break, a run towards $US1960 may open. The aforementioned levels of previous resistance will likely become technical support for the commodity.
EURUSD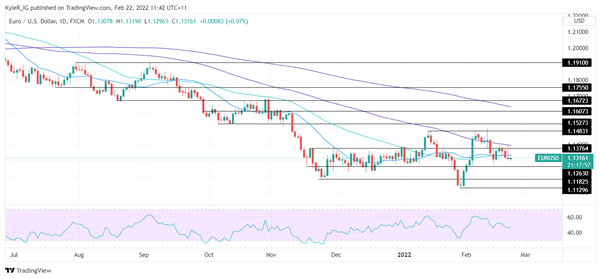 Source: IG
Despite the prospect of war in Europe, which would have a major impact on Eurozone growth, the EURUSD has held up reasonably well, only dipping marginally following the news of Russia's push into Ukraine. The trend, and risk broadly, appears skewed to the downside right now for the EURUSD. However, as traders re-evaluate the prospect of rate hikes across the globe, the pair continues to oscillate around the 20 and 50 daily MAs. Major support can be found around 1.1260 for the pair now, while on the upside, resistance can be found at roughly 1.1380 and the 100-day MA.
DAX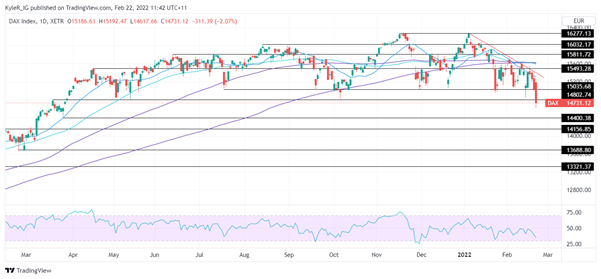 Source: IG
European stocks kicked-off the week with steep losses, and are likely to open lower again this evening (based on early indications), with the German DAX tumbling more than 2%. A war in Ukraine would be disastrous for the German economy, with the likely drop in growth, but elevated inflationary pressures from a probably energy shock, hitting company profits, and limiting the ECB's ability to provide monetary stimulus. The DAX plunged through key support at 15,000 and 14,800 overnight, with the next key level to watch support at 14,000. Previous support levels will be watched as the major levels of resistance.
Kyle Rodda | Market Analyst, Australia
22 February 2022