Sea Limited share price is down 60%, will it bounce back after Q4 earnings?
---
Sea Limited's share price has been on the slide since October 2021 with the price now only 37% to its peak. Is it time to buy a dip?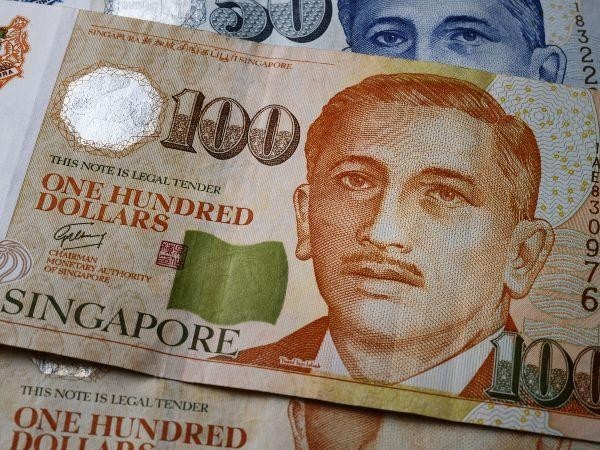 Source: Bloomberg
Sea Limited is a leading global consumer internet company founded in Singapore. With three core businesses across digital entertainment, e-commerce, and digital payments and financial services, known as Garena, Shopee, and SeaMoney. Shopee, its most popular e-commerce app, was ranked second by average MAUs (monthly active users) on Google Play in the shopping category globally.
When is Q4 earnings date?
Sea Limited is expected to report its last quarterly earnings on March 1st, 2022 before the market opens. The report will be for the fiscal Quarter ending Dec 2021. The market expects its upcoming EPS for the Quarter to be $-1.21, lower than last year's same period at $-1.06.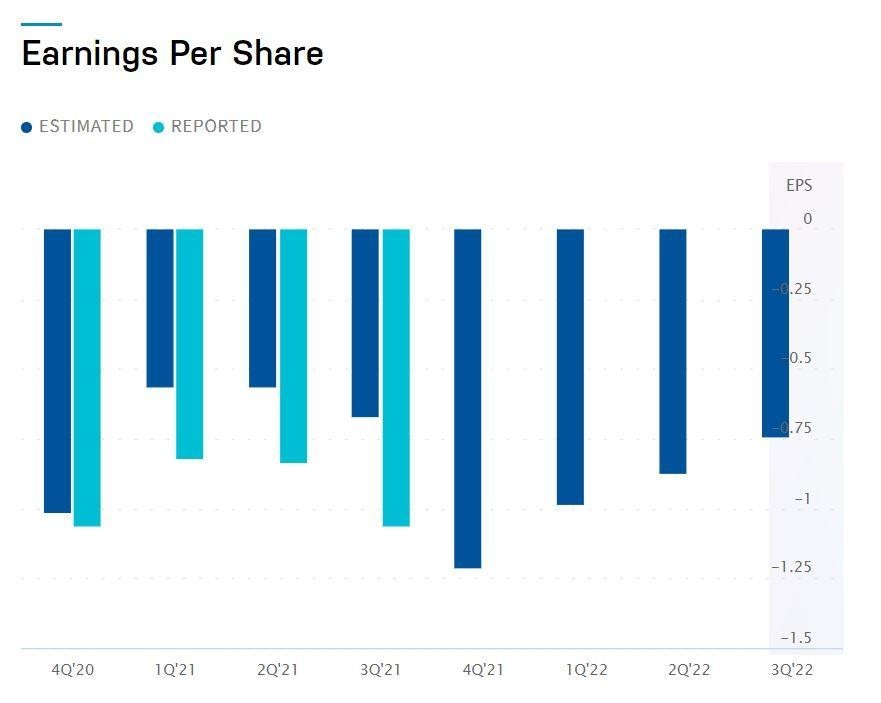 Source: Nasdaq
What happened to SEA share price?
The New York exchange-listed that Sea Limited has been on the slide since last October, and its share price is now only 37% (approx $138) to its peak ($372). Things got even worse this month as the Indian government decided to ban Free Fire, Sea Limited's most popular mobile game in their country. The major player in gaming took an 18% hit to the announcement.
While SEA is a Singapore-based company, its business structure has a strong connection with China. The relationship between SEA and Tencent Holdings – a leading Chinese tech company, that owns a considerable portion of Sea Limited shares, is the primary reason to make Indian authorities worried about the company's ability to obtain Indian consumer data.
Is Sea's stock a bargain-buy now?
From an investment point of view, below are the three red flags for risk-takers who are interested in buying a bargain from SEA's recent tumble.
Industry outlook
Since the start of the pandemic, the global demand for remote shopping has turbo-powered the boom of e-commerce, which has driven SEA's revenue from the e-commerce segment up by 134% year-over-year (based on its recent earnings). However, after two years of explosive growth, it will be harder for the company to maintain its current speed as the industry becomes more competitive. Moreover, the consumer sentiment is poised to move lower under the inflationary economy cycle.
Regional risks
Geographic diversity is often viewed as SEA's competitive advantage as its e-commerce website "Shopee" is one of the most popular e-commerce sites in Southeast Asia and Latin America and operates in 16 countries worldwide. However, that also means that its business will be exposed to various risks across different regions. India's recent app ban is a typical example. Apart from that, the Chinese government's recent clampdown on the online games and financial system is undoubtedly not good news for SEA's expansion, considering those are two of SEA's most important business segments.
Financial balance sheet
Based on the company's Q3 earnings, the group has increased its loss size by a jaw-dropping 29% yearly, even though the revenue has pumped up by 122%. From the business's sustainability perspective, with the upcoming interest rate hikes and tightening monetary policies, this debt-fuel expansion strategy that SEA applies now may become a significant risk for the company in the near future.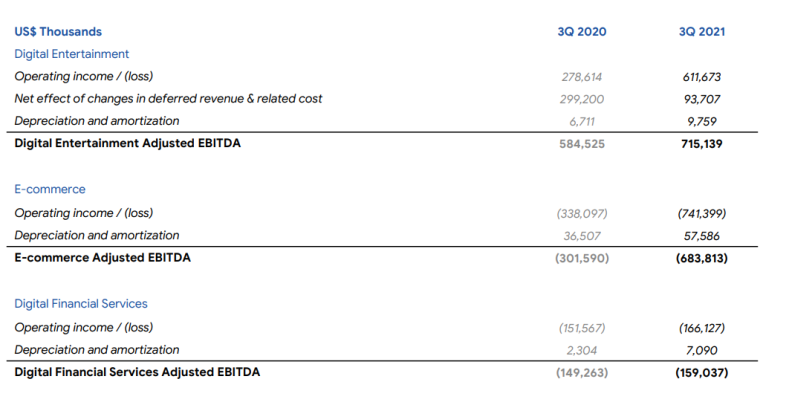 Source: Company Q3 earnings report
Technical Analysis
Up to the time of writing, the price of SEA shares has dropped back to its level in Aug 2020. Current support level sits at $127.8. A descending moving channel formed since the start of the new year might see the price slip to the next support near $100. The bear momentum will likely remain at play for the mid-term as both weekly and daily RSI have been hovering around the 30 oversold levels.
For those buyers looking for a rebound, a gap above the current level between $149.5 to $158.2 needs to be filled before challenging the upper boundary of the moving channel at $163 to reverse the downward trend.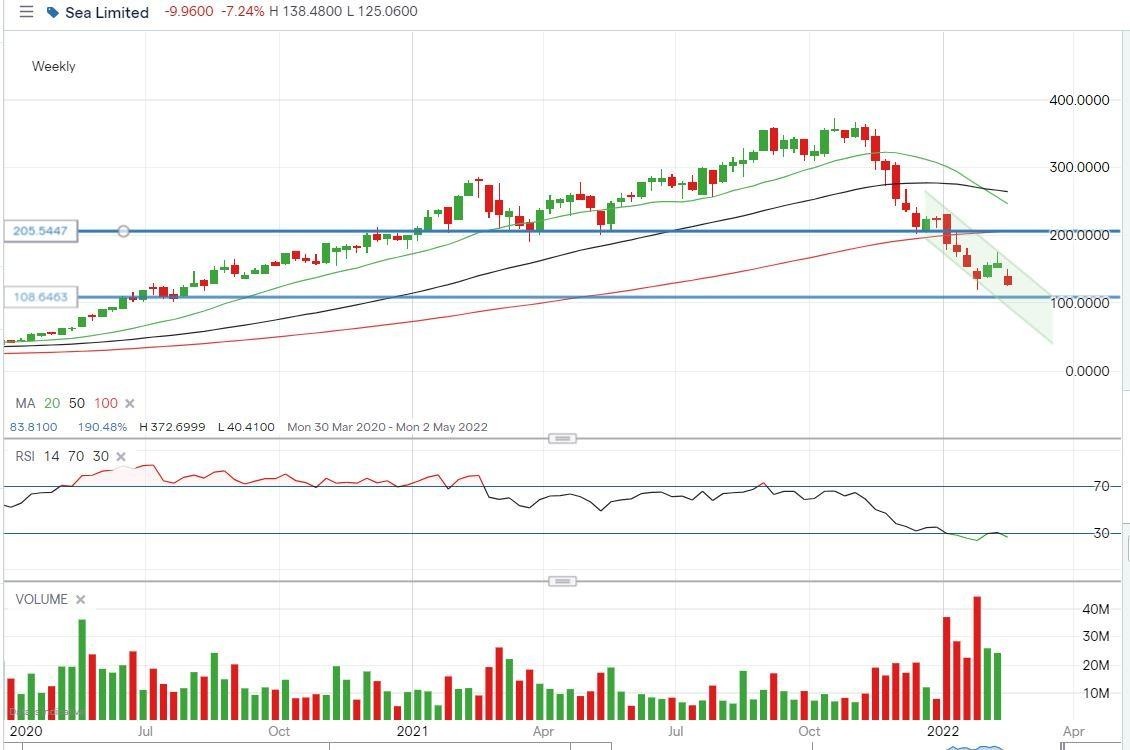 Source: IG
Source: IG
Take your position on over 13,000 local and international shares via CFDs or share trading – and trade it all seamlessly from the one account. Learn more about share CFDs or shares trading with us, or open an account to get started today.