Where to next for Walgreens shares as owner abandons sale of Boots chain?
---
Is the Walgreens share price likely to continue its slide as it halts the sale of Boots?
Source: Bloomberg
Detrimental financial conditions made Walgreens pull the plug on its Boots sale
Citing tougher financial conditions following the upheaval in credit markets, Walgreens Boots Alliance, the owner of the UK pharmacy and beauty group Boots, announced on Tuesday that it has abandoned its sale of Britain's biggest chemist as recent bids didn't meet its expectations.
The US pharmacy company said on Tuesday that while there had been "significant interest" in the near 175-year-old business, it "has decided that it is in the best interests of shareholders to keep focusing on the further growth and profitability of the two businesses" and that an "unexpected and dramatic change" in the financial markets meant no offers had been received that reflected the potential value of Boots.
Boots and its related No.7 beauty brand account for around five per cent of its parent's $132 billion in annual sales. American pharmaceutical company, Walgreens has been looking to sell its UK Boots and No.7 beauty brand since the end of 2021, with a formal review of its options beginning in January of this year.
However, Russia's invasion of Ukraine, followed by rapidly rising interest rates in both the US and the UK, have made it very difficult for new issuers to operate within Europe's high-yield credit market since financing any highly leveraged bids has become very costly.
Walgreens had apparently been looking for as much as £10bn when it initially put Boots up for sale, as it sought to focus on its US businesses but after several failed bids, some apparently coming close to their valuation earlier this year, it finally pulled the plug on the Boots sale as the financial environment for bids worsened. "As a result of market instability severely impacting financing availability, no third party has been able to make an offer that adequately reflects the high potential value of Boots and No.7 Beauty Company", the company stated.
Walgreens insisted, however, that the abandoned sale of Boots should not reflect badly on the performance of the main UK chemist or the No.7 brand, saying they were continuing to grow and perform strongly.
The US Boots owner also assured investors that it would continue to invest in the company, which has "exceeded expectations despite challenging conditions".
Despite halting the Boots sale at present, Walgreens' chief executive, Rosalind Brewer, signalled that the company will "stay open to all opportunities to maximise shareholder value."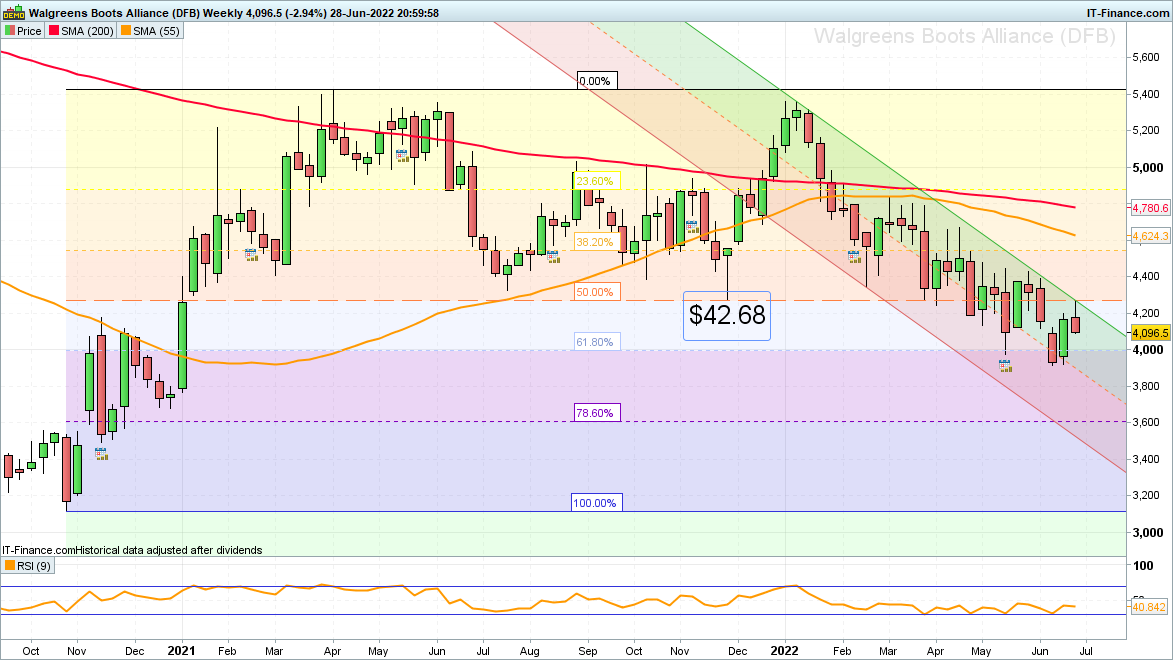 Source: ProRealTime
Where to next for the Walgreens Boots Alliance share price?
With the Walgreens share price down around 20% year-to-date and evolving in a clearly defined downtrend channel since the beginning of the year, and having this week topped out near its November 2021 low at $42.68 on the news that Boots is no longer up for sale, further downside looks to be in store.
While the 55-day simple moving average (SMA) continues to cap the share price on a daily chart closing basis, as it has been doing since mid-February, the current June low at $39.15 remains in focus.
If slid through, the late December 2020 low at $36.79 will be next in line, followed by the 78.6% Fibonacci retracement of the 2020-to-2021 advance at $36.15.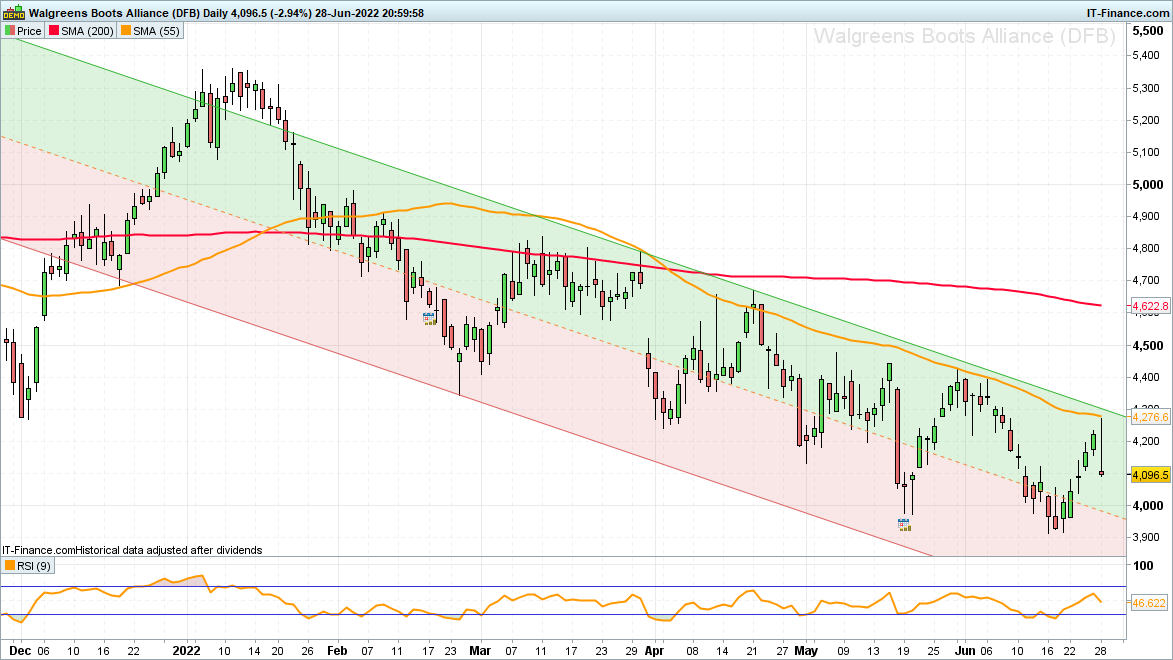 Source: ProRealTime
Since one can clearly make out a series of lower highs and lower lows – the definition of a downtrend – the technical picture for Walgreens remains negative for now.
For the downtrend to be broken and reversed at least two daily chart higher highs and higher lows would need to be seen and take the Walgreens share price to above not only this week's high but also above the May and current June highs at $43.95 to $44.75. Only then could one envisage the 200-day SMA at $46.22 being back in sight.
Below it the Walgreens stock is considered to be in bear market territory. Unless such a bullish reversal is seen in the days and weeks to come, further slides in the Walgreens share price are likely to ensue.
Axel Rudolph | Market Analyst, London
29 June 2022