Introducing UniSwap and how it trades
---
We look at what makes UniSwap different, what drives its price, and its recent price action.
In this week's article, we shine a light on UniSwap. We look at what it is, what drives its price, and what the charts might suggest about where it may head next.
What is Uniswap?
According to its website, UniSwap is an 'open-source protocol for providing liquidity and trading ERC20 tokens on Ethereum'. The network has been established to eliminate traditional intermediaries and 'unnecessary forms of rent extraction,' creating a secure and efficient alternative to existing exchanges.
UniSwap's major point of difference is its capacity to create liquidity pools for digital assets. A liquidity pool is a digital collection of cryptocurrency secured by a smart contract.
As we have discussed here in the past, a smart contract is a self-executing line of code with the terms of an agreement between buyer and seller automatically verified and executed via a computer network. So, UniSwap allows cryptocurrency traders to swap tokens efficiently and securely, and without the need to match a buyer to every seller.
As of October 2022, UniSwap has seen $1.2 trillion in trade volume and processed 112 million+ trades. It has also integrated more than 300 decentralized apps onto the platform.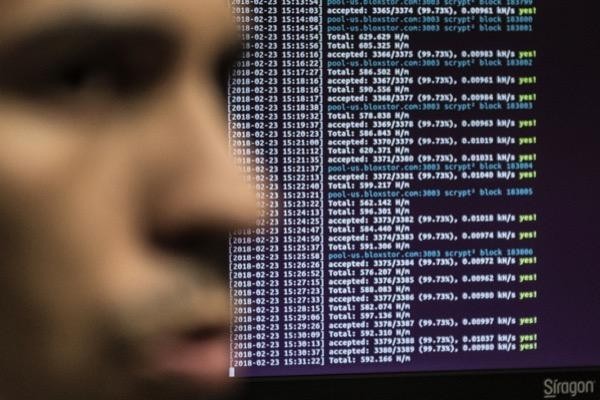 Source: Bloomberg
What moves UniSwap prices?
As we have discussed here in the past, all crypto-assets move in sympathy with monetary policy expectations and general market sentiment. UniSwap is no exception. However, unlike some cryptocurrencies, UniSwap is designed to be more than an alternative asset or form of money.
It has been created to improve and add value to the broader cryptocurrency ecosystem.
Assuming that it protects its dominant market position, UniSwap is a network that ought to benefit from growth in the cryptocurrency ecosystem and the subsequent higher transaction volumes. That will rely on a greater number of applications utilizing Uniswap Because it operates on the Ethereum network, UniSwap's fundamental success will also be driven by its expansion and adoption.
Technical analysis of UniSwap
As mentioned, UniSwap trades in line with sentiment in cryptocurrency markets. As result, it remains in a clear downtrend, after hitting its all-time high during the crypto bubble of early 2021.
Compared to its larger counterparts, UniSwap's price action looks more constructive in the bigger picture. The daily charts are indicating a nascent turnaround in momentum, with the daily RSI moving higher and through the 50-level.
Price is also testing the 50, 100, and 200-day moving averages, a breakthrough that would be a bullish signal. Resistance is just above current prices at about 6.78, which could open a rally towards the 8.00 level. Support is likely around the 20-day MA, and below that, just above 5.00.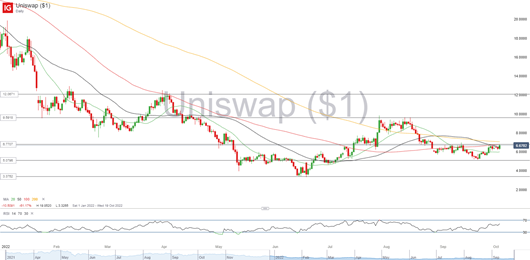 Source: IG
1