This week in Crypto: Musk pushes Doge
---
What's happening in the crypto universe?
Risk sentiment is improving and crypto assets are finding a bid. In this week's Crypto Verse, we take a look at what's happening in the crypto universe, with a focus on Bitcoin, Ethereum, and Dogecoin.
What happened last week in crypto markets?
Risk appetite was stoked last week by hopes of a slowdown in the pace of US rate hikes, along with speculation that China's dynamic-zero COVID-19 policy could be eased. That simultaneously led to hope about the outlook for global growth and weakened the US dollar, which boosted the value of cryptocurrencies.
Volatility continues to decline across markets - although bond and stock market volatility remain at levels typical of an uncertain economic backdrop. As we have noted here in the past, cryptocurrency volatility has diverged from the VIX and MOVE Index, with many of the major tokens trading within relatively tight ranges.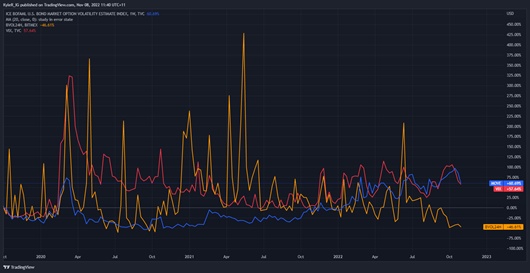 Source: TradingView
Dogecoin was the outperformer amongst the major crypto-assets. It rose 100% in a single day after the execution of Elon Musk's takeover of Twitter ignited speculation that the token could be integrated into the platform.
Musk stoked the rally by posting several provocative tweets, including a Shibu Inu wearing a Twitter-branded tee shirt.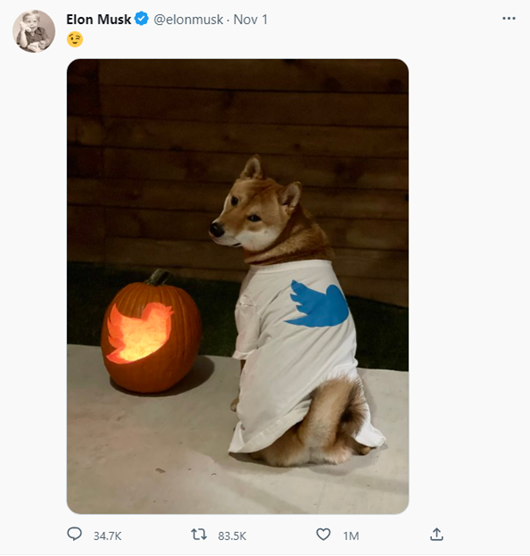 Source: @elonmusk
Three markets to watch
The price of Bitcoin remains rangebound. However, given the volatile and bearish market backdrop, crypto has proven relatively resilient. Price continues to hold above its previous cycle highs, forming a strong area of technical support of around $18,000.
The weekly RSI is pointing to signs of bullish divergence, with the price moving above the 20-week moving average. Major resistance sits around $25,500. A break below $18,000 could open a drop towards $US14,000.
Bitcoin weekly chart
Source: IG
Ether charts are looking relatively constructive, and relatively more bullish than that of Bitcoin. Price action is carving out higher lows, while a major trendline resistance level has been broken.
The weekly RSI is pushing towards 50, while the price is above the 20-week moving average. Resistance from here could be around $US1700, while support may come around the 200-week MA and the market's most recent low just above $US1200.
Ether weekly chart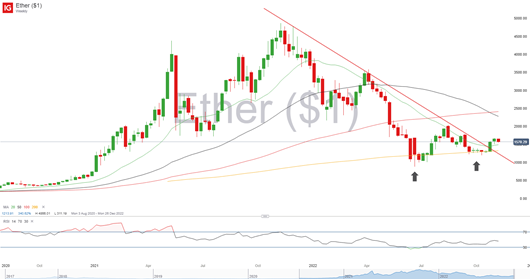 Source: IG
Elon Musk's acquisition of Twitter and recent Tweeting set off a remarkable surge in Dogecoin. The rally pushed the crypto to a seven-month high, with the price pulling back from extremely oversold reading in recent days.
There appears buying support at around 0.11, which could open a drop to around 0.9000 if that level breaks. A lot of selling came through the market between 0.14 and 0.16 following Dogecoin's recent rally.
Dogecoin weekly chart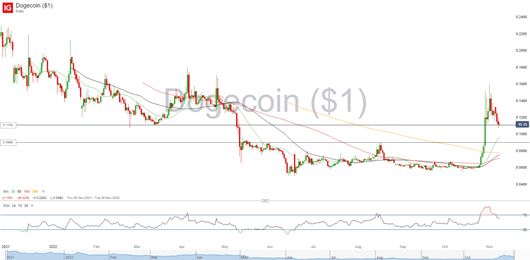 Source: IG