This week in Crypto: explaining the FTX collapse
---
The price of Bitcoin and other cryptocurrencies has fallen after the collapse of crypto exchange FTX.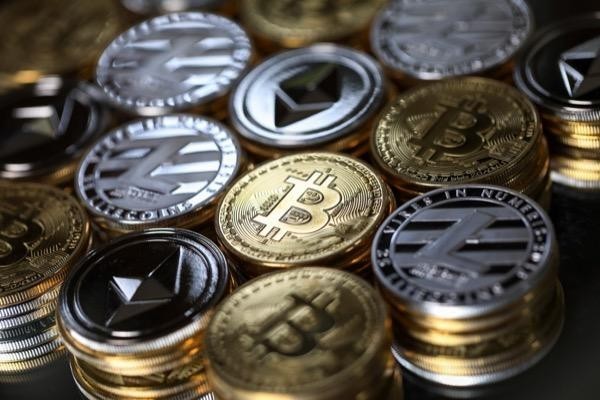 Source: Bloomberg
A truism in financial markets is that periods of low volatility beget periods of high volatility. After a period of remarkably low volatility, wild price action in the crypto space has violently re-emerged.
In this week's Crypto Verse, we look at the crisis in crypto set off by the FTX collapse, and how it is impacting the price of Bitcoin and the Crypto 10 Index.
What's happening with FTX?
For the uninitiated, FTX was the second-largest crypto exchange in the world. Led by its (once) venerated CEO and founder, Sam Bankman-Fried, the company was estimated to be worth more than $US20 billion at its peak.
Promoted by celebrities, advertised heavily, and with connections deep in US politics, FTX became a household name during the crypto boom. Bankman-Fried himself became something of a celebrity, attracting attention because of his rapid rise to billionaire status and philanthropic endeavours.
As the second biggest player in its industry, only behind rival exchange Binance, FTX was broadly considered a safe and mainstream way to trade cryptocurrencies.
It was a platform judged to be more closely tied to traditional finance as a centralized exchange, with the company - arguably perversely - advocating for greater regulation of the crypto industry.
Cracks began to appear last week, however, following a report by crypto news site CoinDesk that Alameda Research, a crypto hedge owned by FTX, was suffering considerable losses (many tied to bailing out other failing crypto funds) and had racked up massive liabilities by borrowing against the value of FTX's own token, FTT.
A problem emerged.
If FTT dropped in value, it would risk the ability of Alameda to meet its obligations, and potentially lead to a crash in the fund.
After becoming privy to the news, Binance founder and CEO (and apparent rival of Sam Bankman-Fried), Changpeng Zhao, announced on Twitter his company would be liquidating its holdings of FTT.
The dynamic set off a classic panic in the crypto market. Concerned that the dumping of so much FTT would lead to a major drop in its price, market participants, many of whom were large institutions, began to dump FTT, too.
A death spiral emerged for the token as traders rushed to the exits.
As the crisis unfolded, Sam Bankman-Fried took to Twitter to allay any fears that Alameda, and therefore FTX, was facing a liquidity crisis. In a Tweet, since deleted, Bankman-Fried wrote: "FTX is fine. Assets are fine."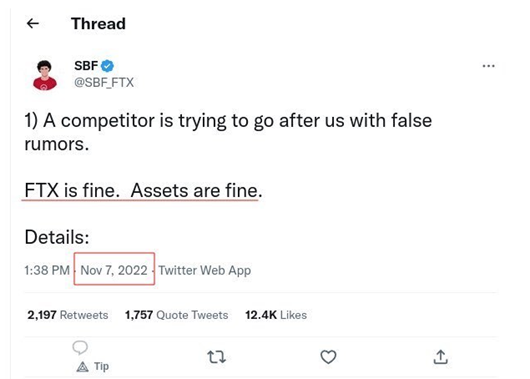 Source: @SBF_FTX, Twitter
It quickly became apparent that this was not the case. To secure liquidity and save his firm, Bankman-Fried turned to Changpeng Zhao to organise a complete acquisition of FTX by Binance.
However, after getting a look at FTX's books, Zhao withdrew his offer.
Given the severity of the so-called "crypto winter", and the huge losses that the hedge fund had sustained, it was clear that both Alameda and FTX were unsalvageable.
FTX filed for Chapter 11 bankruptcy in the US and headed for total collapse. The tokens that it owned or underwrote plummeted in value, precipitating a drop in other crypto assets as investors sold them off to cover losses, or simply to reduce exposure to an increasingly uncertain market.
The situation continues to unfold.
But in recent days, Sam Bankman-Fried has been investigated by authorities in the Bahamas and has continued to search for funds to restore clients' funds and save his empire.
Millions of dollars have also evaporated from FTX in a mysterious "hack"
A look at Bitcoin and the Crypto 10 Index
Bitcoin prices have broken a significant level of support following the spike in volatility caused by the FTX collapse. Prices dropped to as low as $15,585, before rebounding slightly in recent days.
The price of the crypto remains below technical support and the previous cycle high of around $18,000, with the next key level of support a zone between $12,000 and $14,000.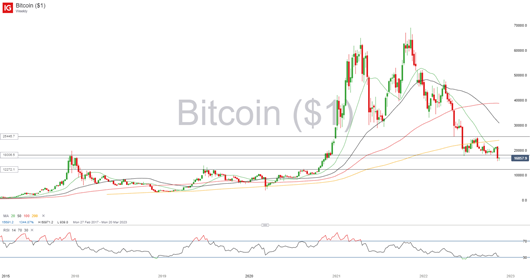 Source: IG
Despite the collapse in crypto prices, the IG Crypto 10 Index has not made any new lows. The trend is clearly to the downside.
However, the index has yet to test support at roughly 5100.
A break of that level could precipitate accelerated selling and downward momentum. Sellers appear to emerge above the 200-week MA.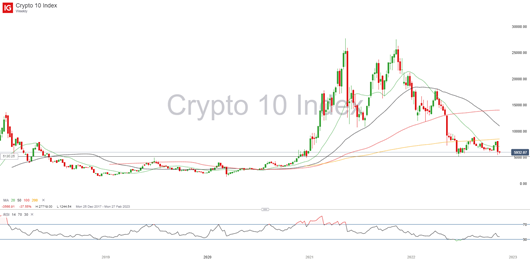 Source: IG