The crypto universe: FTX collapse
---
What's happening in the crypto universe?
The fall-out from the FTX collapse continues. In this week's crypto verse, we share the latest goings on in the market, and look at price action across Bitcoin, Ether, and Dogecoin.
The fall-out continues
The crypto universe remains enveloped by the FTX scandal. Details continue to emerge about the fraudulent behaviour of the exchange, with the new CEO of the company, John J. Ray III, a former Enron executive who is responsible for winding-up the business, stating: "Never in my career have I seen such a complete failure of corporate controls and such a complete absence of trustworthy financial information as occurred here."
Fears of contagion remain elevated in the crypto-world. Brokerage Genesis is reportedly the latest to experience financial stress, as it attempts to raise cash to fund its lending unit. The broker came under pressure after it was revealed it has approximately $175 million locked in an FTX trading account.
The problems have also bled over to the Gemini Crypto exchange Gemini, owned by the Winklevoss twins, which has halted redemptions because of the situation with Genesis.
Volatility across the crypto universe has diminished over the past week, inspiring hopes that the worst is behind the market. However, prices continue to grind lower amidst fears of further instability in the asset.
Key levels to watch in the crypto-verse
Bitcoin's price action remains bearish, with the price remaining below key support/resistance around $17,500. From a technical standpoint, the next key level to watch is a support zone around $12,000 to $14,000. A pushback above $17,500 may build hopes of buyers wresting control back of the market. The 20-week moving average will be another resistance level the bulls will look to overcome.
Bitcoin weekly chart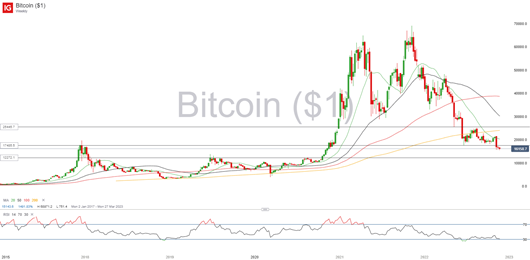 Source: IG
Despite the volatility and general bearish in the crypto universe, along with some mudslinging towards the token's founder Vitalek Buterin, Ether's price has held up relatively well. It has yet to make a new low, although the price has slipped below the 200-week moving average as the crypto remains in a downtrend. Key support appears to be around $1050, with a break of that level opening up a fall toward $850.
Ether weekly chart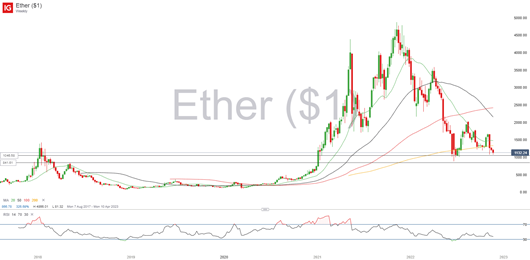 Source: IG
Dogecoin's post-Musk-acquisition-of-Twitter surge has reversed. However, the meme-coin remains above where it was trading prior to the development. Price is currently finding support at the 100 and 200-day moving average.
Dogecoin weekly chart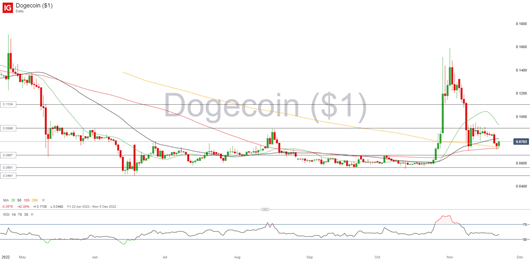 Source: IG