US jobs preview: Non-farm payrolls expected to fall as traders watch for signs of economic distress
---
Friday's US jobs report could see job growth suffer, but the market response can be hard to predict
Source: Bloomberg
The November US jobs report is due to be released at 1.30pm, on Friday 2 December (UK time). This report comes as markets continue to bask in the glow of a US inflation trajectory that has seen headline CPI fall back to 7.7% after a June high of 9.1%. The hope that this has brought set the dollar on a downward spiral, as equities regain lost ground. This is a function of growing confidence that we could see the Federal Reserve ease their tightening pathway, with the jobs outlook another key element that will drive market sentiment. From one perspective, any deterioration in the employment outlook would signal the potential for an earlier pivot from the Fed as their willingness to maintain their tightening phase is challenged. From that perspective, a weaker jobs report could see the dollar lose traction. However, there is another way of looking at this, with a weaker jobs report highlighting the beginning of a new phase of economic contraction that could be met by haven dollar strength. Quite which of these approaches will be taken by markets will come down to whether markets think that the Fed is there for turning. Comments from Powell have helped lift hopes of a more gradual approach to tightening, although quite whether this means the 'terminal rate' will be lower remains to be seen. With many expecting to see the jobs market ultimately take a turn for the worse, traders will be carefully considering what the implications could be for monetary policy.
What do other employment surveys tell us?
It is often useful to look out for clues within alternate employment readings. That can come from several sources, with the ADP, Conference board, Department of Labour, and ADP all providing data that can give us clues over the direction of travel for different aspects of the jobs report.
Conference board survey – The latest CB consumer confidence survey saw the headline figure fall back once again, declining into 100.2 from 102.2. Within that survey, we saw the number of respondents claiming that jobs were 'plentiful' rise from 44.8% to 45.8%. Meanwhile, the number of replies stating that jobs were 'hard to find' remained steady at 13%. This helped ease the recent rise in the ratio between the two, although it is notable that the trajectory is undoubtedly upwards as the number of people finding jobs to be 'plentiful' gradually decline. Notably, we are yet to see any major uptick in respondents that see jobs as being 'hard to find', with the current level of 13% similar to pre-pandemic levels. Looking back at the previous occasions that we saw unemployment follow this survey ratio, it only came once both aspects of the survey reverse. As such, we will be on the lookout for a rise in those that find jobs 'hard to find' as a signal that unemployment could push upwards. For now, markets expect unemployment to remain at 3.7%.
JOLTS job openings – The latest JOLTS job openings data (October) saw a decline in the headline figure, falling back to 10.33 million. This continues the wider trend declining job openings seen since the May peak. From a wider perspective, this could signal the potential for an uptick in unemployment given the historical inverse correlation between the two. However, it is worthwhile also noting how these jobs have come about. The breakdown highlights that the number of layoffs and discharges remain on a downward trajectory despite the economic pressures. Meanwhile, we have seen the number of employees quit their role rise. This points towards a market that is driven by employees, with job openings typically coming about through the individual's decision to move elsewhere for a better opportunity. As such, until we see layoffs and discharges rise, it seems likely that unemployment will remain low as people jump from one job straight into another.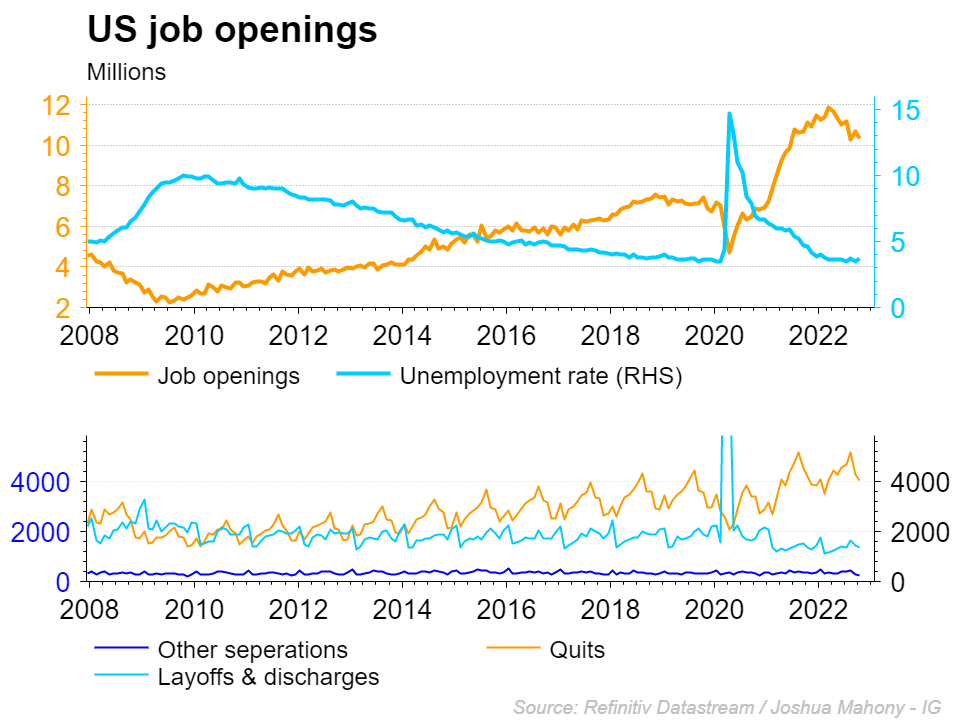 ADP payrolls – This month the ADP employment survey collapse into the lowest level since January 2021, with the 127k falling well short of the 196k forecast by markets. This could signal a potential underperformance from Friday's headline NFP figure, which has been predicted to fall from 261k to 200k. Nonetheless, that forecast would mean an ADP/NFP differential of 63k, which falls well within the realms of possibility given the historical relationship. As such, the ADP figures does bring confidence that payrolls will pull back, but the degree to which remains less certain.
Non-farm Payrolls
Friday's headline non-farm payrolls figure is forecast to fall back to the 200k mark, following the October figure of 261k. That would represent the worst payrolls figure since December 2020. Looking at the breakdown in jobs, the leisure and hospitality sector appears to be losing some traction following a particularly strong September. Nonetheless, the collapse in the sector seen back in December 2020 does highlight that this sector was always likely to have a protracted period of oversized job growth that will gradually normalise over time.
Unemployment
As we have seen in some of the examples earlier in this piece, the unemployment rate looks like it could turn upwards according to some of the correlations we follow. However, we are yet to see any meaningful uptick in joblessness, which would undoubtedly spark headlines if it took hold. Instead, unemployment has remained within a 0.2% band for eight-months now. Keep an eye out for any move out of this 3.5-3.7% range as a signal that elevated interest rates are finally taking a toll on the US jobs market.
US average hourly earnings
US wage growth remains a key indicator for markets, with the decline in average hourly earnings since the March peak easing concerns of a wage-price spiral. Thus far we have seen a very gradual decline in wage growth, with the decline in US CPI starting to erode the real wage deterioration that has dominated 2021 and 2022. This time around, we are looking for another tick lower for wages, with a year-on-year figure of 4.6% widely predicted.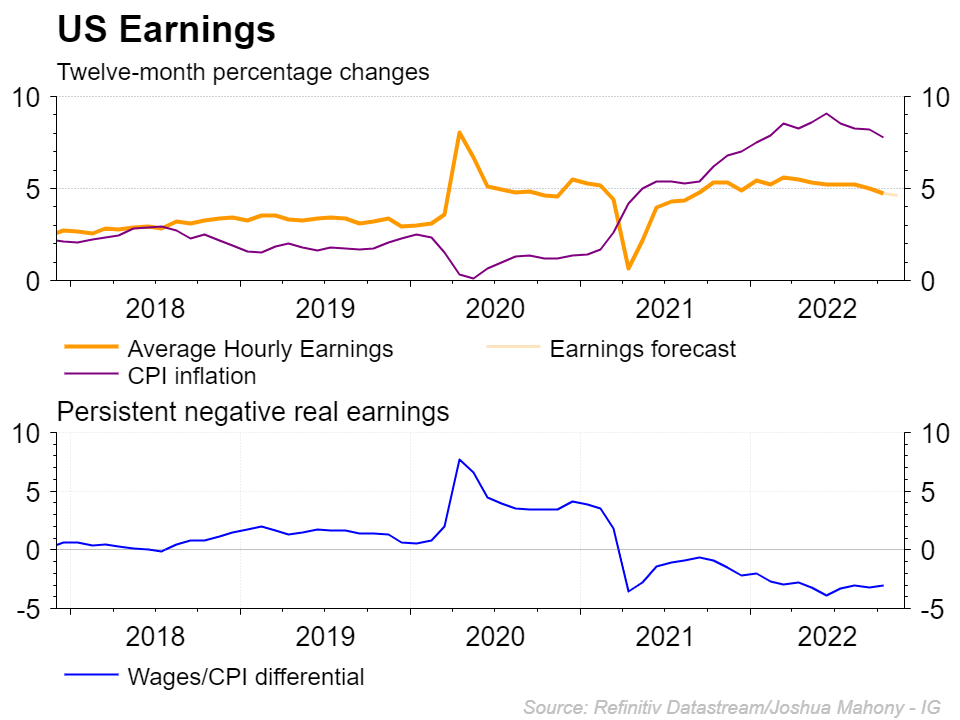 Dollar index technical analysis
The dollar has hit hard in the wake of the latest Powell comments, with the FOMC Governor alluding to a slowdown in the pace of rate hikes as we approach the terminal rate. For traders, the break below 104.91 points towards further downside to come. Keep a close eye out for the latest jobs numbers for a number of factors. Firstly, any significant uptick in wages growth could spark fears of another move higher for inflation. That would likely push the dollar higher. Elsewhere, it can be less obvious of the market response, with a significant underperformance from the unemployment rate and payrolls figures bringing the potential for a risk-off move on economic struggles, but also a risk-on move as traders hope it pushes the Fed to lower the terminal level for interest rates.
Source: ProRealTime
Nasdaq technical analysis
The Nasdaq has similarly seen a risk-on move yesterday, bringing price back up into the 12084 resistance level. The ability to maintain the recovery phase will be dependent upon whether we can break this resistance level or not. Once again, a jump in earnings growth could spook the Nasdaq, bringing fears of another uptick in inflation. Meanwhile, things remain more difficult to predict when it comes to the response to any significant under or overperformance on the payrolls and unemployment front. Looking at last month, we saw plenty of short-term volatility after a significantly better-than-expected payrolls figure. However, some six-hours later price was back to where it started. Nevertheless, we did ultimately see price push higher in the days that followed. With that in mind, while a significant unemployment or payrolls miss would bring initial volatility, there is a strong chance that the first move may not be the right one.
Source: ProRealTime