NYSE: GSK share price and Q4 earnings results preview
---
What to expect and how to trade GSK's upcoming results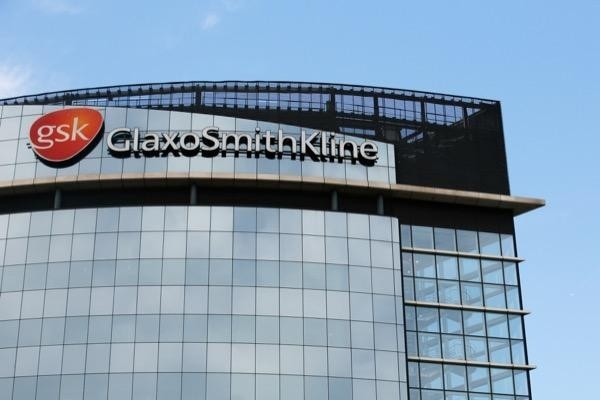 Source: Bloomberg
When are GSK results expected?
GSK is set to release its fourth quarter (Q4) 2022 results on 01 February 2023. The results are for the fiscal quarter ending December 2022.
What is 'The Street's' expectation for the Q4 2022 results?
According to Refinitiv Eikon expectations for the upcoming results are as follows:
Revenue of $10,010 billion : -78.66% year on year (YoY)

Earnings per share (EPS): $0.50 (-58.14% YoY)
Analysts expect lower revenue and Earnings Per Share (EPS) for the fourth quarter of 2022 compared to a year ago but over the past year, results consistently came in better-than-expected.
Will earnings beat estimates this time round as well?
It will depend on whether the pharmaceutical and biotechnology behemoth GSK, formerly GlaxoSmithKline, having spun off its Haleon consumer products arm last summer, may perhaps consider offloading more of its residual stake in Haleon and on how it does in the race for a new respiratory syncytial virus (RSV) vaccination.
The virus, which together with the flu and Covid-19, has kept hospital admissions at record levels over the winter months, accounts for around half a million patients - mostly the very young and the elderly - being admitted to UK hospitals every year.
According to The Times "so serious are the health implications that governments across the world have been encouraging pharmaceutical companies to come up with a vaccine, with the prospect of billions of dollars of orders for the teams creating the best drug."
The British newspaper estimates the RSV market to be worth $4 billion by 2027, making it a major prize for drug giants, "but, having failed to produce a Covid vaccine, the need to succeed is most acute for GSK and its chief executive, Dame Emma Walmsley."
The Times also states that Britain's GSK "is leading the way alongside Pfizer, with both having completed trials and submitted vaccines to the US Food & Drug Administration for approval late last year."
Both GSK and Pfizer are expected to have their medicines approved in June but GSK's vaccination rate seems to have a higher success rate in trials, at 83 per cent compared with Pfizer's 67 per cent. Nonetheless, there remains a risk that Pfizer may offer its vaccine at a lower price in order to increase its market share, hurting GSK's profit prospects.
How to trade GSK into the results
Refinitiv data shows a consensus analyst rating of 'hold' for GSK – 1 strong buy, 3 hold and 1 sell - with the median of estimates suggesting a long-term price target of $38.60 for the share, around 9% above where it is currently trading (as of 30/01/2023).
Source: Refinitiv

IG sentiment data shows that 97% of clients with open positions on the share (as of 30 January 2023) expect the price to rise over the near term, while 3% of clients expect the price to fall.
57% of clients who trade the share bought it this month and 50% this week.
Source: IG
GSK technical view
Since its early December spike to $39.74, the GSK share price on the New York Stock Exchange (NYSE) dropped towards the $35.00 mark, around which it has been oscillating in a +/- 70 cents band since mid-December.
Fourth-quarter earnings may surprise to the upside once more, having over the last four quarters consistently beaten consensus EPS estimates, in which case a break out of the recent sideways trading band may ensue.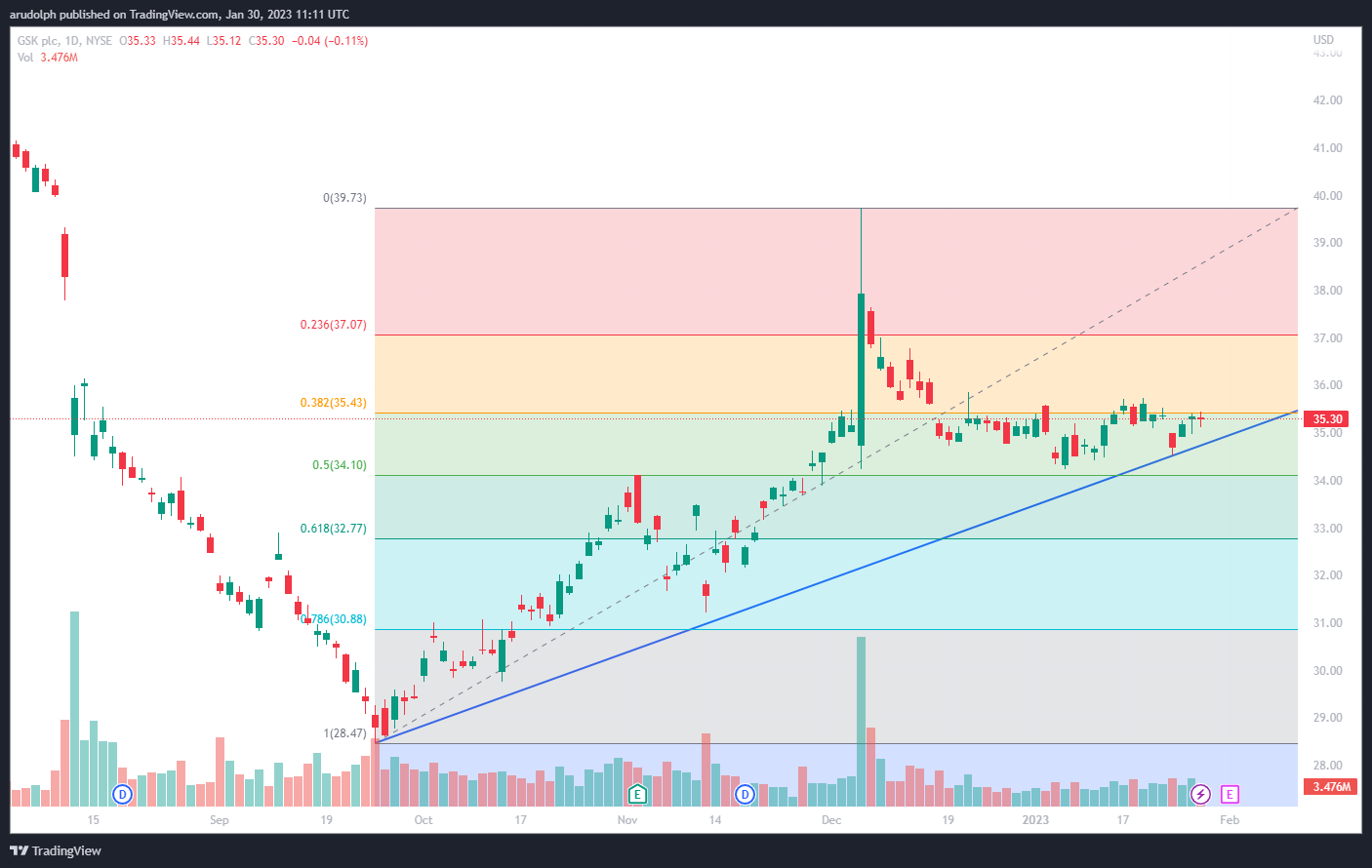 Source: Tradingview

For the bulls to be back in control, a rise and daily chart close above the 21 December to January highs at $35.73 to $35.85 would need to be seen, in which case the September-to-January uptrend may continue with the $39.74 December peak and the minor psychological $40.00 mark being back in the frame.
The September-to-January support line at $34.73 may offer short-term support.
Were earnings to disappoint, however, and a slide through the current January low at $34.23 and the early November high at $34.10 to be seen, the 61.8% Fibonacci retracement of the September-to-January advance at $32.77 could be revisited, and perhaps also the November trough at $31.22.
Source: Tradingview

From a technical perspective the share price will remain long-term bearish while it trades below the April 2022 high at $46.97 on a daily chart closing basis.