Post-Fed session saw more banking jitters but growth outperforms: Gold, Straits Times Index, GBP/USD
---
Bank stocks continued to see losses for the second straight day but bright spot has emerged in rate-sensitive growth sectors.
Source: Bloomberg
Market Recap
Following Janet Yellen's previous comment that a 'blanket insurance' is not being considered for all deposits, the US Treasury Secretary tried to turn towards verbal reassurances to calm nerves but market participants have heard that multiple times before and were not buying it. Bank stocks continued to see losses for the second straight day, with the Financial Select Sector SPDR Fund back to retest its March low. A blanket insurance will help to avoid a deeper crisis but a more reactive stance to bank collapses seems to be preferred by authorities for now, setting the stage for banking jitters to remain.
Nevertheless, bright spots have emerged in rate-sensitive growth sectors as we head into the final phase of the Federal Reserve's (Fed) rate hike cycle. US Treasury yields continue to decline, with a breach of their respective 200-day moving average (MA) suggesting more room for downside. This may continue to support the growth-value divide, with the outperformance in Nasdaq overnight bringing the index to retest its February high.
On another front, the US dollar attempted to stabilise after recent sell-off with a 0.5% gain. While that will usually weigh on gold prices, safe-haven flows into the yellow metal remain the overriding theme. Prices are back at its key psychological US$2,000 level, with the retest of resistance within a short span of time lifting the chances of an upward break. A successful move above US$2,000 may pave the way to retest the US$2,068 level next, but with the US$2,068 level being a major longer-term resistance from 2020 and 2022, that will prove to be a difficult one to overcome.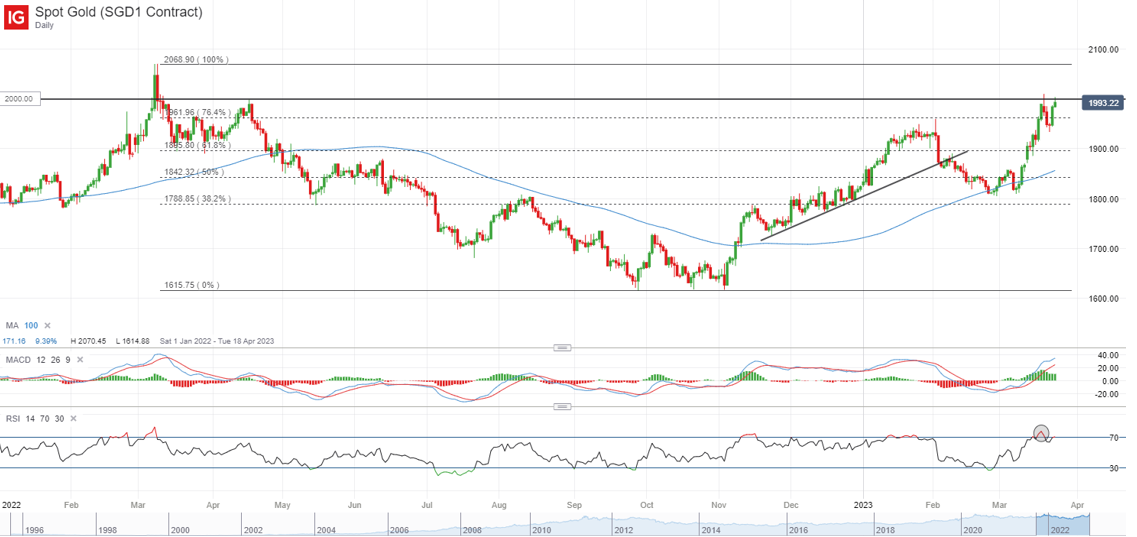 Source: IG charts
Asia Open
Asian stocks look set for a muted open, with Nikkei -0.26%, ASX -0.48% and KOSPI -0.32% at the time of writing (9am SGT). Japan's February inflation rate was released this morning, with pricing pressures falling for the first time in 13 months to 3.3% from 4.3%. That said, it seems to be nothing more than a positive effect from the government's energy subsidy programme. Stripping away food and energy prices, pricing pressures continue to head higher to 3.5% from previous 3.2%. This will likely keep the pressure on for the Bank of Japan (BoJ) to normalise its policies, with the expected timeline being priced to be closer to the end of the year.
On another front, the Straits Times Index is back to retest a key resistance at the 3,220 level, where a 50% Fibonacci retracement resides. This is also where its key 200-day MA stands, delivering somewhat of a make-or-break moment up ahead. Five consecutive weeks of net institutional outflows (SGX fund flow data) do not provide much conviction for a sustained upside for now. Any failure to reclaim its 200-day MA over the coming days could likely leave the 3,170 level back in sight.
Source: IG charts
On the watchlist: GBP/USD heading for a retest of upper consolidation range
The Bank of England (BoE) raised interest rates by 25 basis-point yesterday to 4.25% yesterday, which falls in line with broad expectations. With the Fed moving into a potential rate pause over the coming months, expectations are that the BoE may do the same. Interest rate pricing suggests that the central bank may hike by one last 25 basis-point at best despite recent upside surprise in inflation. Of course, another month of higher-than-expected inflation will likely lead markets to revisit its pricing.
The GBP/USD seems headed to retest its 1.243 level, which serves as tops for the pair on two occasions over the last three months. Any move above the 1.243 level could point to a breakout above its current ranging pattern, with the recent turn in moving average convergence/divergence (MACD) to the upside suggesting some building of upward momentum. That said, failure to cross the 1.243 level over the coming days could bring a move back towards its lower consolidation base at the 1.228 level, which coincides with its key 200-day MA as well.
Source: IG charts
Thursday: DJIA +0.23%; S&P 500 +0.30%; Nasdaq +1.01%, DAX -0.04%, FTSE -0.89%