Microsoft's Q4 earnings preview: On track for further recovery
---
Microsoft's share price: what to expect from its Q4 results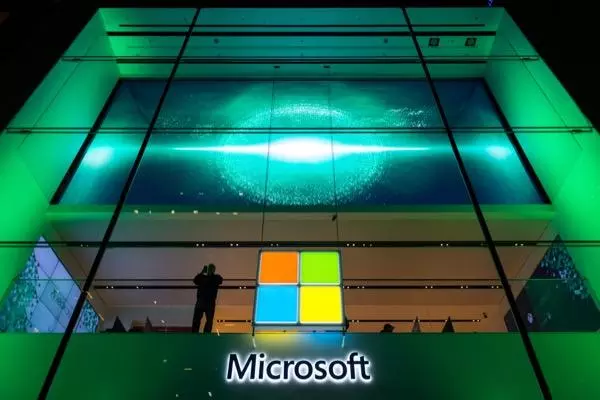 Source: Bloomberg
When does Microsoft Corp report earnings?
Microsoft Corp is set to release its quarter four (Q4) financial results on 25 July 2023, after market closes.
Microsoft's earnings – what to expect
Current market expectations are for Microsoft's upcoming Q4 2023 revenue to turn in a 6.9% growth from a year ago, which will be a slightly softer read from the 7.1% in Q3 2023.
However, expectations for earnings per share (EPS) are for a 14.5% year-on-year increase, a significant improvement from the 10.4% growth in Q3 2023.
Market pricing for continued recovery over coming quarters
Despite the ongoing downside risks to macroeconomic conditions, market expectations are positioned for a continued recovery in Microsoft's top-line over coming quarters, tapping on the resilience of its business products and the added growth catalyst surrounding Artificial Intelligence (AI). Thus far, the positive surprise in previous quarter's results have been in line with the worst-is-over narrative for its revenue growth and further validation in the upcoming company's forward guidance may likely provide an added boost.
Given that the previous quarter's outlook stated that the management saw "many of the trends in Q3 continuing through Q4" and US economic conditions continuing to surprise significantly to the upside, the odds seem to be for the recovery trend to continue at the upcoming quarter. To recall, the US economic surprise index has registered its highest level since March 2021 as a reflection of current economic resilience.
Source: Refinitiv
Weak PC market to stabilise, with 'Intelligent cloud' segment to remain resilient
Based on International Data Corporation (IDC) data, global PC shipments could remain weak, with the period April-June 2023 delivering its sixth consecutive quarter of contraction at -13.4%, albeit a smaller contraction than the 29.0% in the January-March period.
Refinitiv estimates suggest that revenue for its 'More Personal Computing' segment could see a 5.7% year-on-year decline for Q4 2023, but at least, some early signs of bottoming out could have been in place over the past two quarters. On the other hand, its 'Productivity and Business Processes' segment is expected to stay subdued for now, with an 8.9% growth consensus slightly below the 10.9% in the previous quarter. Both segments account for a combined 60% of Microsoft's overall revenue.
That will continue to leave much of the heavy-lifting to the 'Intelligent Cloud' segment, which is expected to retain its double-digit growth at 13.6% year-on-year at the upcoming results, before seeing stronger growth in FY2024.
Source: Refinitiv
Growth catalysts becoming more visible
Microsoft has flexed its muscles lately in the race to offer generative AI tools to consumers, announcing its new AI subscription service, Copilot, for Microsoft 365, which could reportedly cost enterprise users an additional 50% or more per month over the costs of existing plans.
The management will likely address its growth potential and broader rollout timeline at the upcoming earnings call. On first glance, the huge user base of 345 million for its Microsoft 365 suite and dominance of its 365 products in the market (>50% market share for office productivity software) provide some conviction for a ramp-up in penetration rate for years to come, which could support its top and bottom-line growth momentum.
Any further updates on its US$69 billion acquisition of Activision Blizzard will also be in focus, but given that it could drag for longer, reaction to headlines has been more subdued. Any successful go-ahead could anchor the company's foothold in the cloud gaming market. Of course, not to forget a potential ad monetisation stream from its chatbot, Bard, that is currently on the plans.
A strong track record of earnings outperformance thus far
Microsoft generally has a strong track record of earnings outperformance. Since 2017, it has only missed earnings estimate once out of the past 23 quarters. The outlier was in Q2 2022 but despite the lower-than-expected earnings per share (EPS) recorded for the quarter, its stock price managed to gain 5% in its aftermath due to a rosy guidance.
On a revenue basis, it has also outperformed on 20 out of the past 23 quarters since 2017. Therefore, the odds seem to be heavily leaning towards another positive surprise at the upcoming results, especially with beaten-down expectations providing a lower hurdle of outperformance. Heading into the current earnings season, expectations for S&P 500's Q2 earnings are for a 7.1% contraction from a year ago, which is the largest earnings decline reported by the index since Q2 2020.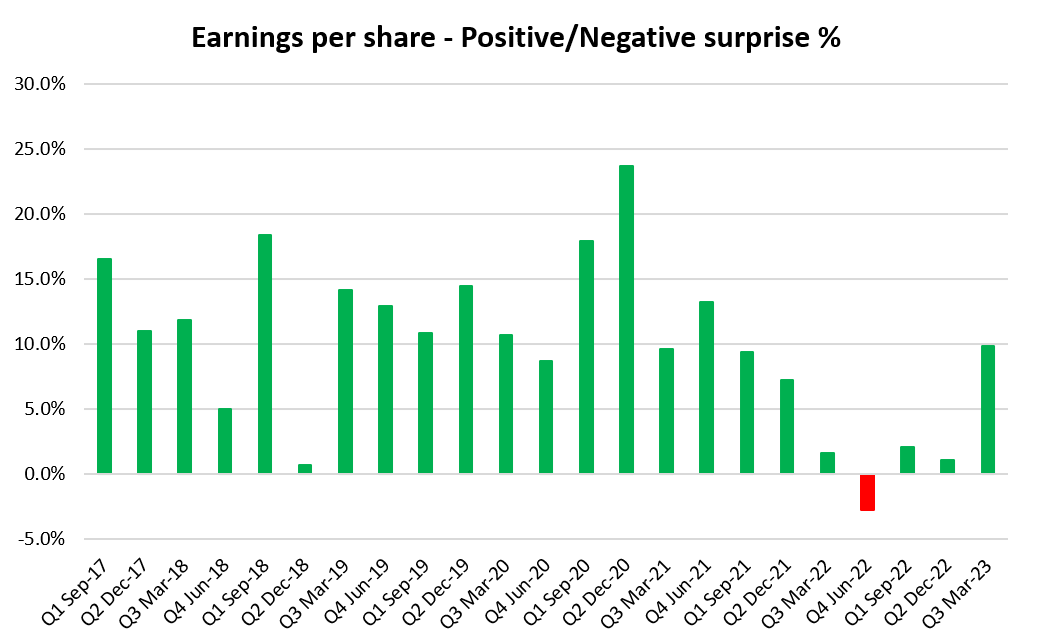 Source: Refinitiv
Valuation: Not cheap, with pricing for future growth potential
A look at Microsoft's valuation will suggest that market participants are attributing a significant premium for the company's future growth potential, with its forward price-to-sales leaning towards the high side at 11.2, while its forward price-to-earnings ratio also trades significantly higher than its 10-year median.
While that may be something to keep in mind, it could still be risky to position against the prevailing upward trend for share price, given that valuation could become pricier, especially amid the ongoing hype around the AI boom.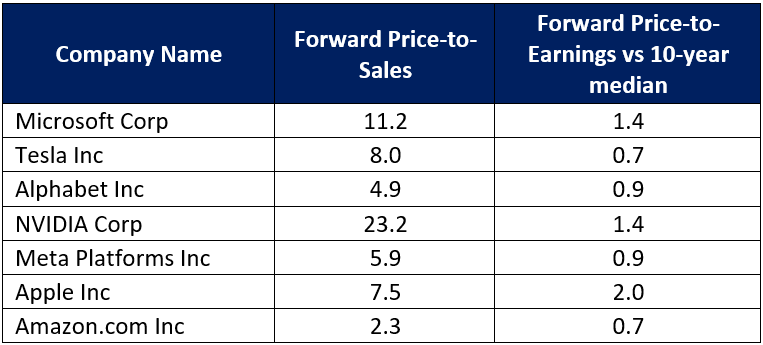 Source: Refinitiv
Technical analysis – Share price at a fresh all-time high
The formation of higher highs and higher lows since November 2022 has put an upward trend in place, with Microsoft's share price break above the US$350.00 level to deliver a fresh all-time high. A turn higher in its moving average convergence/divergence (MACD) also puts a bullish crossover in place, which suggests renewed interest after a period of exhaustion in upward momentum over the past weeks. The Relative Strength Index (RSI) on the daily chart remains above the key 50 level, putting buyers largely in control for now.
The broader trend may retain its upward-bias state, possibly until the lower trendline of the pitchfork pattern is broken down to indicate a potential trend reversal. That may leave the US$327.00 level as a crucial support to hold, where its Ichimoku cloud support resides as well. A series of support lines also remain on watch to support any higher low, which includes its 50-day and 100-day moving averages (MAs).
Source: IG charts