Best FTSE 100 dividend stocks in August 2023
---
Legal and General, Rio Tinto, and Persimmon could constitute the three best FTSE 100 dividend shares to watch in August 2023.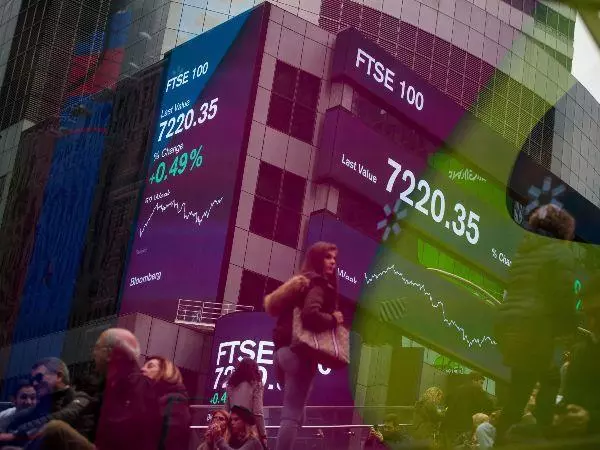 Source: Bloomberg
The FTSE 100 has enjoyed somewhat of a volatile 2023, starting the year at 7,554 points, breaking the symbolic 8,014 points barrier in February, before falling to as low as 7,257 points in early July. The index has bounced back over the past fortnight to 7,653 points, but further volatility seems likely given the FTSE's overweighted composition of oilers, miners, and banks.
For context, FTSE Russell data shows that 82% of FTSE 100 companies' income is derived from overseas. This means that the strength of sterling is more important than UK domestic economic performance, and particularly the exchange rate with the US dollar.
If a FTSE 100 company generates most of its revenue in US dollars, and then converts this revenue into sterling, a weaker pound means that the company will report higher earnings as the same of amount of US dollars translates into more pounds.
This matters because when the Bank of England increases the base rate, the pound strengthens, hurting FTSE 100 corporate income. Of course, if rates start to fall, it hurts different FTSE 100 companies which are reliant on imports.
And the trajectory of both inflation and interest rates in the UK remains uncertain.
CPI fell from 8.7% in May to 7.9% in June — exceeding forecasts of a drop to 8.2%. Consequently, JP Morgan's prediction that the base rate could rise to as high as 7% in a worst-case scenario, might now be overly pessimistic.
However, while the markets are set by expectations, 7.9% CPI inflation is still higher than the 7.0% print of March 2022, and almost quadruple the official 2% target. And analysts still believe that the base rate will rise to 5.75% by the end of the year — and stay there for some time.
This makes picking the bets FTSE 100 dividend stocks somewhat of a challenge. But where there's uncertainty, there's often opportunity.
Best FTSE 100 dividend stocks to watch
1. Rio Tinto (LON: RIO)
Rio Tinto shares have risen by 18.6% over the past year, leaving the FTSE 100 miner with an attractive 6.2% dividend yield. Despite a 36% decrease in net cash generated from operating activities last year, Rio Tinto remains committed to dividend investors having returned $8 billion in 2022, equivalent to 60% of total underlying earnings.
Of course, Rio Tinto's dividend performance is closely tied to global demand, and particularly for the iron ore it mines from the Pilbara region in Western Australia, which is heavily influenced by Chinese demand.
In an update in advance of Wednesday's half-year results, Rio noted that 'China's economic recovery has fallen short of initial market expectations as the property market downturn continues to weigh on the economy...China's reopening recovery started strongly but slowed in the second quarter. Consumption is still improving, while weakness in the export and property sectors is providing a drag to growth. Factory activity has slowed down, as manufacturing PMI contracted.'
However, while half-year results may disappoint in the short term, the company's strategic investments in projects such as the Oyu Tolgoi copper-gold project in Mongolia and the Rincon Lithium Project in Argentina position it for long-term growth.
2. Legal & General (LON: LGEN)
Legal & General has been a FTSE 100 dividend favourite for years, and while past perfomance is no guarantee of future results, 2023 may be no different. Its share price has dropped by 7.5% year-to-date, leaving LGEN with an attractive dividend yield of 8.3%.
The FTSE 100 insurer boasts a strong balance sheet, reflected by its a Solvency II coverage ratio of 240%. In FY22 results, LGEN saw operating profit rise by 12% to over £2.5 billion, with a return on equity of 20.7% and new business from PRT rising from £7.2 billion to £9.5 billion. This growth included a 23% increase from international markets, highlighting the FTSE 100 company's expansion plans in the US, Asia, and Europe.
Its reliable dividend is secured by its wide economic moat; the brand is well recognised and generally trusted by over 10 million customers in the competitive finance sector. Further, it sports a diversified business model, focusing on pensions, annuities, and equity release products, which provides solid growth opportunities as western populations age.
Most importantly, the company increased its full-year dividend by 5% to 19.37p in 2022, demonstrating a commitment to rewarding shareholders.
The only concern to consider — other than inflation — is that long-term CEO Nigel Wilson is leaving at the end of the year. His replacement, António Simões, has already been selected and will formally take up his post on 1 January 2024. This leaves ample time for the handover, but there is usually volatility when a reliable pair on hands cedes control of the tiller.
3. Persimmon (LON: PSN)
Persimmon shares have fallen by 37% over the past year, reflecting the challenging housing market amid rising rates, new restrictive landlord rules, and the withdrawal of key first time buyer incentives including Help to Buy.
However, the dividend yield now stands at a whopping 14.4%. While this may not be sustainable, this may prove too tempting for some investors to ignore, and especially those with a long-term mindset who are prepared to wait for the real estate cycle to return to positivity.
In FY22, revenue at the UK's largest housebuilder reached £3.82 billion and pre-tax profits rose above £1 billion. Meanwhile, new build completions rose slightly to 14,868.
And in Q1 results, CEO Dean Finch enthused that 'Trading over recent weeks has offered some signs of encouragement with visitor numbers up, cancellation levels normalising and sales rates continuing the steady improvement evident since the start of the year. If sales rates continue at the levels seen year to date, we would expect full year 2023 volumes to be toward the top end of the previously indicated range of 8,000 to 9,000 completions.'
The CEO also noted that 'The longer-term demand fundamentals for new homes remain robust and Persimmon has made significant progress over the past two years in building a stronger, more sustainable business for the future.'
Half year results arrive on 10 August.