Uranium soars, with Sprott Trust bringing fresh demand
---
Uranium prices soar as Sprott Trust adds new source of demand amid producer refusal to ramp up supply.
Source: Bloomberg
Uranium spark into life, bringing massive upside
Uranium has seen a major move higher over the course of the past week, with this often overlooked commodity coming back into the spotlight once again.
This largely illiquid market has been influenced heavily by the Sprott Physical Uranium Trust, which is providing major demand into a market that takes little to move price. The sheer size of Sprott's other precious metal trusts highlights the potential impact it could have upon uranium prices.
In total the Sprott trusts total $12 billion in funds. While the Sprott Trust is currently listed in Canada, their plan is to also post on the New York Stock Exchange. That could bring yet another bout of upside for uranium prices.
Notably, while we have seen the price of uranium jump from $34 to $42 in a very short space of time, it is argued that many producers refuse to restart operations until prices reach something close to $70.
With that in mind, the resistance of suppliers at these levels, coupled with growing investor demand could see a period of sharp gains across the space.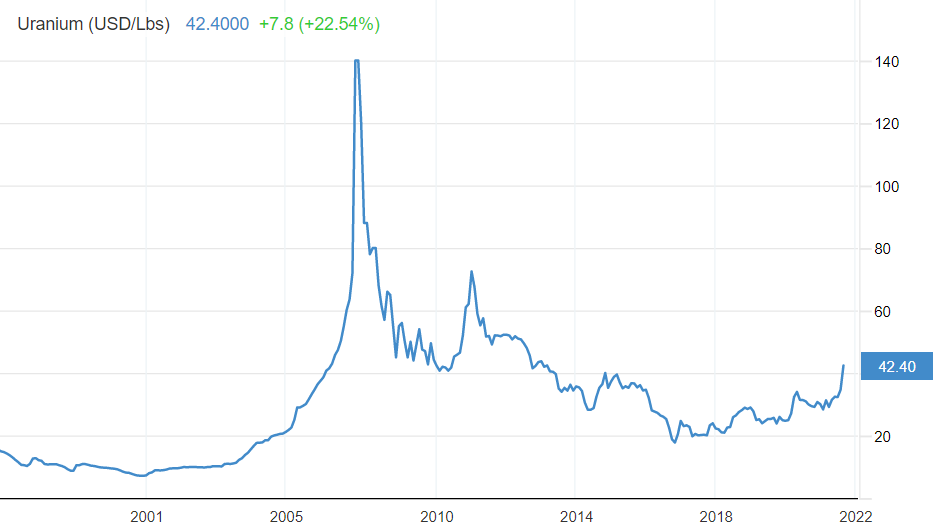 Source: Trading Economics
Those looking to potentially ride this squeeze underway in uranium will have a number of options.
The Sprott Uranium Trust provides one of the more obvious methods. The Canadian-listed market has gained 25% since Friday, yet a continuation of this recovery for the underlying asset would likely bring an extension of this surge.
With price having gapped higher at the start of this week, a break below $15.72 would be required to bring an end to this bullish trend.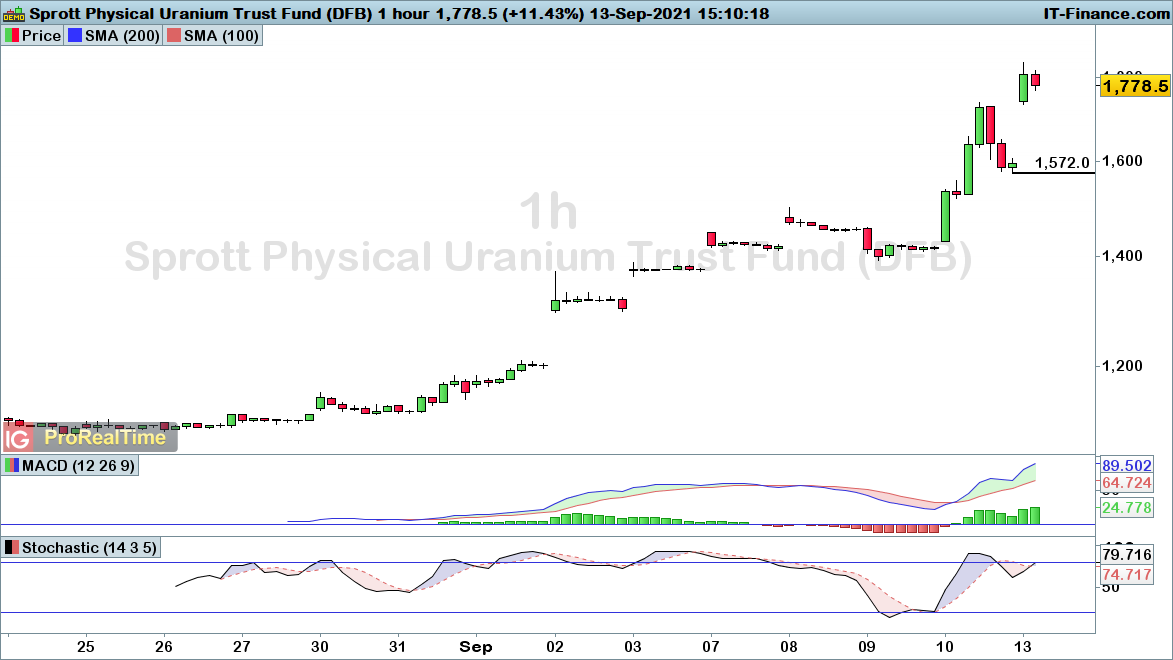 Source: ProRealTime
Elsewhere, the US-listed Global X Uranium ETF provides a more long-standing market to trade.
The monthly chart highlights how we are reversing a long-standing downtrend, with price still well down on the levels seen a decade ago. Nonetheless, this month has seen the most dramatic surge in prices since 2017.
From this wider perspective, those expectations that there could be plenty left in this recovery bring a bullish view until price breaks back below the $17.36.
Source: ProRealTime