Bank of England meeting – what to watch
---
A cautious stance overall from the Bank of England is likely to offer little support for an already hard-pressed pound.
Source: Bloomberg
Here are a few points to note ahead of the Bank of England (BoE) meeting tomorrow. IG
Cautious outlook remains in place
The looming end of the furlough scheme will put pressure on unemployment, causing the bank to err on the side of caution when looking at the future direction of the economy and any policy changes.
Meanwhile, an end to the Universal Credit increase and the planned rise in National Insurance contributions will hit spending, particularly among the lower income groups.
Recent rises in energy prices will not help matters either, and could well slow the rise in consumer spending rather markedly.
Mid-2022 rate hike seems unlikely
Markets are pricing in a rate hike in the middle of next year, but given the likelihood of a slowdown in growth in the final quarter of 2021 and into 2022, this is probably overdone.
While prices have risen sharply, there is as yet little sign that the rise is generated by factors specific to the UK and thus within the control of policymakers.
Any rate rise would thus be symbolic at best, prompting the bank to stick to its 'wait and see' approach for the time being on rate increases.
Policy to remain unchanged
A rise in the number of Monetary Policy Committee (MPC) members voting for a hike may well prompt some GBP strength in the wake of the meeting, but any hints of tighter policy in the near future are unlikely given how the bank is still concerned about the direction of growth, unemployment and wage increases.
GBP/USD outlook
The pound has continued to struggle against the dollar, and it looks like this will remain the case in the near-term, pushing to, and then below, the late August lows at $1.36.
Even given a more hesitant Federal Reserve, it looks like the dynamics continue to favour additional cable downside for the time being, further eroding the gains made in the second half of 2021.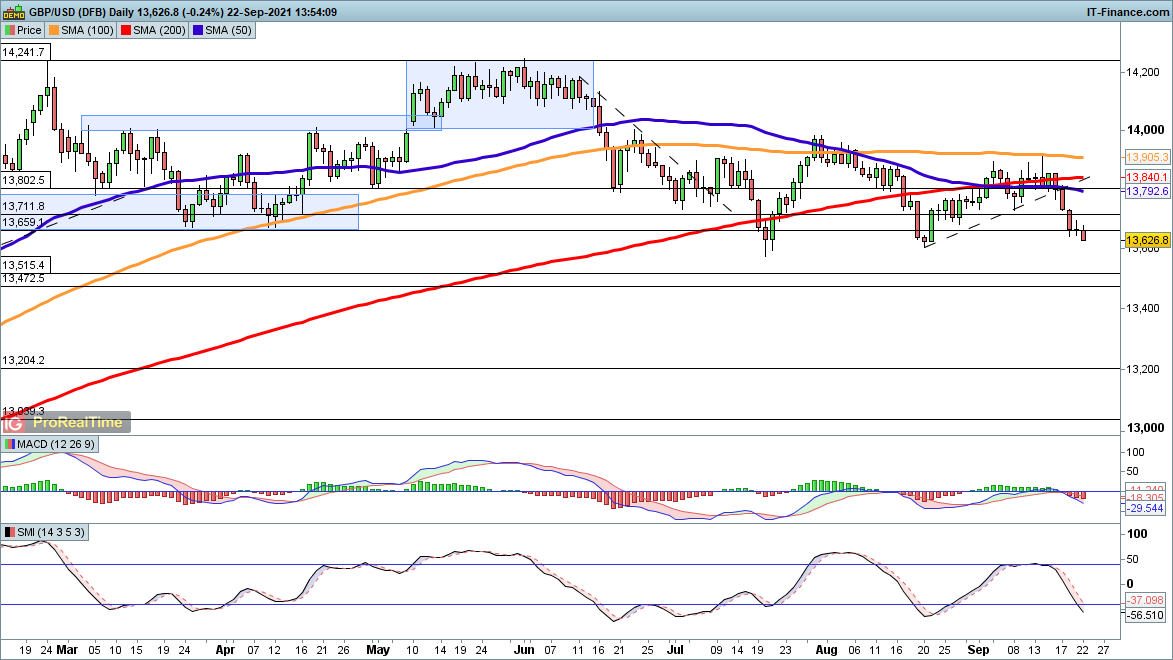 Source: ProRealTime