Boohoo shares hover near lows ahead of first-half earnings
---
Continued pressure on Boohoo shares comes even as the outlook for revenue and earnings is beginning to improve.
Source: Bloomberg
Boohoo is one company where the fundamentals and technicals do not seem to align.
Earnings this week are expected to show a 28% rise in revenue to £1.05 billion for the first half of its year, and adjusted earnings to top the £100.5 million mark from £89.8 million a year earlier.
However, pressures on margins are expected to bite, hitting headline pre-tax profit.
Boohoo may find that the current market environment is no longer conducive to further gains for growth stocks. Recent rises in yields have put pressure on the more pricey end of the spectrum, and with Boohoo trading at around 36 times earnings it falls into that category for a UK company.
While not at the lofty levels of many US companies, Boohoo may find it struggles to attract new inflows from investors.
Boohoo share price technical analysis
Boohoo shares have suffered since the beginning of the year, remaining in a steady downtrend, and despite a recent bounce towards the 50-day simple moving average (SMA), currently 270p, the overall negative view remains in place.
A rally above 290p would be needed to suggest a change in direction, since for now the sellers are firmly in control.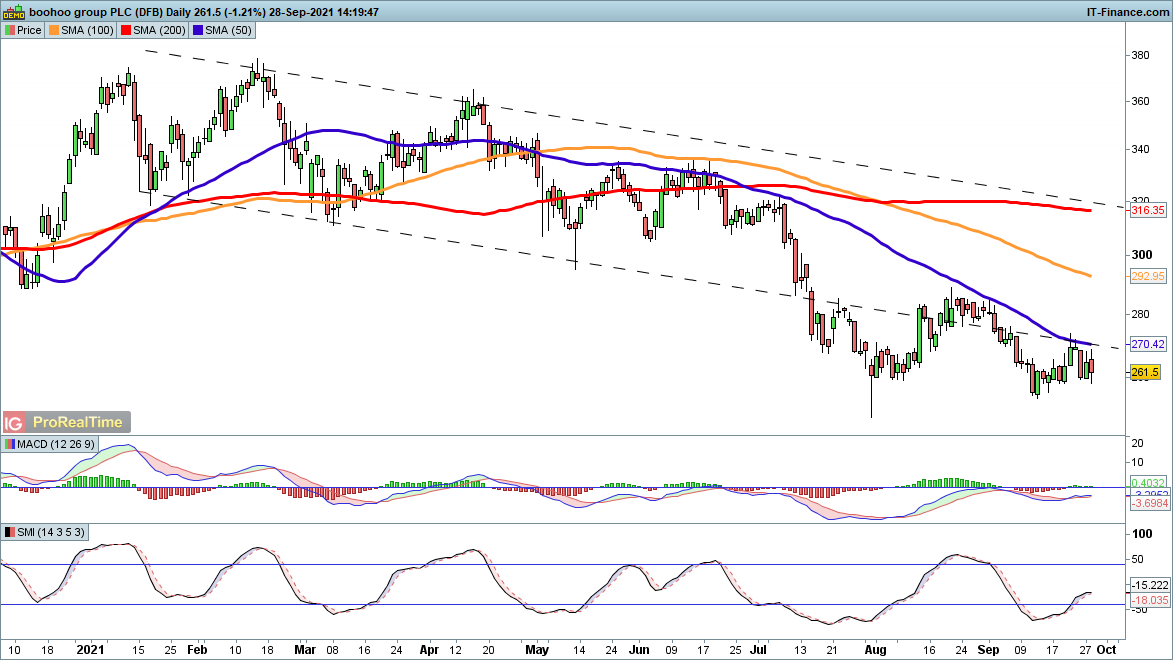 Source: ProRealTime