Iron ore rally improves outlook for Rio Tinto, BHP Group and Anglo American
---
The recent Iron Ore highlights a potential buying opportunity for FTSE mining stocks Rio Tinto, BHP Group and Anglo American. However, questions remain over the Chinese demand outlook.
Source: Bloomberg
Iron Ore rebounds after a difficult five-months
Iron Ore has experienced a volatile Covid-19 pandemic, with the huge Chinese industrial push of 2020 helping to lift prices by 140% in a 15-month period into May 2021. However, that uptrend came to an abrupt end as prices fell over 55% in the months that followed. However, the first two weeks of October have provided some grounds for optimism, with the price of iron ore on the rise.
Chinese economic activity remains a critical element for iron ore prices, with the Covid-19 pandemic lockdowns throwing off the economic boom that had been taking place in 2020. Instead, much of 2021 has seen industrial production fall off sharply despite a particularly strong quarter one (Q1). However, more importantly we have seen steel production head lower in a move that has dragged iron ore prices lower. It is notable that the long-term trend is upward for Chinese steel production, and thus it is likely we will see things improve as economic restrictions ease.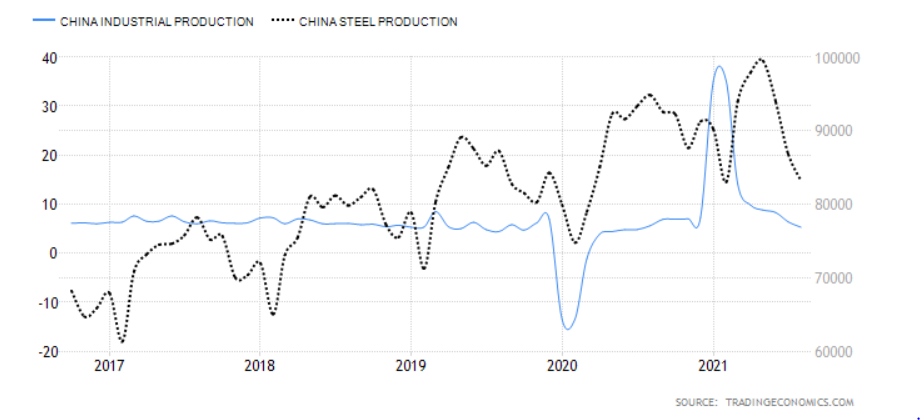 Source: Tradingeconomics.com
Crucially, both of those indicators represent the outlook for August. However, we can look towards the Caixin manufacturing purchasing managers index (PMI) to bring a leading view on how things are shaping up.
Following a worrying figure of 49.2, the survey moved back into the key 50 threshold in September. Clearly the economic picture remains clouded. Whether we start to see industrial and steel production head north remains to be seen, but at least the manufacturing PMI shows a move out of contraction in September.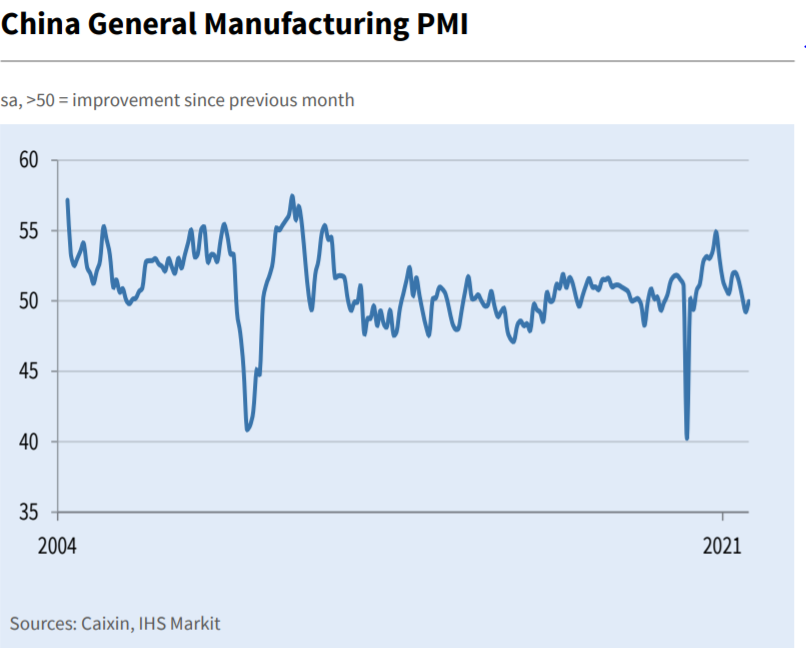 Source: Caixin, IHS Markit
Coming at a time when inflation appears to be rife across commodity markets, we are looking at a possible phase where both businesses and investors alike seek the security of holding physical assets. For businesses, this can mean buying more of a product than may be needed in a bid to avoid and supply chain disruptions. For investors, this can mean a desire to invest in commodity or mining stocks as a haven to protect themselves from rampant inflation and monetary tightening.
The monthly chart below highlights how the recent recovery takes place after a decline which took us close but not below the February low of $562. That signals a potential bullish reversal coming into play here for Iron Ore. The long-term uptrend points towards a potential period of upside here, with a break below that $562 required to raise major questions over a wider long-term decline for iron ore.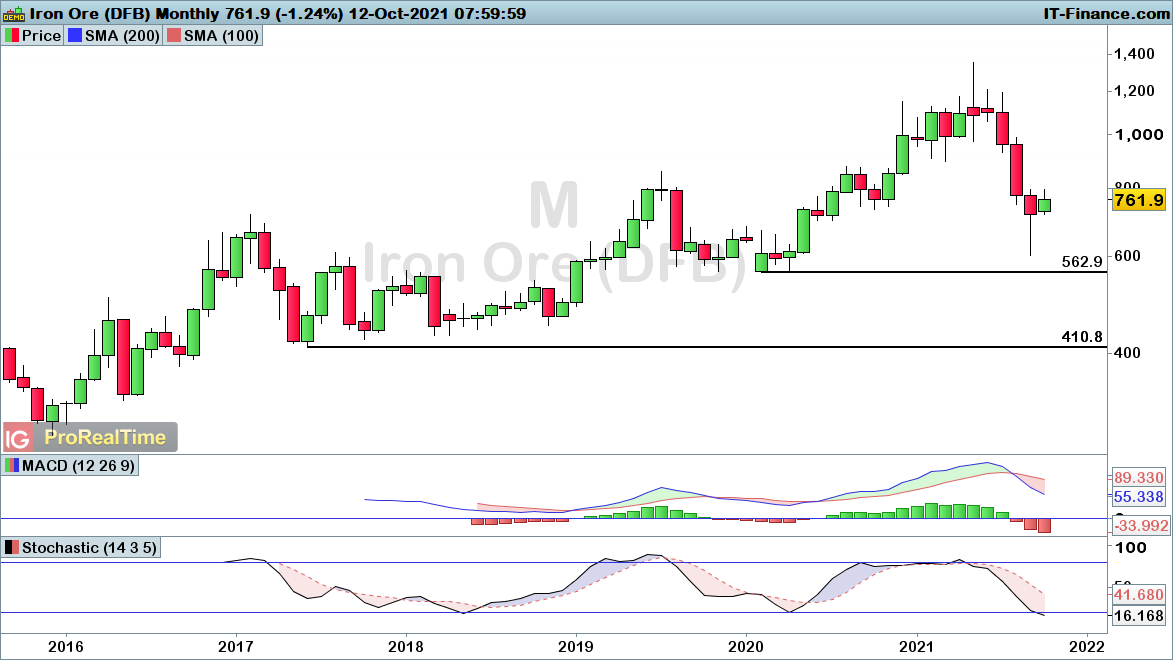 Source: ProRealTime
The daily chart highlights how the recent rally has taken us back towards the 76.4% Fibonacci resistance level at $811. Crucially, with questions remaining around the Chinese recovery, we could see a short-term pullback here. A break up through $876 would be required to bring about a more reliable reversal signal for iron ore.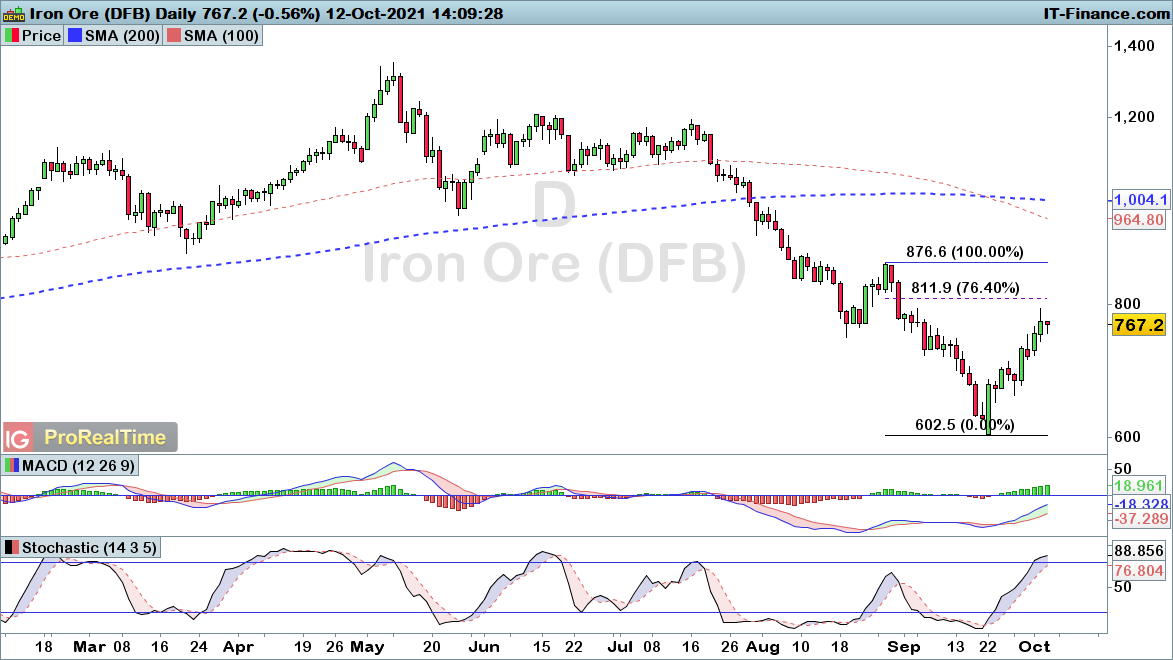 Source: ProRealTime
The FTSE 100 has a number of major mining companies that would be heavily influenced by the price of iron ore. In particular, Rio Tinto, BHP Group and Anglo American represent the three main producers to watch.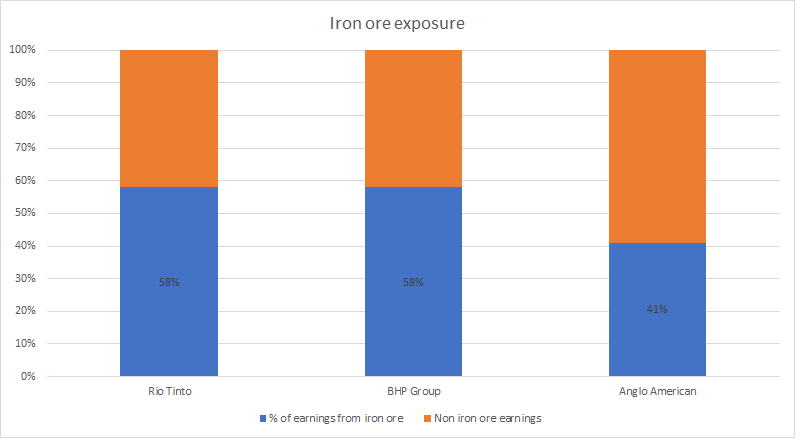 Source: IG
Rio Tinto
Shares in Rio Tinto have been on the back foot over the course of the past five-months, with the stock down 22% from its May highs. Notably, this decline has recently taken us back towards the 76.4% Fibonacci support level, with a bullish trend still in play unless we see the £37.91 support level taken out.
It is worthwhile noting that the current break out of the oversold in the stochastic oscillator also presents a historically profitable buy signal. The past six such occasions have resulted in relatively reliable moments to get long this stock.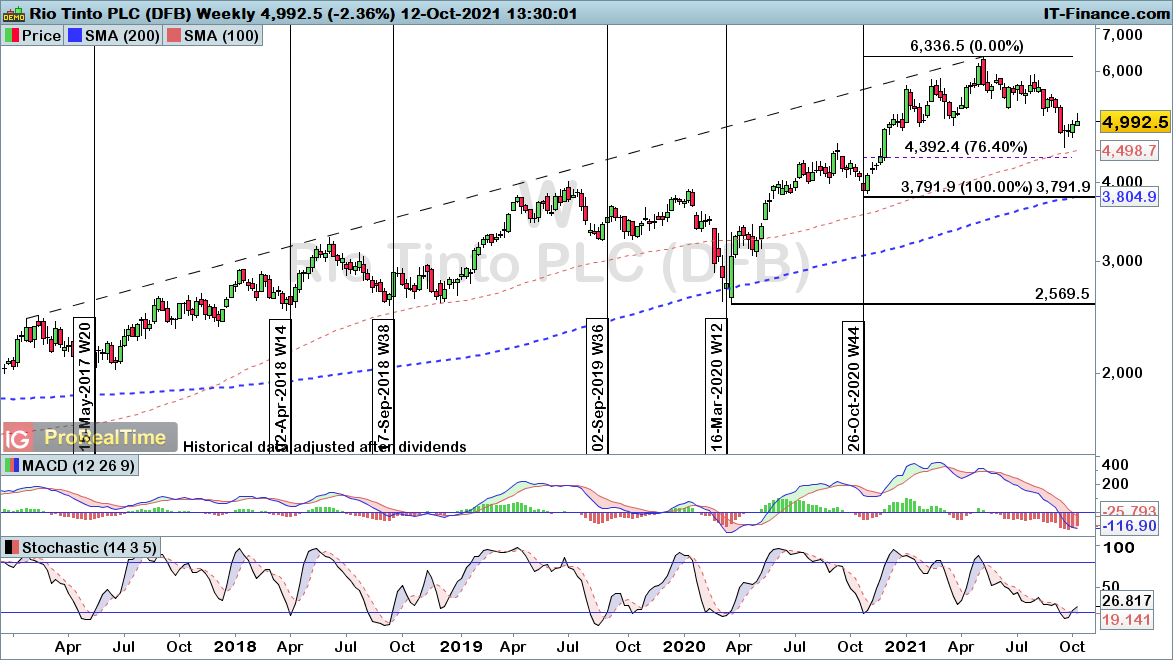 Source: ProRealTime
BHP Group
While the company plans to delist from the FTSE main index next year, investors may still look towards this mining behemoth with optimism as iron ore turns higher. Just like Rio Tinto, the BHP stock is 22% down from its May high thanks largely to the decline in Iron Ore prices.
Once again, the stochastic is rotating out of oversold. With momentum starting to shift in favour of the bulls, there is a good chance we will see the stock rise following this recent deep retracement.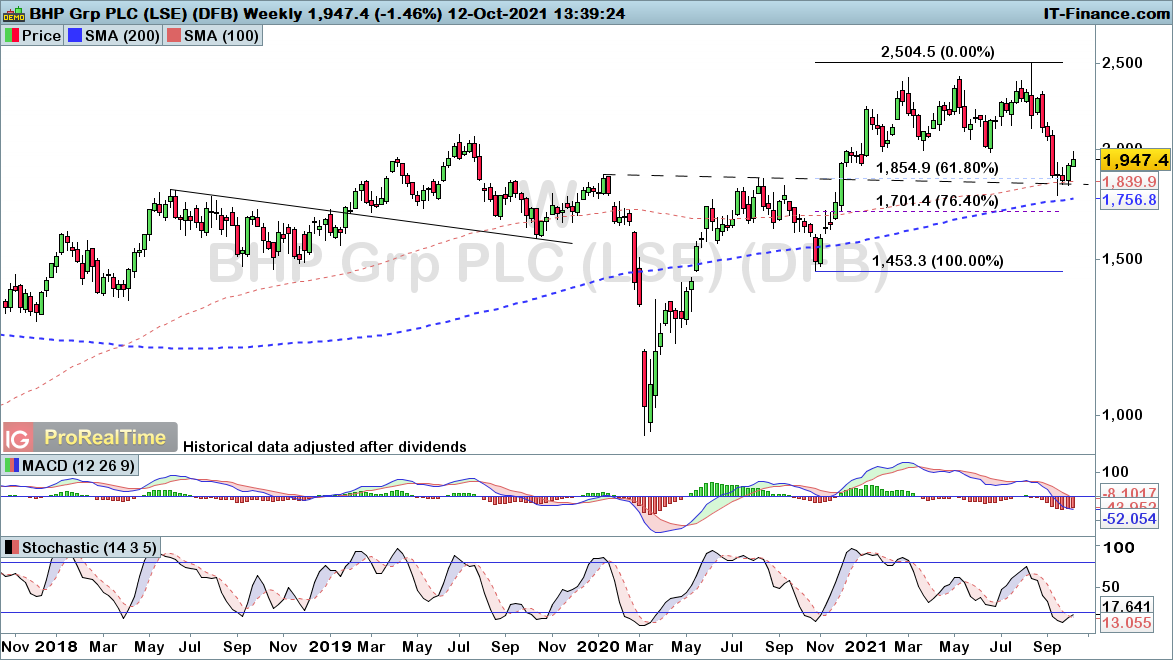 Source: ProRealTime
Anglo American
With Anglo American less exposed to Iron Ore prices than the likes of Rio Tinto and BHP, the stock is down 16% from its May highs. With the price falling below $25.24 support last month, we have seen a double top formation come into fruition.
Nonetheless, we can look at this as a potential ABC-style retracement unless the price breaks below the $21.89 support. The recent pullback found support on the 76.4% Fibonacci support level at $24.54, signalling the potential for a bullish reversal from here.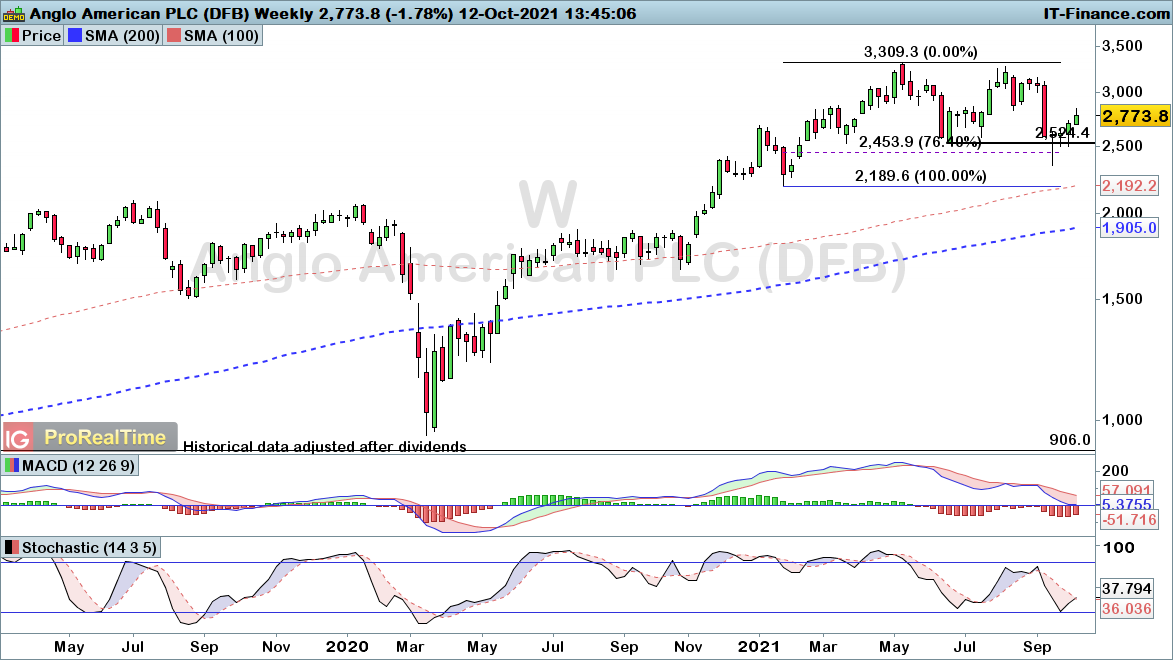 Source: ProRealTime
Keep an eye out for the Rio Tinto quarterly operations review (Friday), and the Anglo American production report on 21 October.
The recent rise in iron ore prices does raise hopes that the worst is over in China, with steel output a key indicator to watch as a gauge of demand.
The lockdowns may have drawn to an end, but fears around energy-induced factory lockdowns do highlight how we remain at a volatile time for the world's second largest economy.
Joshua Mahony | Senior Market Analyst, London
14 October 2021