AMD share price surging higher ahead of Q3 earnings
---
AMD's share price has surged close to 9.5% over the past week. Can its upcoming Q3 results lead to a new record high for its share price?
Source: Bloomberg
When does AMD report earnings?
Advanced Micro Devices (AMD) is set to release its Q3 financial results on 26 October, after market closes. Expectations for its Q3 earnings per share (EPS) to come in at US$0.67, up 63.4% year-on-year and 6.3% from the previous quarter.
AMD earnings – What to expect
AMD's sales and earnings growth continue to ride on strong demand across all its products in the likes of consoles, PCs (CPUs and GPUs) and server CPUs. The demand momentum is expected to be mirrored in the upcoming Q3 results as well. This has been reflected in the upward revision of its 2021 annual revenue to an approximate 60% growth year-over-year, from the original 50%, during the previous earnings guidance.
Overall gross margin has also been on an upward trajectory since Q3 2020, highlighting its product pricing power such as its 7-nanometre-based processors, which continues to provide a competitive edge against peers like Intel. This comes amid an ongoing digital shift towards hyperscale data centres, whereby data centres have been and may continue to expand its share of AMD's revenue mix. The management has previously revealed a longer-term target of having gross profit margin greater than 50%, which suggests that the uptick in margins may last for quarters to come.
Source: AMD
With that, the tailwinds supporting its growth for the quarter may continue to revolve around the upgrading process of server CPUs from its second-generation 'Rome' to its latest third-generation 'Milan'. The acquisition of Xilinx has also received some regulatory approval, such as in EU and UK, with the successful closing of the deal potentially bringing about some cost synergies amid the overlap of shared infrastructure.
As AMD delivered a record amount of free cashflow in Q2, it has repurchased 3.2 million shares for US$256 million in the second quarter. This seems to fuel some optimism that strength in cash generation revealed in subsequent quarters may lead to further share buybacks, thereby driving greater shareholder returns. The upcoming results will be watched for validation.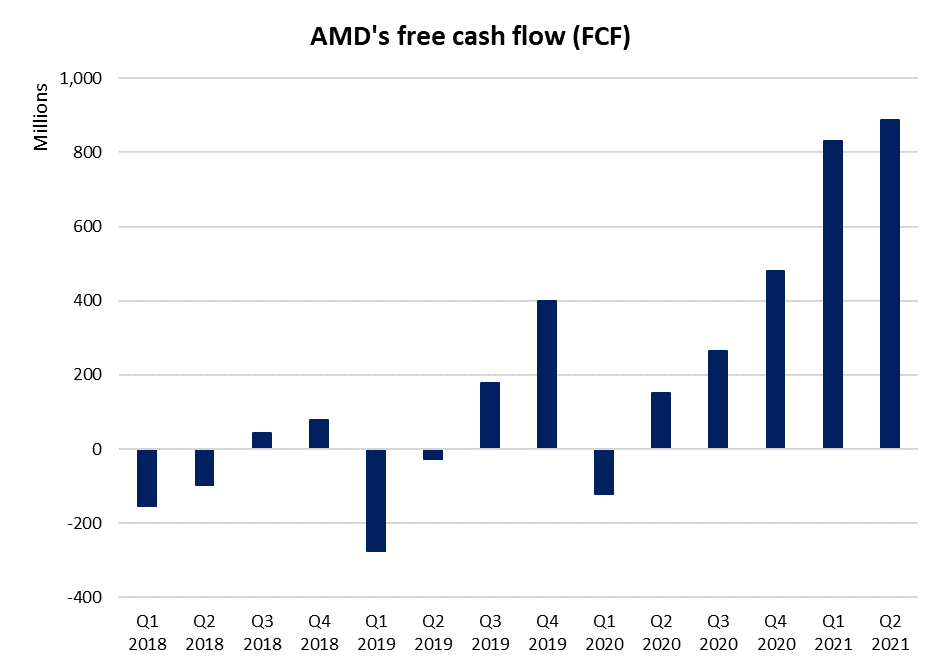 Source: AMD
AMD shares – technical analysis
After breaking above its falling wedge pattern last week, a retest of the upper trendline of the wedge pattern was met with a near-term rebound, suggesting a shift in sentiments after its series of lower highs since August. A bullish crossover was formed on the moving average convergence divergence (MACD), with a reversal above the zero-mark indicating increased upward momentum. This appears to set its all-time high at US$122.38 in sight. Near-term support may be at US$110.60. This is where the Fibonacci 23.6% retracement level, which previously bring about some resistance in August, may now serve as support.