Amazon slide probes key support at the May 2021 $3117.5 low
---
Amazon looks to have keeled over and may drop to the $2950.5 to $2873.5 major support area.
Source: Bloomberg
|
Writer
,
| Publication date:
Thursday 20 January 2022 
The drop in the Amazon share price is very much entrenched and a large double top formation will technically be confirmed once a weekly close below the August low at $3170.6 has occurred.
This may well be happening on this Friday's close, having already been tested but held last week. At present the May 2021 low at $3117.5 represents key support, a fall through which would not only make the confirmation of the double top formation much more likely but also lead to the next lower major support zone being pushed to the fore. It consists of the July, September and November 2020- as well as the March 2021 lows and comes in at $2950.5 to $2873.5.
Should the large double top formation be triggered this week, its downside target would come in at $2569. It can be obtained by taking the distance from the July high to the August low and by projecting it lower from the latter.
The Amazon share price has been evolving in a clearly marked downtrend channel since November of last year and is likely to continue to slide within it over the coming weeks, even if a minor bounce is witnessed over the next few days due to key support being tested at present.
Only an unexpected bullish reversal and rise above the 55-week moving average and last week's high at $3336.1 to $3333.9 should lead investors to re-evaluate their bearish views.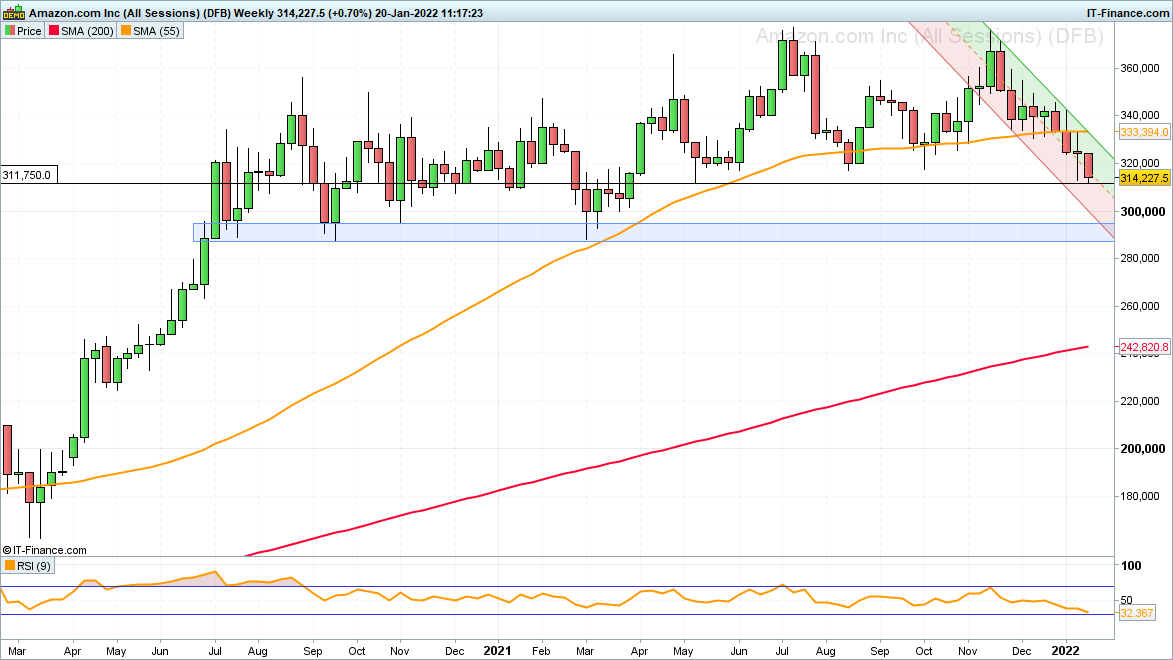 Source: ProRealTime