Alibaba tumbles as largest shareholder expected to sell shares
---
SoftBank, Alibaba's biggest shareholder, owns 5.39 billion ordinary shares, or a 24.8% stake.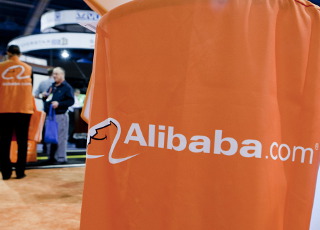 Source: Bloomberg
Despite the strong momentum in the Asian market following the Lunar New Year holiday, the share price of China's most significant tech icon, Alibaba fell by over 6% this week.
The slide was primarily attributed to a note revealed by JPMorgan Chase that SoftBank, the largest shareholder and well-known supporter of Alibaba, is expected to sell part of BABA's shares in the near future. SoftBank owns 5.39 billion ordinary Alibaba shares or a 24.8% stake.
Softbank invested $20 million in Alibaba back in 2000 when the company was a startup. In fact, SoftBank's founder and CEO, Masayoshi Son, was one of the earliest investors in and supporter of Alibaba. However, due to the Chinese government's recent technology clampdown, Son has faced increasing pressure from investors as the value of major portfolio companies, including DiDi Global Inc., was dragged down.
Last year, Alibaba was down nearly 65% while DiDi dropped over 50% during its five-month US-listed journey. To make matters worse, the long-awaited sale of chip designer Arm Ltd. to Nvidia Corp looks set to fail. Because of this, the sale of beleaguered Alibaba's shares seems like a very likely move considering SoftBank's current position.
Technical Analysis
The potential stake sale by SoftBank, coupled with the expectation of slowing growth, which will soon be verified in the upcoming quarterly report, will continue to weigh on the sentiment toward Alibaba's shares for the foreseeable future.
The stock is down 20.37% from the past three weeks and 64.58% from its October 2020 highs. A triangle shape with a clear descending trendline since November can be seen in the daily chart, although the price had attempted to break trough during the January rebound.
In conjunction with the 20- and 50-day moving averages, the upper trendline will be the critical pressure level for BABA's price to keep an eye on this week, which is sitting between $123 to $124.
The bottom side of the right-angle triangle, around $110, acted as the most crucial support for BABA's price since early December, and is expected to face another test as the RSI shows rising selling pressure.
Once this support level has been broken through, investors in BABA will need to look further back to April 2017 to find support at around $105.
Source: ProRealTime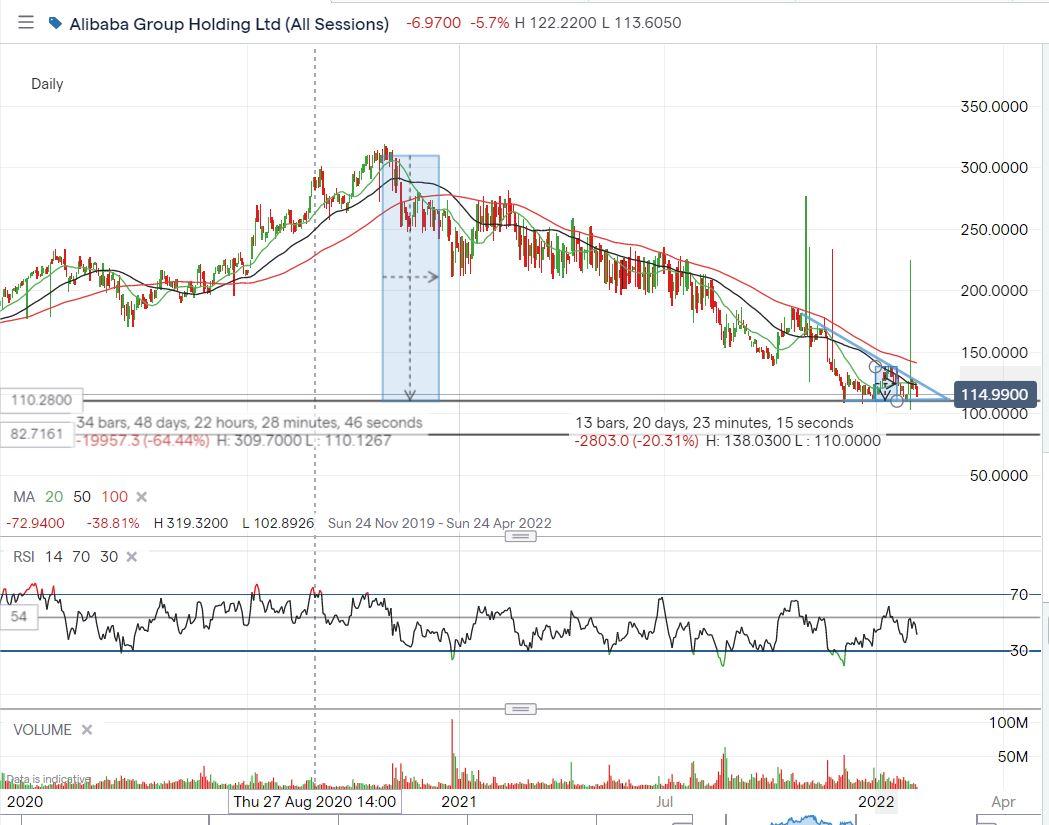 Source: ProRealTime