Pfizer share price corrects after FY21 results although FY22 guided to be a record year
---
In this article we review the Pfizer results and how the share price has reacted to the news.
Source: Bloomberg
Pfizer Q4 and full-year results
Pfizer's fourth quarter (Q4) and full-year 2021 (FY21) results have seen the share price selling off. However revenue and earnings growth were strong as was the group's forward guidance for FY22.
A summary of the results is as follows:
Full-year 2021 revenues of $81.3 billion +92%
Full-year revenues excluding contributions from Comirnaty and Paxlovid +6% to $44.4 billion
Q$ 2021 revenues of $23.8bn +106%
Q4 revenues excluding contributions from Comirnaty and Paxlovid -2%
Full-year 2021 Reported Diluted Earnings Per Share (EPS) of $3.85, Adjusted Diluted EPS of $4.42
Q4 2021 Diluted EPS of $0.59, Adjusted Diluted EPS of $1.08
In terms of full-year 2022 guidance the group has said the following:
Full-year 2022 revenues of $98.0 to $102.0bn expected
Adjusted Diluted EPS of $6.35 to $6.55 expected
Comments on results
Revenue for the fourth quarter of $23.84bn was a slight miss on consensus ($24.2bn) although Adjusted EPS of $1.08 was a beat (est. $0.87).
Revenue and earnings are heavily dependent on Comirnaty and Paxlovoid, the group's Covid vaccine and treatments. These two products account for roughly all of the group's Q4 and FY21 revenue and earnings growth.
Pfizer's order books for these products are robust with signed commitments amounting to $54bn in sales (more than half of FY22 guided revenue).
Future revenue and earnings outcomes for Pfizer will be guided by competition and necessity stemming from the pandemic. Demand is favourable for the time being although markets will be assessing demand dynamics post 2022.
Pfizer – technical analysis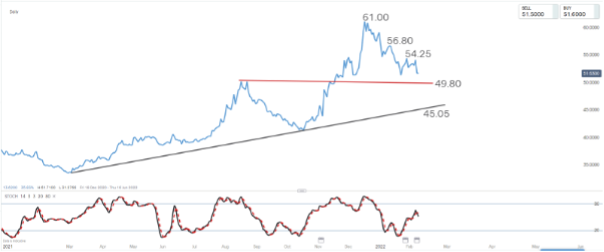 Source: IG charts
The share price of Pfizer is correcting in the short-term although the longer term uptrend remains in place.
49.80 provides the initial support target from the correction. However traders respecting the long-term uptrend might prefer to look for long entry on a bullish price reversal before the 49.80 support level.
If this level is instead broken (with a close below), traders might look for a bullish reversal before trendline support at 45.05 for long entry. 54.25, 56.80 and 61.00 provide longer term upside targets, provided the uptrend remains intact.