Nvidia's share price on new higher high ahead of Q4 earnings
---
Nvidia's share price has surged by close to 25% over the past six months, despite some sell-off towards the end of last year. Can its upcoming Q4 results drive further upside?
Source: Bloomberg
When does Nvidia report earnings?
Nvidia is set to release its quarter four (Q4) financial results on 16 February 2022, after market close. At the time of writing, expectations for its Q4 earnings per share (EPS) is coming in at $1.22, up 56.4% year-on-year (YoY).
Nvidia earnings – what to expect
The revenue breakdown in the last quarter continued to reveal ongoing demand for its core business segments, particularly in the data centres' portion, which pulled ahead with a 55% YoY revenue growth in quarter three (Q3) 2022. Further capex investments into the Metaverse theme, along with increasing artificial intelligence (AI) adoption across enterprises, are ongoing tailwinds underpinning this segment, where digital adoption has seen no signs of easing yet. Current expectation is pointing towards a 48.1% YoY increase in Nvidia's revenue for Q4 2022 to $7.4 billion.
Its gross profit margin has also been on an upward trajectory, ticking higher to 66.4% as of its previous quarter. The increasing trend for margins may suggest that its products still carry competitive advantage on the technological front, providing some resilience in terms of pricing power. This trend is expected to continue, with the company previously guiding for its gross margins to tick higher to 67% for the upcoming quarter results.
Source: Nvidia Corporation
Focus remains on the growth for its two core business segments, gaming and data centres, which accounts for close to 86.6% of its total revenue. The upcoming earnings call may also draw focus to any discussions on its Omniverse platform. Although the company may have been clear in their strategy such as offering its real-time three-dimensional (3D) design and simulation tools for free in the near term, any outlook for its measurement metrics such as developer engagement, number of creators and the applications developed will be closely watched.
Arm Limited's acquisition called off
The upcoming earnings call may also see the management reiterating the calling off of its acquisition for Arm Limited. A successful deal may allow Nvidia to take control of Arm's intellectual property (IP) licensing portfolio, which gives it the upper hand in providing Arm's designs to its competitors. This advantage itself may be one of the reasons which drew antitrust scrutiny and resulted in the regulatory hurdles faced in the deal approval.
A successful deal was also expected to drive Nvidia's further push into larger-end markets, namely in mobile and personal computers (PCs), and with the deal being called off, it may provide a temporary relief for its competitors, particularly Intel and Advanced Micro Devices (AMD). Following that, Nvidia may have to depend on organic growth in its core business segments to deliver, while awaiting the Metaverse theme to take off.
Market participants, however, appears to receive the news positively for now as expectations have been managed since January of a potential deal fallout. This may then bring greater focus onto its upcoming earnings result as a key driver for share price ahead. The penalty for the deal collapse will lead to a forfeit of $1.25 billion. That said, the penalty fees which are one-off, have been pre-paid beforehand and accounts for 11.8% of its last-twelve-month (LTM) earnings before interest, taxes, depreciation and amortization (EBITDA).
Nvidia's valuation
Nvidia's current 12-month forward price-to-earnings (P/E) ratio currently stands at 48.0, towering above its peers in the semiconductor industry, which runs an average of around 12.7. Compared to its one-year average, that valuation also seems to fall close to one standard deviation above the mean. A key metric looked upon for the justification of such pricey valuation may be its earnings growth, which Nvidia has been delivering thus far. Its EPS showed a 76.4% growth in the financial year (FY) 2021 and 87.1% increase in the last 12 months, aiding to bring its valuation to more acceptable levels over the past three months.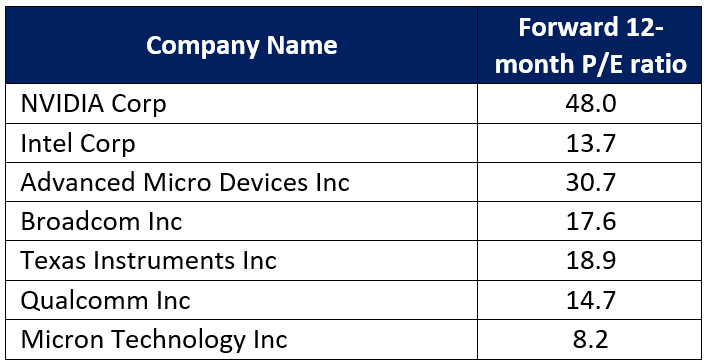 Source: Nasdaq
Source: Nasdaq
Currently, the stock has 39 'buy' recommendations, six 'holds' and two 'sells'. The Bloomberg 12-month consensus target price of $344.83 suggests a potential 37.3% upside from current price of $251.08.
Nvidia shares – technical analysis
Recent formation of a higher low and higher high in Nvidia's share price marks an attempt for a reversal in sentiments after falling close to 40% over the past three months. A bullish crossover was formed on the moving average convergence divergence (MACD), indicating near-term momentum to the upside.
The next level in sight may be at the $270.45 level, where a 50% fibonacci retracement level is serving as a previous support-turned-resistance. A clear break may potentially drive further upside to the $288.30 level next.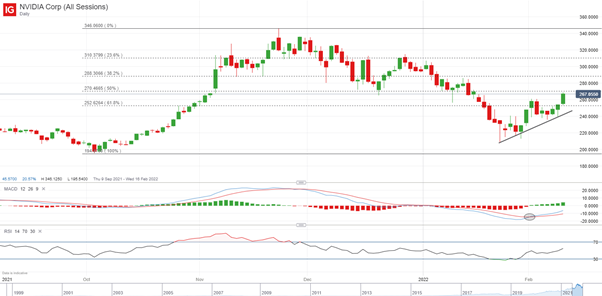 Source: IG charts