GBP/JPY flirts with ¥158.22 October peak, likely has further to run
---
Vastly differing BoE and BoJ monetary policies push GBP/JPY towards 5 ½ year highs.
Source: Bloomberg
The pound has enjoyed a strong rally against the Japanese yen since late January and in the wake of the Bank of England's (BoE) second consecutive interest rate hike to 0.5% in early February, the first time it's done back-to-back rate increases since 2004.
Inflation reached 5.4% in December, and prices are set to rise further with the BoE expecting "inflation to rise to over 7% in spring 2022" before falling back during the rest of the year and next.
Contrast that to the Bank of Japan's (BoJ) massive monetary easing policy, now in its tenth year, and you have a recipe for further GBP/JPY strength.
At a news conference in late 2021, the BoJ's governor, Haruhiko Kuroda, said: "We will not begin moves to normalise monetary policy unlike in Europe and the United States," suggesting that the BoJ will continue its large-scale easing, including the negative interest rate policy.
This still seems to be the BoJ's stance despite other central banks, such as the BoE, having already tightened their monetary policy and expected to continue to do so in order to rein in rising inflation caused by soaring energy costs, labour shortages and supply disruptions.
Despite inflation also affecting Japan, with producer prices reaching their highest level in roughly 35 years, it will be difficult for the BoJ to shift away from its monetary easing as prices in Japan are unlikely to reach its 2% inflation target. This is because many companies are not reflecting the higher costs in their product prices, leaving the year-on-year rise in the consumer price index below 1%.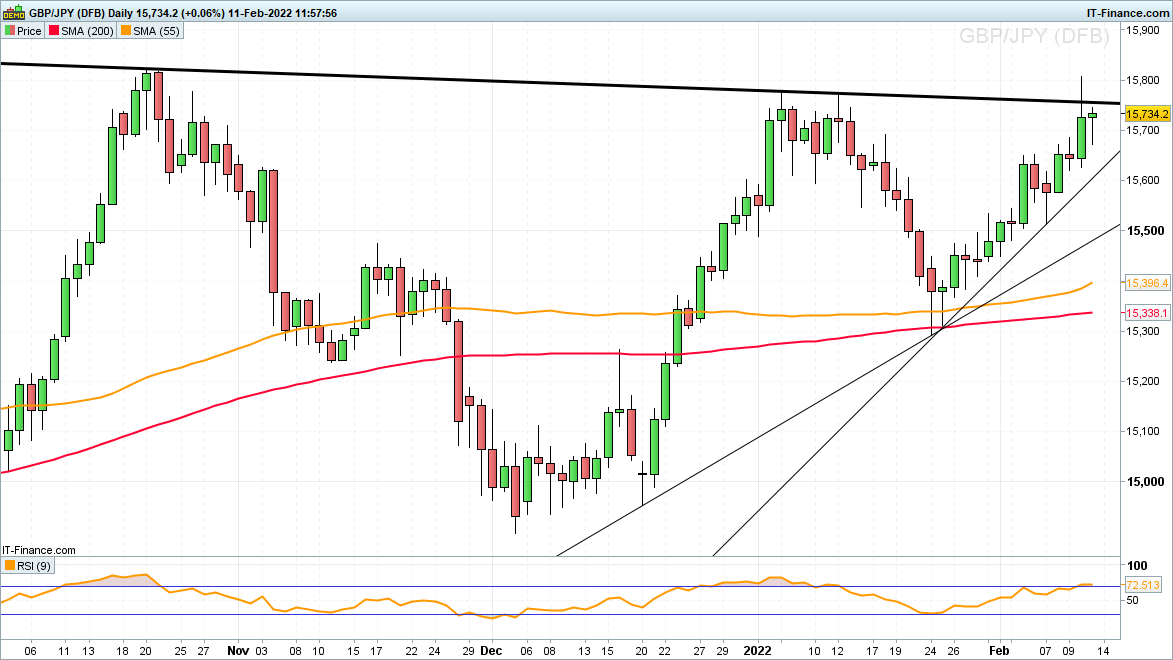 Source: ProRealTime
The underlying and anticipated interest rate differential between the UK and Japan has briefly pushed GBP/JPY above its four-month resistance line and January peak at ¥157.53 to ¥157.77, close to the October high at ¥158.22 which has so far acted as short-term resistance.
Despite this further upside is likely to be seen with the ¥162.61 to ¥163.87 area likely to be reached within the next few weeks or months.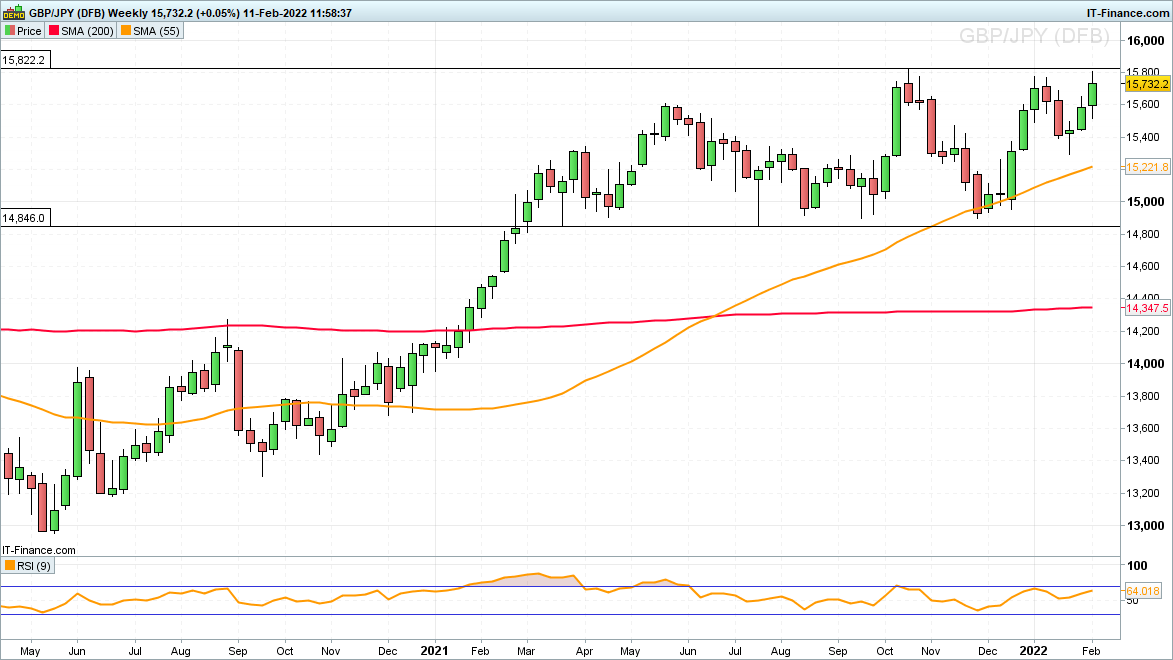 Source: ProRealTime
Since March of last year, the cross has been evolving in a sideways trend within its ¥148.53 to ¥158.22 boundaries, a breakout of which to the upside would have clear bullish implications.
A rise above the October high at ¥158.22 would take GBP/JPY to levels last seen in June 2016 whilst on its way to major resistance at ¥162.61 to ¥163.87. It contains the June and August 2009 highs, February 2014 low and the March as well as May 2016 highs and as such may stall the advance when first tested.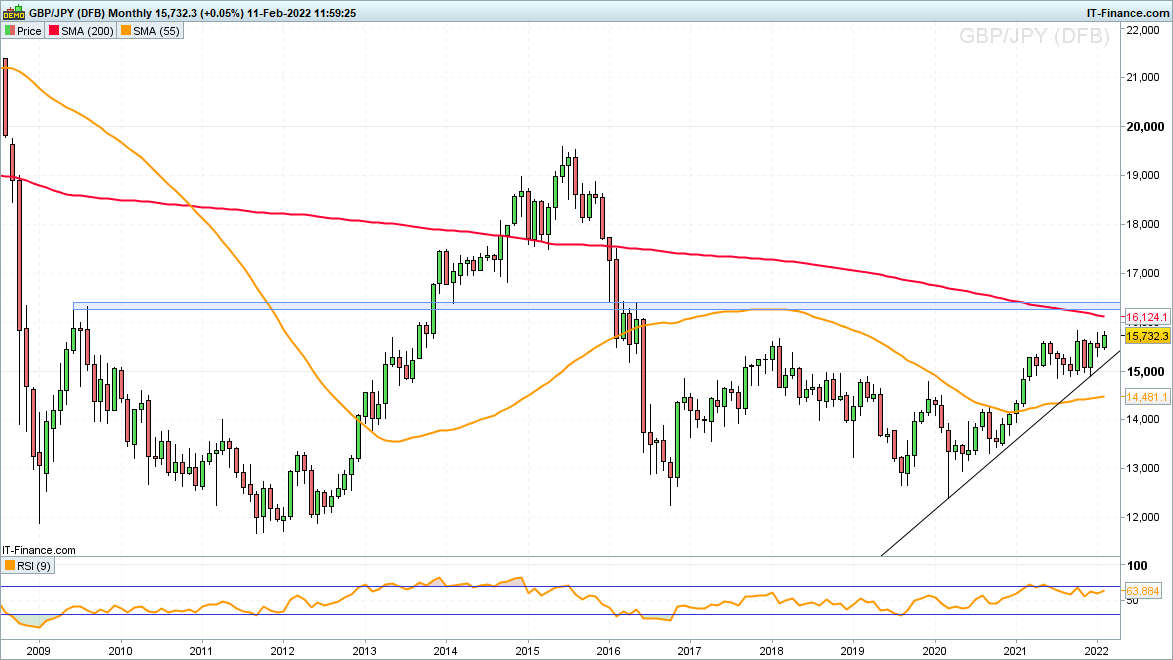 Source: ProRealTime
Further up the 61.8% Fibonacci retracement of the 2015 to 2016 descent and the October 2014 low can be found at ¥167.90 to ¥168.02. Immediate bullish pressure should be maintained while the one-month support line at ¥155.80 underpins.
From a longer-term perspective the current uptrend will remain valid as long as the last swing low and late January low at ¥152.91 isn't being slipped through.
As an aside it is interesting to see that this low was formed close to the 200-day simple moving average (SMA) which also acted as support back in September and early October.