Is now the right time to buy UK housebuilders shares as a hedge against inflation?
---
UK housebuilders have underperformed the FTSE 100 this year despite favourable pre-tax profits, attractive valuations and improved operating margins. Is now right time to buy into the sector as a hedge against inflation?
Source: Bloomberg
With the UK's fourth largest housebuilder, Bellway becoming the last company among its peers to report first-half earnings before the end of the quarter on Tuesday, should investors flock to UK real estate investments amid spiralling inflation?
UK housebuilders have benefitted from the house price boom which defied the coronavirus pandemic with Persimmon and Taylor Wimpey, Britain's two biggest housebuilders, handing their chief executives bumper bonuses last year.
Persimmon CEO, Dean Finch, received a total pay and bonus package of £2.6 million last year, compared with £218,326 in 2020, the York-based builder's annual report showed.
At Taylor Wimpey, the outgoing chief executive, Pete Redfern, received a total pay and perks package of £2.8m last year, up from £1.1m in 2020, according to its annual report. Revenues at this housebuilder rose 54% from 2020 to £4.3 billion last year, similar to its pre-pandemic revenues, while profit before tax jumped 157% to £680m, still below its 2019 profit of £836m.
Persimmon made a profit before tax of nearly £1bn last year, up by a quarter from 2019, as it completed 14,551 homes, generating revenues of £3.6bn, but cautioned that the Ukraine invasion could disrupt the UK economy in the year ahead. Dean Finch, Persimmon's chief executive, said he expected continued house price rises to "mitigate build cost inflation", suggesting higher costs for materials and labour would be passed on to buyers.
Ahead of Bellway's half-year results tomorrow, the company will be pleased by the UK Home Builders Federation (HBF) having awarded it a 5-star rating in customer satisfaction for the sixth consecutive year.
At the last count it had agreed deals for a record 19,819 new plots in the year to the end of July last year, increasing its land bank to over 86,500 plots. During the second half of the last year and up to January this year, Bellway set a new company record for completed homes too. Over the next two years the housebuilder said it has plans to deliver 20% more homes than last year, a time during which it doubled pre-tax profits to £479 million on the back of a 40% increase in revenue to £3.1 billion.
In addition, Bellway is on track to see the volume of properties it builds rise by 10% for the full year and the same again in 2022-23. From a fundamental point of view, it may thus make sense to buy Bellway and other UK housebuilders as an inflation hedge with their highly deflated share prices, currently between 18% to 35% lower than their pre-pandemic peaks, or in the case of Persimmon, last year's peak.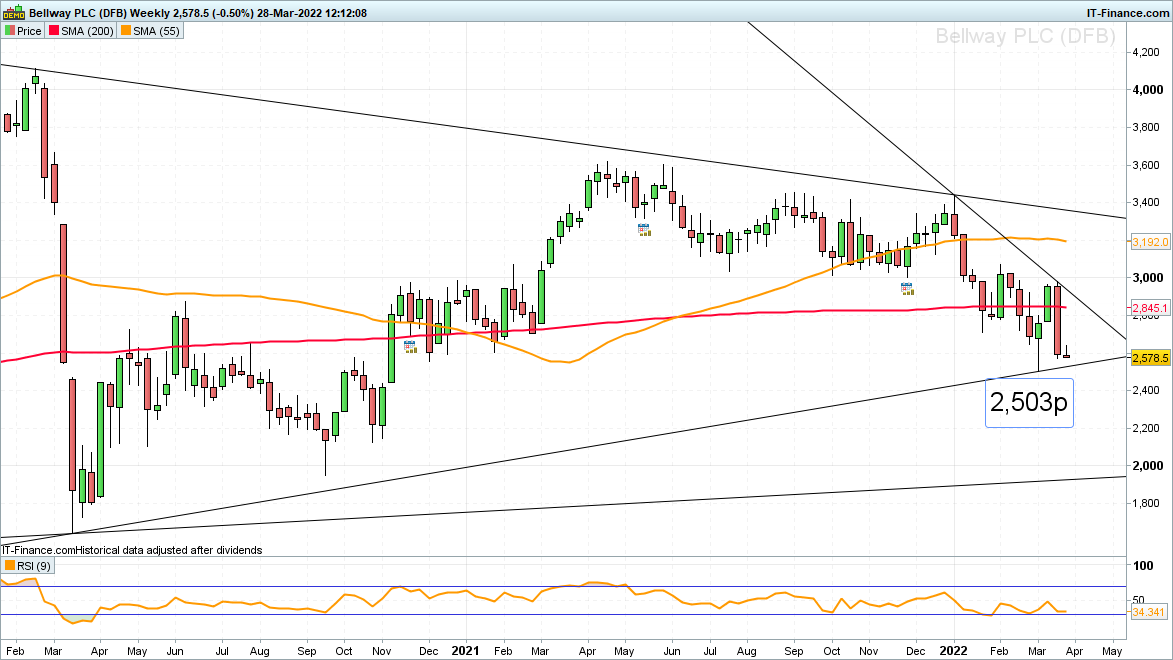 Source: ProRealTime
Another reason for buying UK housebuilders shares is that the UK government's £4bn cost estimate to remedy unsafe cladding on buildings between 11m and 18m high - which it wants UK housebuilders to contribute towards - may be far off the mark as the Home Builders Federation own auditor - PwC's - cost projections are likely to come in far lower at around £1bn.
From a timing perspective it may be wise to hold off buying UK housebuilders shares just yet, though, since the sector's shares keep on sliding as they bear the brunt of rising costs and weakening consumer confidence amid rising interest rates and the war in Ukraine.
The iShares UK property ETF, which gives a diversified exposure to UK real estate companies and directly invests into these, may present a better alternative for investors since, unlike most UK housebuilders single stocks, it is trending higher.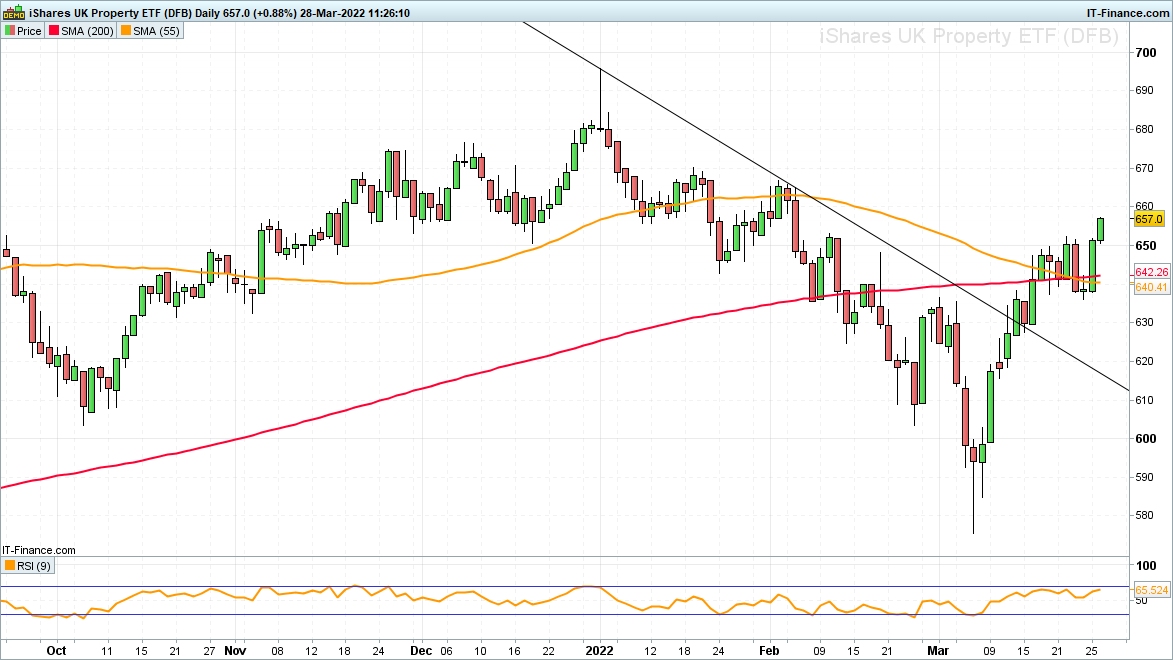 Source: ProRealTime
The ETF has today broken out of last week's sideways trading range and looks to be heading back up towards the late 2019, early 2020 as well as the January 2022 highs at £6.70 to £6.95 with the August 2015 peak at £7.29 representing another potential upside target.
The break through the 2022 downtrend line and rise back above the 200-day simple moving average (SMA) at £6.42 bodes well for this ETF while UK housebuilder shares remain under pressure for the time being.