Alphabet's share price on watch ahead of Q1 earnings
---
Alphabet's share price is down more than 10% year-to-date and sentiments have been largely mixed. Can its upcoming Q1 earnings provide a lift for its share price ahead?
Source: Bloomberg
When does Alphabet report earnings?
Alphabet Inc is set to release its quarter one (Q1) financial results on 26 April 2022, after market closes.
Alphabet's earnings – what to expect
Current expectations are for Alphabet's upcoming Q1 revenue to come in at $68.1 billion, up 23.1% year-on-year. In addition, earnings before interest, taxes, depreciation and amortization (EDITDA) for Q1 are expected to come in at $27.6 billion, up 20.3% from a year ago.
Currently, the stock has 12 'buy' recommendations, with no 'holds' and 'sells'. The Bloomberg 12-month consensus target price of $3,420 suggests a potential upside of 31.0%, from the price of $2,610.62 at the time of writing.
Alphabet mostly insulated from Apple's privacy changes and Russia's exposure
As economic normalisation continues to take place, Alphabet's revenue growth has tapered from the Covid-19-led bounce but remained at a strong 35.6% year-on-year (YoY) increase in quarter four (Q4) 2021. Thus far, while Apple's privacy changes may have an impact on its YouTube ad business, the outperformance in the other segments has shown to underpin the overall advertising business as of the previous quarter. Advertising spending may remain supported with the current strength of the US economy, but the outlook will be more closely watched. Further rotation in advertising spending from traditional media such as television, newspaper and radio to internet also remains a key catalyst to drive longer-term gains in the advertising market.
In terms of Alphabet's exposure to Russia, it was estimated to account for less than 0.5% of its revenue. Therefore, any direct impact for its business in Russia may seem limited.
Source: Alphabet Inc
Google Cloud as growth catalyst but need to further deliver ahead
The crown jewel for Alphabet's longer-term growth may lie in its Google Cloud segment. While it is still making losses as of its previous quarter (-$890 million), losses have been pared by 28.4% from a year ago. The latest revenue growth of 44.6% year-on-year (YoY) for the segment may seem attractive at first glance but on relative terms, it does not differ that much from its competitors such as Amazon's AWS and Microsoft's Azure. Considering that AWS and Azure takes up around 33% and 21% of market share in the cloud infrastructure service market respectively, while Google Cloud takes up around 10%, we should be expecting a much higher growth rate for Google Cloud. That does not seem to be playing out at the moment.
Further 'aggressive' investments into the cloud space has been highlighted by the management and the 70% increase in backlogs in Q4 2021 does provide testament to the segment's potential. That said, the growth figure for this segment will continue to be on watch, with the need to further deliver ahead in order to drive market share gains.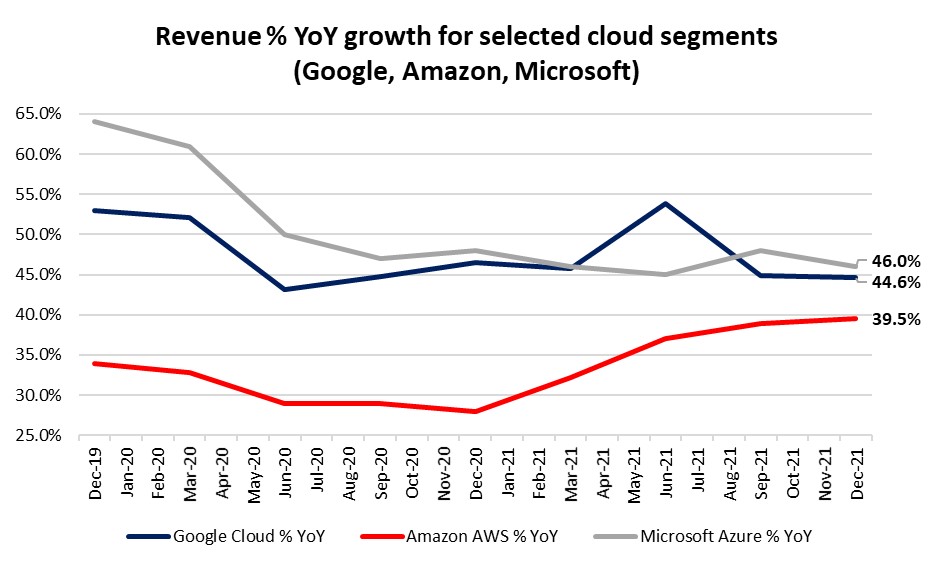 Source: Alphabet Inc, Amazon.com Inc, Microsoft Corporation
Interest rate upcycle poses risks to valuation multiple, with strong earnings on watch to deliver a mitigating impact
The glaring theme for financial markets is undoubtedly the impending increase of interest rates ahead, as curbing inflationary pressures take precedence in central banks' monetary or/and fiscal policies. The general belief is that rate increases could translate into a larger discounting factor for companies' future earnings or cashflows and therefore, market participants may demand higher growth figures in order to mitigate the effect of rising rates. This may have a larger impact on growth sectors, making these companies more rate-sensitive.
While the inverse relationship between 10-year Treasury yields and Alphabet's share price has not been clear historically, Alphabet's earnings growth and cashflow will nevertheless be closely looked upon. Thus far, its earnings growth has been resilient to inflationary pressures and economic normalisation, with a 35.6% YoY increase in Q4 2021. Its free cash flow has also been consistently on the rise, suggesting that they may be less dependent on debt for financing and can rely on their pool of retained earnings. These figures will continue to be on watch to justify their valuation ahead, where economic momentum will clearly lean towards a downward bias.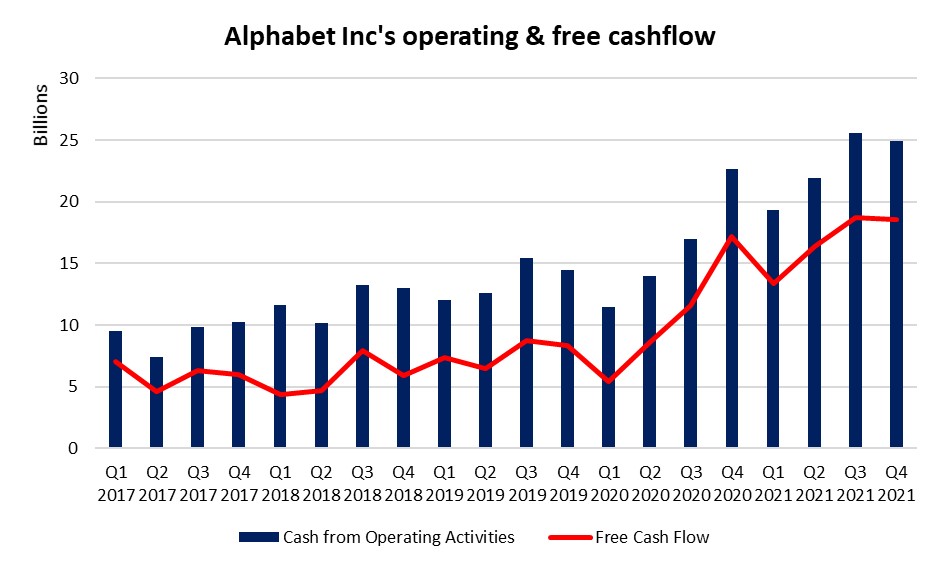 Source: Alphabet Inc
Stock split in July
Alphabet has enacted a 20-for-1 stock split in February, which will take effect on 15 July and trading will begin on a split-adjusted basis on 18 July. Generally, a stock split does not alter the business fundamentals but the move to lower the share price may make shares more accessible to smaller investors. That may also increase its chance of being added into the price-weighted Dow Jones Industrial Average, which has previously been made impossible due to its high share price.
Alphabet's shares – technical analysis
From its technicals, Alphabet's share price has been largely trading within a consolidation pattern over the past months. Recent moves have brought its share price near the lower bound of the range, where the key support level of $2500 will be on watch. That level has supported the shares on at least three previous occasions but multiple retests of support within a relatively short time span may put it at risk of a downward break. Some signs of weakness remain intact with the bearish crossover between the 100-day and 200-day moving average (MA), along with bearish momentum on the moving average convergence divergence (MACD). Therefore, much clearly hangs on the upcoming results to lift sentiments.
Source: IG charts