Where next for Legal & General shares ahead of ex-dividend date tomorrow?
---
Can the Legal & General share price regain its January all-time high or is a second, volatile quarter at hand?
Source: Bloomberg
Legal & General share price outlook
Shares in Legal & General have struggled in the first quarter (Q1), losing over 20% of their value and slipping to levels last seen in December 2020 by dropping to this year's low-to-date at 225.6 pence before recouping over half of their recent losses in the second half of March.
Shareholders of record on Thursday, 21 April will be paid an increased dividend of 13.27 pence per share by the company on 1 June. This represents a yield of over 5%.
The financial services provider has a pension annuities business, an investment management division, and an insurance services arm. It is the UK's biggest investment manager for corporate pension schemes, a market leader in pension risk transfer and a major global investor, with £1.3 trillion in global assets under management.
From the start of the year, Legal & General Group's share price has been negatively impacted by the Russian invasion of Ukraine and the cost of living crisis. Once Thursday's ex-dividend day is out of the way, should investors buy the stock which to some looks undervalued?
In its August interim results, trading at Legal & General was said to be exceeding pre-Covid-19 levels and, more importantly, its Solvency II coverage ratio - a key measure of an insurer's financial stability, which must stay above 100% – increased from 173% to 183%. Nigel Wilson, group chief executive, told investors at the time, "... and we expect to deliver double-digit growth in operating profit at the full year."
Furthermore, in mid-March the insurer issued a statement to reassure investors concerned about exposure to Russian stocks in light of the Russian invasion of Ukraine. This, it says, is "small; approximately 0.1% of our assets under management" and mostly held through index funds and ETFs. The company says it is "actively working with the major index providers to confirm Russia's future role in global indices."
Nonetheless rapidly rising US and European bond yields as well as corporate bond spreads might still have a negative impact on the company's profits. Analysts seem to have diverging views on the insurer, with some, like Barclays, reducing their price objective, while others, such as Deutsche Bank, are boosting their target price for the Legal & General share price. The likes of JPMorgan Chase & Co. simply reaffirmed a "neutral" rating.
According to MarketBeat.com, the company has a consensus rating of "Buy" and an average price target of 347.83p.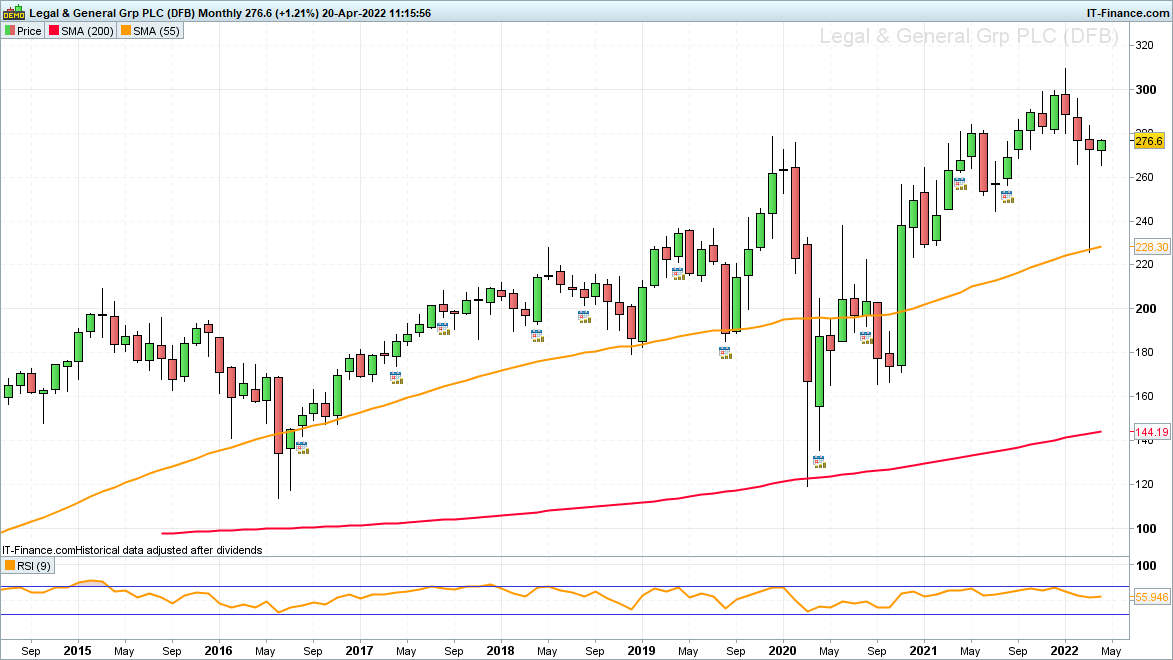 Source: ProRealTime
Does the technical outlook warrant buying Legal & General shares?
The fact that the March monthly candle formed a Hammer and that the 225.6p low was made close to the 55-month simple moving average (SMA), which acted as support, could indicate that further upside may be in the offing.
However, for the Hammer formation to become a valid bullish reversal signal, a rise and close above the March high at 283.4p would need to be seen during April. In the way of the bulls stands the December 2019 peak at 278.8p.
Having said that, as long as the Legal & General share price remains above the 266.5p to 256.5p late March and current April lows, an upside bias should prevail.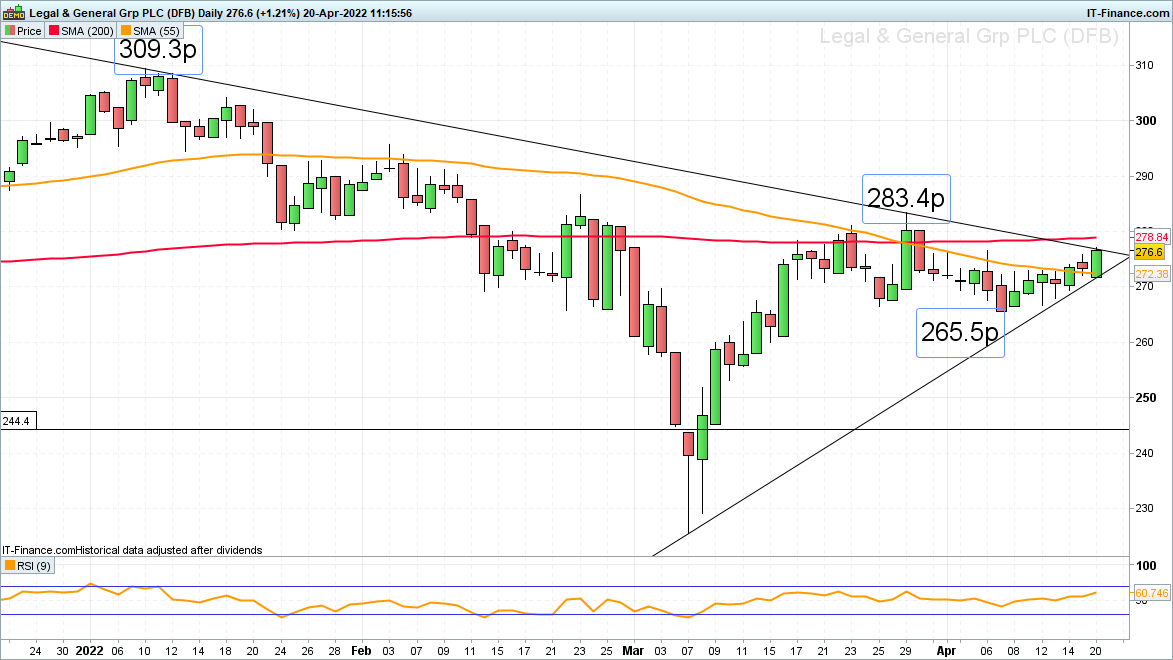 Source: ProRealTime
Once the 200-day SMA at 278.7p and, more importantly, the March high at 283.4p have been overcome, the psychological 300p mark would be back in the picture, followed by the 309.3p early January peak.
For now, unexpected failure at the current April low at 265.5p would muddy the waters for the bulls, however, and would probably lead to the 50% retracement level of the March-to-April advance at 254.5p and the minor psychological 250p mark being revisited.