AMD Q1 2022 results: what to expect?
---
Advanced Micro Devices, the world's leading chip maker is scheduled to report its first-quarter earnings on May 3rd after market close.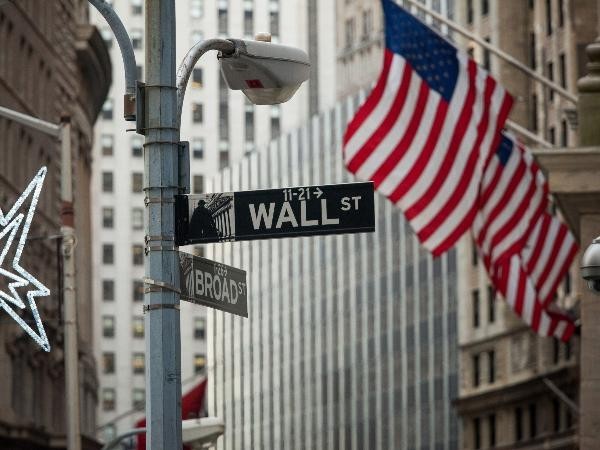 Source: Bloomberg
When is the report date?
Advanced Micro Devices, the world's leading chip maker, is scheduled to report its first-quarter earnings on May 3rd after market close.
What to expect?
The consensus EPS forecast for the quarter is $0.84, a 78% lift from the same quarter last year at $0.47 but lower than previous quarter's $0.92 per share. In the previous earnings, AMD said it expected $21.5 billion in sales in 2022, a 31% increase over 2021′s sales, including $5 billion in sales in the first quarter.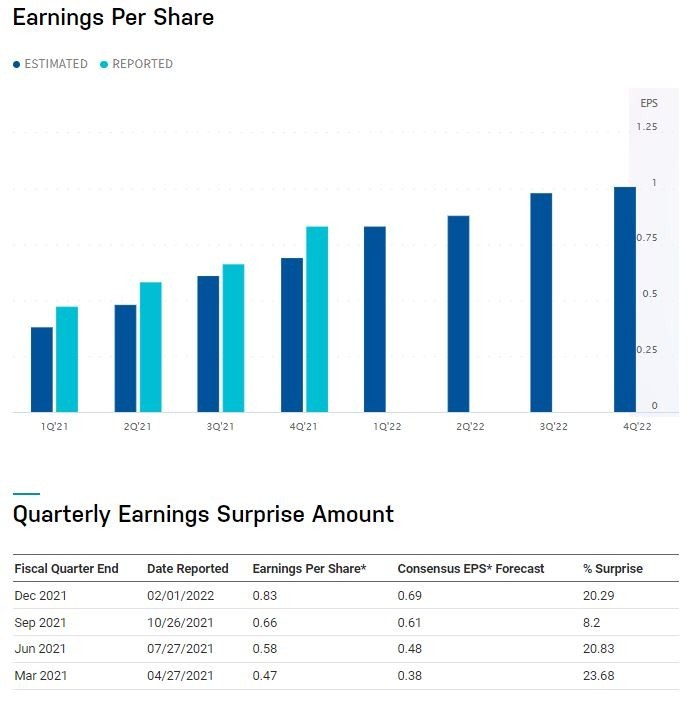 Source: Nasdaq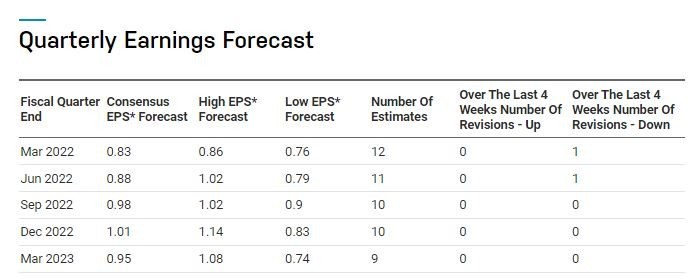 Source: Nasdaq
What will be the key watch point?
For the past two years, AMD has been riding on a surge in PC and electronics sales due to the pandemic lockdown and the trend of working from home. As a result, its full-year growth for 2021 has concluded at a jaw-dropping 68% revenue growth rate and an enviable 48% margin.
However, as we have seen from the other covid-boosted companies like Zoom and Netflix, the start of 2022 has staged a new era of post-pandemic economy, which may introduce various headwinds for the business. A shrinking demand, a heightened cost pressure, and supply chain issues are causing real pains.
In the IT industry, Microsoft has cut its revenue forecast by 10% as recently reported citing the hurdled operating levels in China. Therefore, investors would be keen to get an update on AMD's view as back in September, AMD predicted that the worldwide chip shortage would be eased in 2022.
In terms of the business units, AMD has recently released new chips with significant performance gains that empower the company to challenge its biggest competitor, Intel. In addition, AMD's CEO Dr Lisa Su confirmed that AMD would be launching the next generation of PC, gaming and data centre products in 2022. Hence, the progress of these new products will be crucial to watch for the upcoming report.
Technical Analysis
Like other tech stocks, AMD did not enjoy a good start to the year as its price has been heavily discounted since early January. Currently sitting at around the band of $86 to $90, more than 40% lower than the peak. The long-term trend for the AMD share price remains downward as the weekly candlestick has broken through key support since 2020, which could potentially see the stock keep moving toward the low in May 2021, nearing $74.
For the near term, the RSI in both the weekly and daily chart has dived to the floor level that hasn't been seen for more than two months, a suggestion that the buyer may consider a bargain on this level. Imminent support can be found at $80. While a close above flag resistance at $95.17 would open the sky to the level of $100. Only on a breakthrough of trend line support (as shown in both daily and weekly charts) should we expect a reversal to bull-biased to trades on the stock.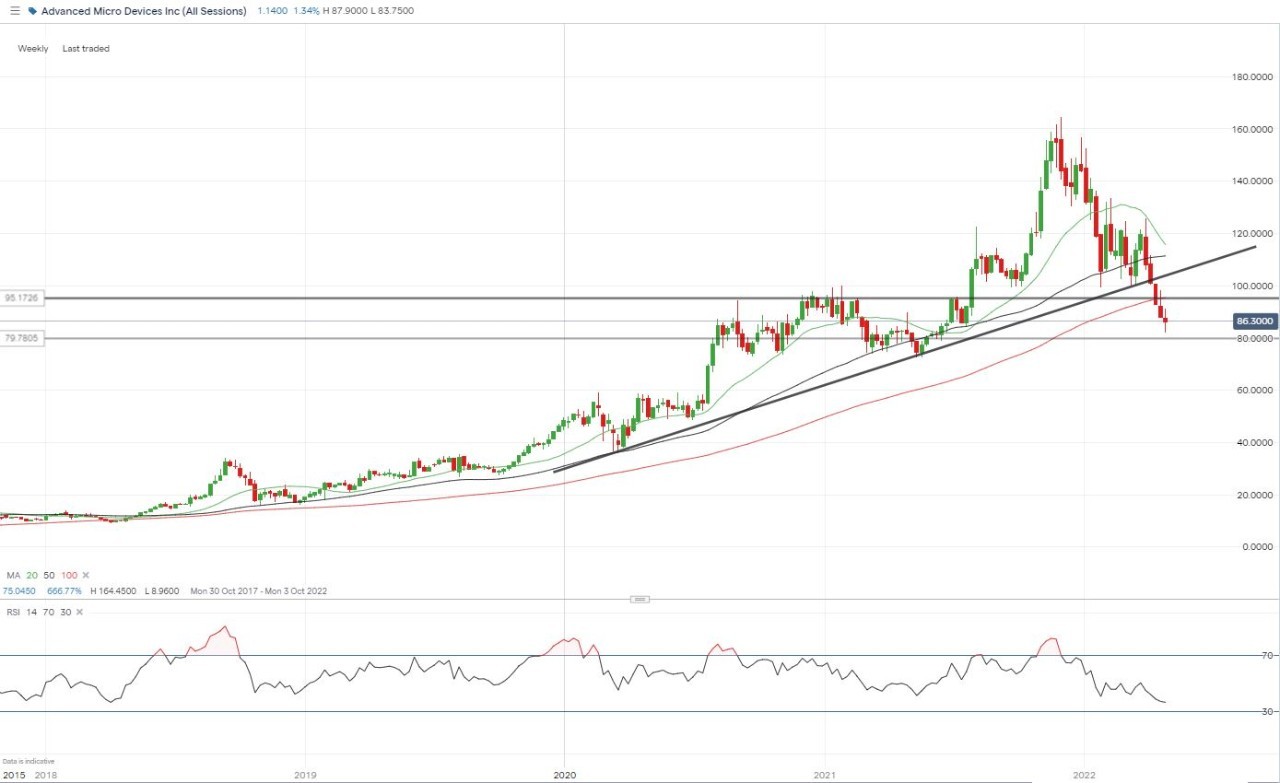 Source: TradingView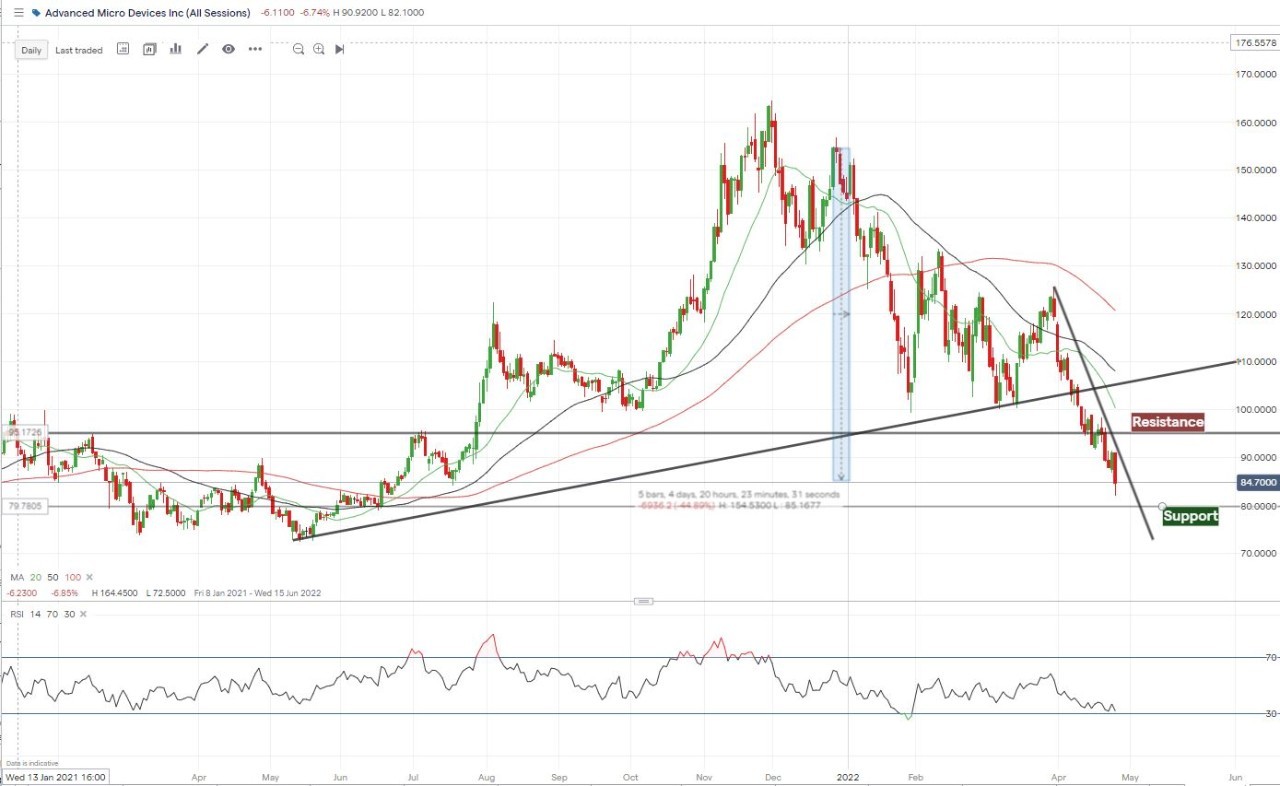 Source: TradingView
Take your position on over 13,000 local and international shares via CFDs or share trading – and trade it all seamlessly from the one account. Learn more about share CFDs or shares trading with us, or open an account to get started today.