Crypto investment: what's the best option for you?
---
Source: Bloomberg
Crypto investment: what's the best option for you?
The birth of blockchain technology and cryptocurrency has triggered a revolution in the capital markets and became one of the rising asset classes in a short period. The rises and falls in the crypto world have attracted more and more eyeballs as their popularity grows and investor interest continues to expand.
There's a growing sense that cryptocurrencies are more volatile than stocks, but that's not necessarily a bad thing. With the crypto market just entering its second decade, massive price swings are not uncommon for a relatively young asset class. This volatility may pose a risk to some investors, but that shouldn't deter them from investing in digital assets altogether.
Understandably, the interest in finding and investing in the cryptocurrency world is on a rapid rise even as Australia's first crypto ETF launch recently attracted over 3 million investments on the first day.
Crypto Economy Overview
The cryptocurrency market has had explosive growth for the past two years. Its market size has jumped from approximately $300 billion in 2020 to $2 trillion by February 2022. At its peak in October 2021, the market capitalization surpassed $3 trillion. Among thousands of cryptocurrencies today, Bitcoin was the first and remains the most widely held, accounting for over 40% of the market capitalization in 2022 while Ethereum's dominance is at 18.3%.
Source: TradingEconomics
Source: IG
Why invest in Crypto?
The rise of the crypto market has ignited a new generation of investment in the capital market as a decentralized digital currency network, meaning it operates through a system of peer-to-peer transaction checks rather than a central server. When cryptocurrencies are bought and sold, the transactions are added to the blockchain: a shared digital ledger that records data through a process called 'mining'.
High liquidity is one of the key features of crypto. As the transactions are dispersed across multiple exchanges, comparatively small trades can have huge impact on market prices. Liquidity is highly regarded by traders as it brings about better pricing, faster transaction times and increased accuracy for technical analysis.
However, this is also part of why crypto currency markets are so volatile.
In addition, the unregulated nature of cryptocurrency makes it too risky to support a full-fledged financial system. Due to the lack of government backing, the market is bearing a higher risk than other traditional asset groups.
So, what can you do?
Instead of holding a particular coin or token, there are ways of gaining access to the crypto investment opportunity. Below, we have listed three key primary options for anyone who is looking to participate in this booming investment community while staying under a safer shelter.
One of the easy ways to gain crypto exposure is by purchasing stocks that invest in crypto assets directly supporting making the blockchain network more efficient or operating in the crypto market in some capacity. Below are some popular names that are making waves in the crypto world.

Source: DailyFX, Refinitiv
Besides, companies like Tesla and MicroStategy which are well-known names for supporting crypto by holding coins as the company's assets.
ETF (IG current product list)
As mentioned above, there are thousands of crypto on the market today. So rather than trying to pick winning crypto yourself, an ETF can expand investment exposure to a basket of coins and the underlying blockchain technology they're built on and more importantly, diverse risks.
Below are some popular crypto-related EFT: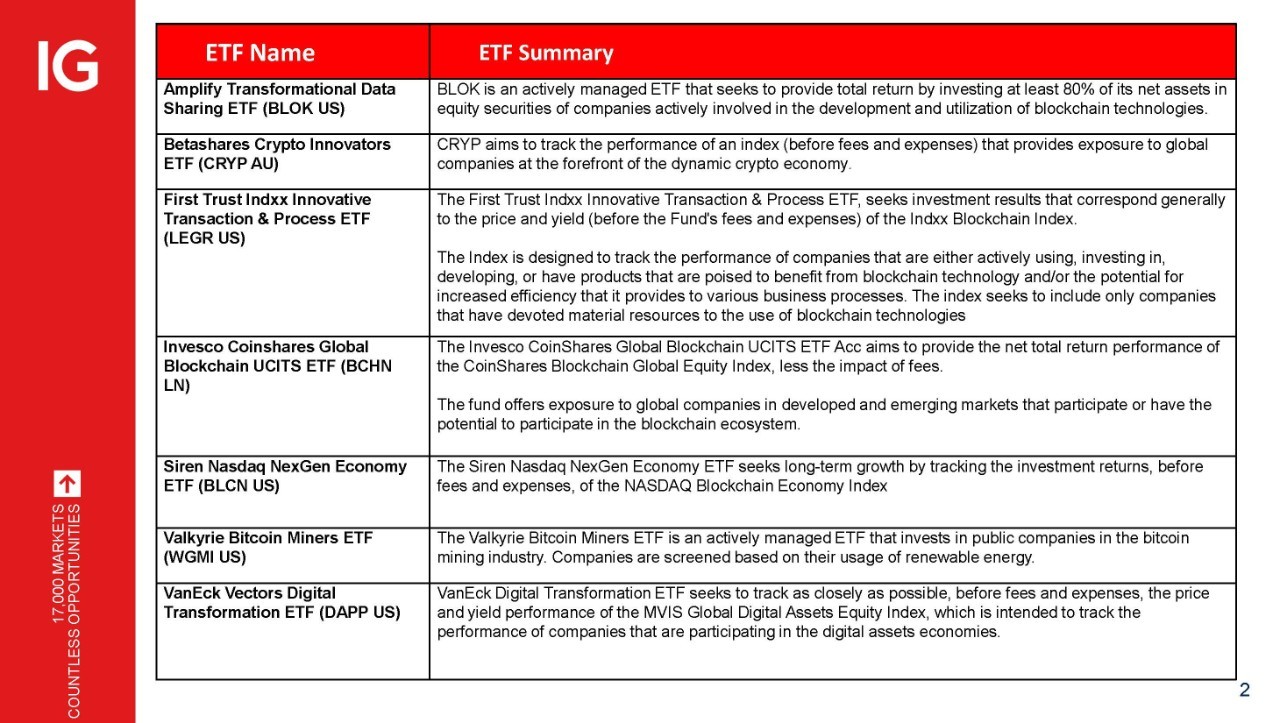 Source: IG
A CFD is a contract in which you agree to exchange the difference in the price of a cryptocurrency from when you first open your position to when you close it. You are speculating on the price of the market rather than taking ownership of the cryptocurrency. If you open a long position and the cryptocurrency increases in value, you'll make a profit but if it falls in price then you'll make a loss. On the other hand, if you open a short position, you will only make a profit when the price drops.
CFD trading is a form of derivatives trading meaning that you deal on prices derived from the underlying market, not on the underlying market itself. It's a popular form of trading because it enables traders to:
Make capital go further with leverage
Go short or long
Mirror trading the underlying market
Hedge a share portfolio
Why trade crypto CFD with IG?
Stress-free account set up and easy to use platform.
When you buy cryptocurrencies, you'll need to buy and sell via an exchange, and store the cryptocurrency in your digital wallet. This process can be restrictive and time-consuming but when trading cryptocurrency CFDs with IG, you won't need to set up the digital wallet as IG is exposed to the underlying market on your behalf. In fact, you could be trading in less than five minutes, with our simple application form and instant online verification.
Read more: The benefits of cryptocurrency trading
The volatility of cryptocurrencies is part of what makes this market so exciting. Rapid intraday price movements can provide a range of opportunities for traders to go long and short but this also come with increased risk. So, if you decide to explore the cryptocurrency market, make sure that you have done your research and developed a risk management strategy. With IG's trading platform, multiple tools are available to help you minimize the risks, including stop-loss, guaranteed stop, trailing stop, limit order and price alerts.
Read more: Risk managagment
As CFD trading is a leveraged product, this enables you to open a position on 'margin' – a deposit worth just a fraction of the full value of the trade. That is to say, you could gain a large exposure to the cryptocurrency market while only tying up a relatively small amount of your capital.
The leverage exposure that IG's CFD provides offers you the opportunity to make large profits from a relatively small investment. However, it can also amplify any losses, including losses that could exceed your initial deposit for individual trade.
Read more: Risk managagment
When you trade cryptocurrency CFDs with IG, you can get improved liquidity because we source prices from multiple venues on your behalf. This means that your trades are more likely to be executed quickly and at a lower cost.
In summary
As cryptos move towards the mainstream investment landscape, it pays to stay ahead of the trend with a thorough understanding about the market while exploring the best-fit option to participate and shop for the most-trusted product and platform.
Take your position on over 13,000 local and international shares via CFDs or share trading – and trade it all seamlessly from the one account. Learn more about share CFDs or shares trading with us, or
 

open an account

 

to get started today.