Can the improved risk sentiments last? FTSE 100, AUD/USD, Gold
---
Coming back after the holiday break, US equity futures are moving higher this morning, which marks a stark shift from its downbeat mood yesterday.
Source: Bloomberg
Market Recap
Coming back after the holiday break, US equity futures are moving higher this morning (DJIA +0.66%; S&P 500 +0.91%; Nasdaq +1.34% at the time of writing), which marks a stark shift from its downbeat mood yesterday. The reversal in sentiments may have surfaced following the possibility of US' decision to cut Chinese tariffs this week, with easing tariffs very much welcomed as another form of avenue in taming inflation. Any decision on that front may aid to improve overall risk sentiments in the near-term, being seen as beneficial to the world's two largest economies, US and China. That said, the decision is still largely a black box and whether it marks an eventual bottom for equities markets remains questionable. This is considering that several headwinds remain through July, which sellers could tap on to reverse dip buying efforts ahead. This includes the upcoming earnings season, where further moderation in corporate earnings is expected, and a possible confirmation of a US recession if US quarter two (Q2) gross domestic product (GDP) marks another contraction. The advance estimate will be released on 28 July.
On another note, the FTSE 100 index is attempting to ride on crude oil prices higher, with outperformance in the energy sector bolstering some relief with a series of near-term higher highs and higher lows. That said, a longer-term upward trendline may remain a key resistance to overcome in coincidence with its 50-day moving average (MA), as a recent retest last week was met with a strong bearish rejection. The index may attempt to retest the trendline resistance once more and failure to overcome the line may potentially point to another leg lower.
Source: IG charts
Asia Open
Asian stocks look set for a positive open, with Nikkei +1.40%, ASX +0.01% and KOSPI +0.83% at the time of writing. The quiet economic calendar yesterday brings sentiments to focus on the single relief headline of a potential US tariff-easing decision, which could run the risks of a sharp paring back in speculative bullish bets in the event of any inaction.
On the economic calendar, the key risk event today will revolve around the Reserve Bank of Australia (RBA) interest rate decision, with market expectations leaning towards an aggressive 50 basis-point (bp) hike in the upcoming meeting as curbing inflation clearly takes priority with the central bank's hawkish surprise hike last month. Recent inflation data continues to show its consumer prices accelerating, cementing the need for some catch-up in tightening with further rises expected throughout 2022.
A look at the AUD/USD shows the pair ticking up to start the week ahead of the RBA meeting, but with the formation of a new lower low last Friday, the longer-term downtrend seems to remain intact. A move higher above last Friday's close, along with a key support-turned-resistance line, may be warranted in order to suggest a greater shift in sentiments to the upside. That will leave the 0.700 level on watch. Potential tailwinds for the risk-sensitive Aussie dollar include an improved risk environment and a more hawkish rhetoric from the RBA ahead.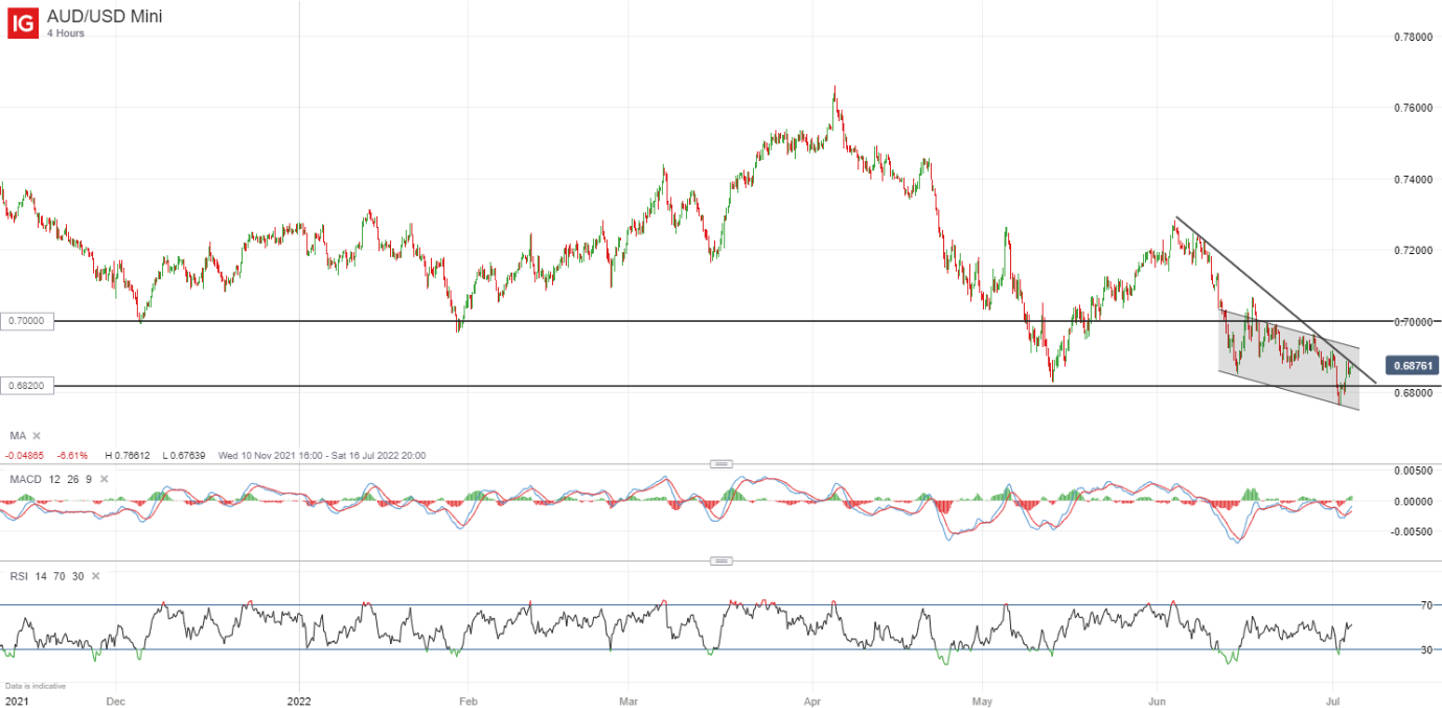 Source: IG charts
On the watchlist: Upper channel trendline for gold prices on watch
Despite the recent pullback in Treasury yields and the cautious risk environment, gold prices have not been able to ride on these tailwinds higher as a stronger US dollar and the interest rate upcycle from the Fed seems to be taking greater control of the yellow metal's prices. That said, a daily bullish hammer candlestick has been formed last Friday, providing some hopes of the presence of dip buyers in rejecting lower prices. One may watch for any follow-through this week, with a greater resistance to overcome at the upper trendline of a descending channel pattern. Any break above the trendline could provide a greater signal of a near-term reversal and that will leave the US$1,830 level on watch ahead.
Source: IG charts
Monday: US markets closed for holiday, DAX -0.31%, FTSE +0.89%