ASX rising stars for 2022: BrainChip and Whitehaven
---
2022 has been a tough year for the Australian stock market but amidst the macro headwinds, two stocks manage to deliver mouth-watering returns.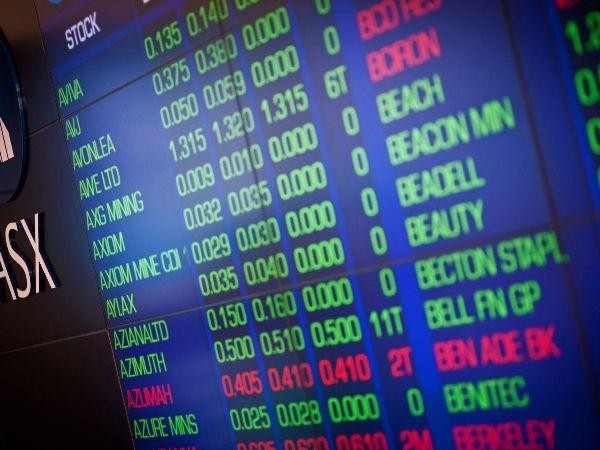 Source: Bloomberg
2022 has been a tough year for the Australian stock market and despite the recent recovery, the ASX 200 has fallen more than seven percent from the beginning of the year. However, there are still several ASX stocks that have delivered mouth-watering returns amid the macro headwinds.
Today, we look at two rising stars: Whitehaven and BrainChip.
Thanks to exceptional global commodity prices, Whitehaven Coal Ltd share price has marked several all-time highs this year with the stock price increasing by 170% year to date, 230% higher than 2021. The historic high was recorded on Monday when the price climbed to $7.60.
Apart from its soaring prices, all eyes will be on Whitehaven's full-year results, which will be reported on Thursday, 25 August 2022. Whitehaven Coal is projecting it will achieve its strongest ever full-year result with earnings before interest, tax, depreciation and amortization (EBITDA) for FY 2022 forecast to reach $3 billion, a jaw-dropping 140% up from FY 2021.
More importantly, the outlook for the coal producer looks bright as the recent IEA report anticipated that global coal demand would return to its all-time high this year.
From a technical point of view, the price just made a bold breakout from the five-month-long trend line to aim for a new all-time high. As the price is moving out of the chart, it's difficult to identify the next resistance. However, the support from the previous trend line should be in place for the next bull move, even though the current oversold RSI print may lead to a near-term breath.
Whitehaven Coal daily chart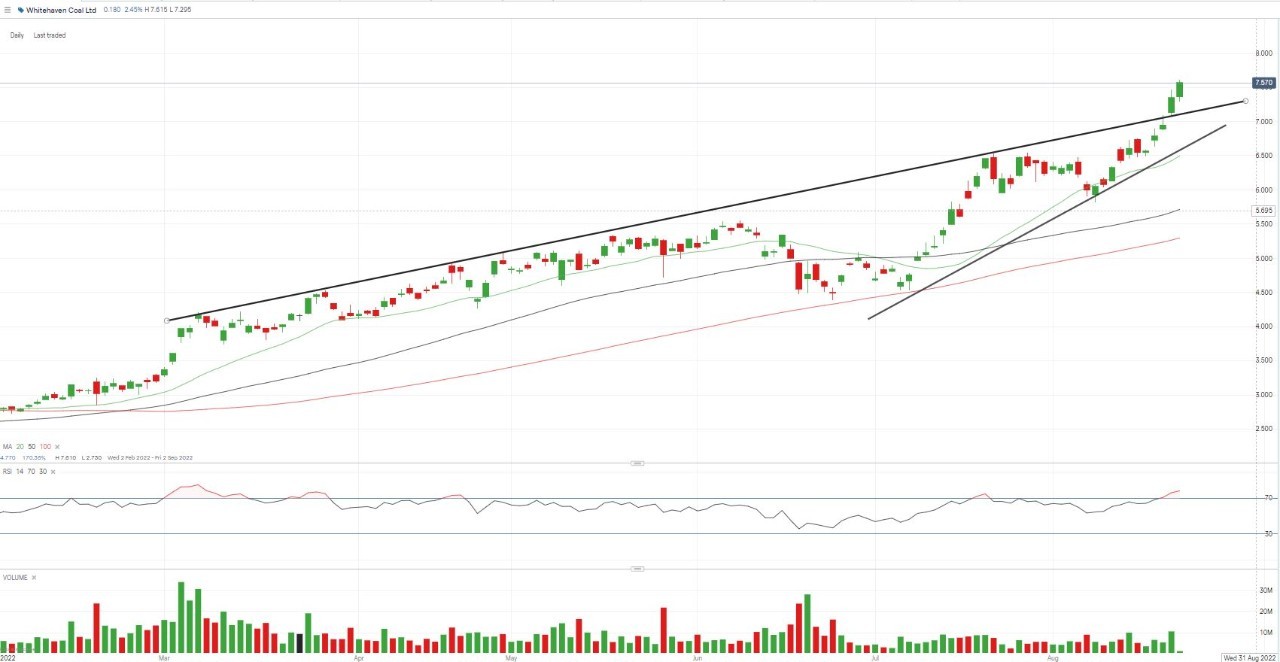 Source: IG
The artificial intelligence (AI) technology company BrainChip is undoubtedly one of the rising stars in the ASX market this year. Its share price has increased 231.5% in 52 weeks and 36% in July alone as investor sentiment heats up.
The company is anticipated to report its annual earnings this week.
BrainChip has gained attention since being accepted into the Arm AI Partner Program in May. The global leading AI program will enable BrainChip to access Akida, the world's first commercial neuromorphic AI accelerator, to foster the development of world-class AI products and applications.
Although the company is yet to generate much revenue, that hasn't stopped investors from associating the company with massive potential in the future.
According to the daily chart, the price is sliding down from its peak in early August, with support from the 100-day MA and the critical 38.2% Fibonacci retracement level. Only a breakthrough of the descending trendline can safely claim a bull overturn. If not, there is potential that the price will keep moving towards the July high at 0.992.
BrainChip daily chart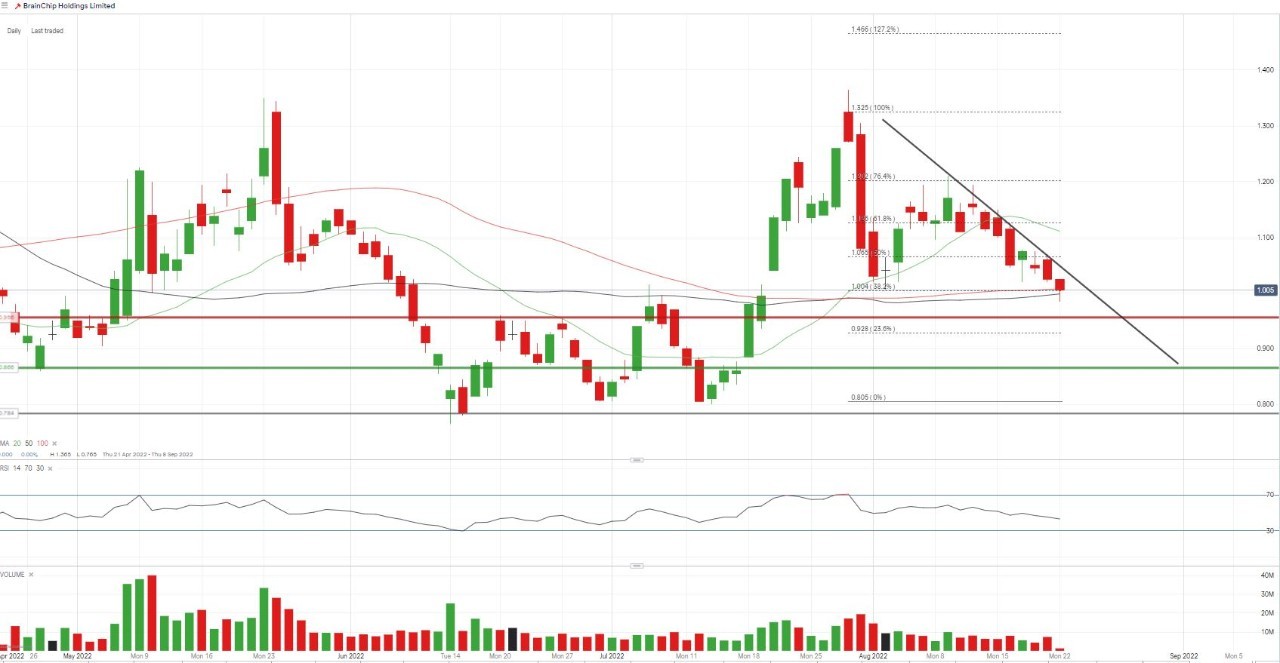 Source: IG