Apple stock: is now the time to buy?
---
Even though September is often when Apple shines but things are a bit different this year.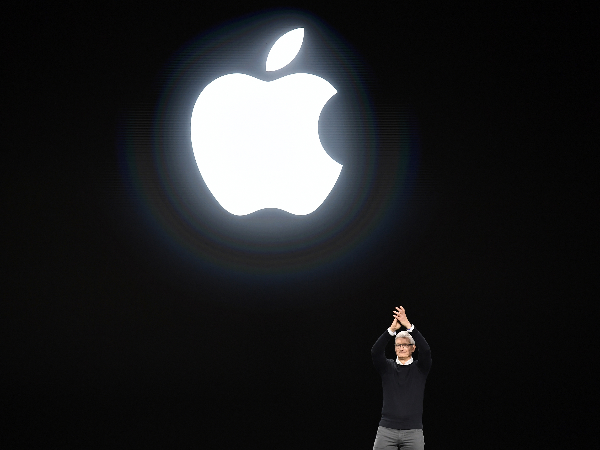 Source: Bloomberg
Apple's new strategy
September 7th, 2022 saw Apple Inc unveils its 2022 lineup of smartphones and digital assets. The launch includes a base model iPhone 14, a larger Plus version, the 14 Pro, and the 14 Pro Max.
The gap between the base and the Pro model is apparent with the Pro models receiving a 48-megapixel camera upgrade, a much faster A16 Bionic chip, a new always-on-display feature and a 35% higher charge. The upgrades and improvments in the iPhone are all designed to fit into Apple's new strategy.
What does the new strategy mean for Apple?
This new strategy has the potential to be a game changer for Apple.
Over the previous years, the lower-priced iPhones usually did well in sales and this was evident during the second quarter of 2022 when Apple sold about 37% more of the base model iPhone 13 and 13 Mini than the two Pro versions.
But for the new series, the expectation is that the iPhone 14 Pro and iPhone 14 Pro Max will account for 50 to 60% of total shipments for the rest of the year with the iPhone 14 Pro Max, the most expensive version, anticipated to make up 30 to 35% of sales alone.
This new product strategy, if successful, will not only help Apple to seize more market shares, an area where Samsung is leading at the moment but more importantly, will help the company enjoy higher margins to combat the inflation headwinds.
Apple's share price and technical analysis
Over 2022, Apple's share price has declined 18% and only a further 15% since August 18th.
However, despite a slightly questionable performance, it is still safe to say Apple remains a company investors can count on. Given its robust business and financial performance, the recent dip in prices doesn't change the fact that shareholders have received enviable returns over the last five years, at around 300%.
The share price for Apple has been working hard to stabilize the ground around the 100-day moving average after the recent decline to a two-month-low. That brings the price back to the crucial $150 level signalling the potential for further downside.
However, with the price dipping deep into the oversold territory, we could see the possibility that selling pressure should ease soon.
Even so, with an overall bearish sentiment in play, it may be too optimistic to expect a quick turnaround. A rise through the $154 level, where the 20-day MA sits, would be required to negate this bearish short-term view.
Apple daily chart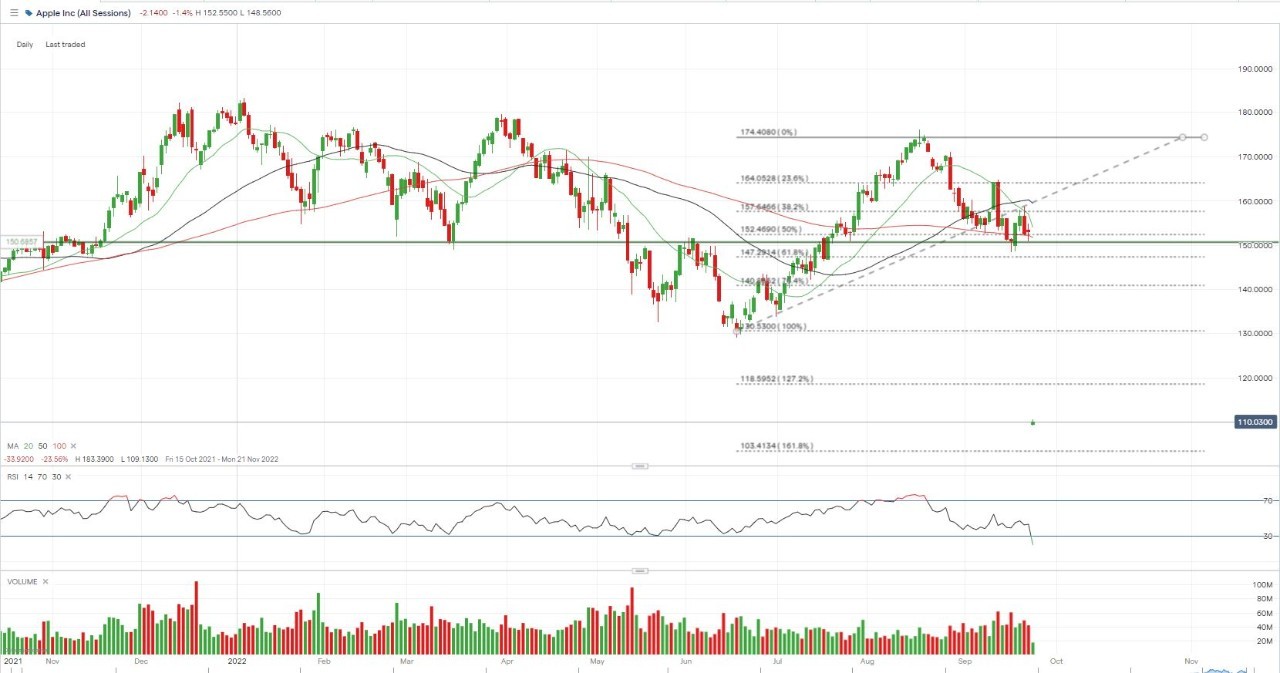 Source: IG
Hebe Chen

 

|

 
Market Analyst
,
Melbourne
27 September 2022