Investor Spotlight: Is all that glitters gold? A look at Aussie gold miners
---
We take a look at what's driving the gold price and investing in Newcrest Mining and Northern Star Resources.


This issue of Investor Spotlight is brought to you by IG, with Kyle Rodda, Market Analyst and ausbiz presenter.
Is all that glitters gold? Well - not this year.
Gold prices have plunged, leaving investors scratching their heads as to why the yellow metal has underperformed in this high inflation environment. In this week's Investor Spotlight, we take a look at what's driving the price of gold, what that means for Aussie gold miners and the investment case for the likes of Newcrest and Northern Star.
What's driving the gold price?
Gold as an inflation hedge is something of a fallacy. Although inflation, or more accurately, inflation expectations is one driver of the gold price, it is only half the story. The other half is interest rates and expectations about future monetary policy.
The best way to describe gold is as a store of value. It sees its demand increase at times when safe-haven assets – specifically, US government bonds – are delivering a negative real yield. Rather than buy an asset that will lose value, investors will instead buy gold and although the metal yields nothing, relatively speaking it is a more attractive investment than the one that will lose you money.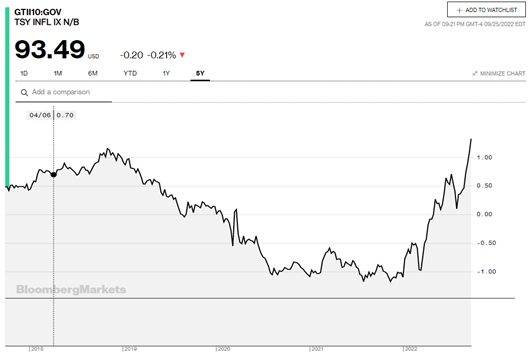 Over the last year, real yields have been gradually moving higher and into positive territory as the US Federal Reserve pivoted to tighter monetary policy settings. The real yield on the US ten-year Treasury note is closing in on four-year highs which largely explains why gold has recently pushed to more than two-year lows.
Of course, there is also the currency element to what drives gold. Gold is priced in US dollars, meaning that as the US dollar appreciates gold faces headwinds from the stronger Greenback.
Gold price technical analysis
The price of gold has fallen through a major level of technical support in recent weeks at around $US1670. On top of that, there are signs of the commodity is entering a longer-term downtrend, with price pushing below the 200-week moving average. The weekly RSI is approaching technically oversold territory; however, it remains above 30 and momentum is clearly to the downside.
Spot gold weekly chart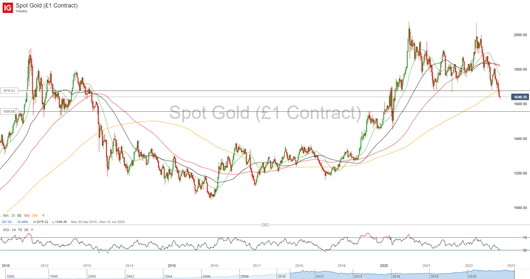 Source: TradingView
Comparing the Aussie dollar gold price
When it comes to ASX-listed gold miners, another factor is important to consider when it comes to the gold price: Australian dollar. The exchange rate can buffet some of the impact of a stronger US dollar on the global gold price, and sometimes support the profits of Australian gold miners. Currently, the Australian dollar gold price is trending lower.
However, the impact of the exchange rate is observable, with the price still above the year's lows, as the AUD/USD falls into the low 65-cent handle.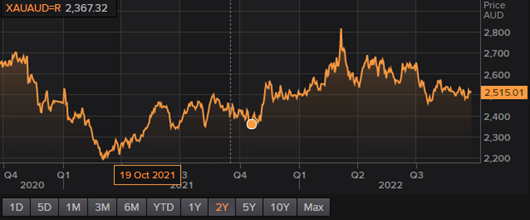 Source: Reuters
A look at Aussie gold miners
ASX-listed gold miners have underperformed the broader market over the last year, falling more than 27% versus the ASX which is down around 12%. The gold miners have multiple headwinds to deal with - both macro and micro. From a macro standpoint, the lower gold price is reducing the topline of miners.
But another hit to profits is the higher cost environment that's driven up the price of inputs, labour and energy. The subsequent squeeze on earnings has pushed the share price of the big gold miners lower, even if the impact has been more modest than global counterparts due to a favourable exchange rate.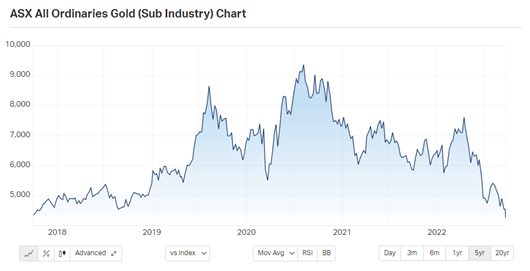 Source: Market Index
Newcrest is the ASX's largest gold miner with a market capitalization of around $15b. The company's stock is arguably the most popular way for Australian investors to get exposure to local gold miners, as a result.
It has been a tough 12 months for investors. After a brief run-up in April, the drop in gold prices has pushed Newcrest Mining shares to four-year lows. Despite the poor run, the analyst community is bullish on Newcrest shares. It has a consensus "buy" rating amongst 17 surveyed brokers, with a consensus price target at a heavy discount of around $24.73.
The stock's price-to-earnings is also at a discount to its long-term average. And it's a relatively safe investment compared to the broader market, with a beta of 0.75.
Looking at the charts, Newcrest Mining shares are evidently in a downtrend, with momentum heavily skewed to the downside. However, there are some signs that the stock has capitulated and is becoming oversold, with the weekly RSI falling below 30. Price is finding support at around $16 per share, which if broken, may trigger further selling. On the upside, resistance can be found at around $18.50.
Newcrest Mining weekly chart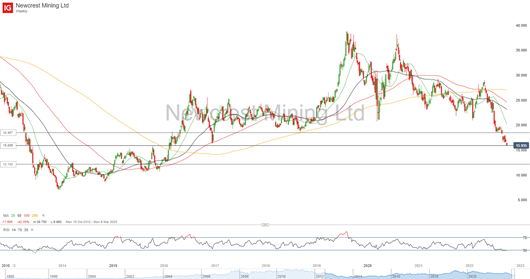 Source: IG
Northern Star Resources (NST)
Northern Star Resources ranks number two in terms of market capitalization, with a valuation of just over $8 billion.
The company is facing the same headwinds as its larger counterpart. However, the drop in its market value has been less severe, with the stock down over 19% in the past 12 months. Brokers are even more bullish on Northern Star Resources, with a strong consensus buy rating amongst 15 analysts covering the stock. It also boasts a price target at a very hefty premium to current prices of around $10.70. It is a slightly more volatile stock, with a beta of 0.95.
However, that is still relatively safe compared to the broader ASX.
The trend is to the downside for Northern Star Resources. Price is below all key moving averages, although the weekly RSI is perking up. The 20-week moving average is one key level of technical resistance that if broken could open up greater upside, with $8.30 another beyond that. Support is at $6.70.
Northern Star Resources weekly chart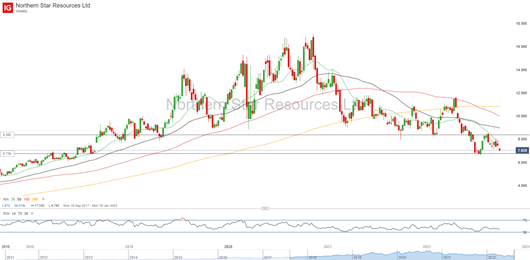 Source: IG