Hang Seng heads lower, with a surge in Covid cases bringing renewed concerns
---
Chinese covid cases are on the rise, with the recent Hang Seng rebound looking to provide a potential opportunity for the bears
Source: Bloomberg
Chinese Covid cases raise market concerns
The Hang Seng saw the sharpest decline in two weeks today, with resurgent concerns over Covid cases dampening recent reopening optimism. The zero-Covid policies imposed by the government have been a major drag on economic activity over the course of this pandemic, with the country maintaining a restrictive stance despite much of the world being back to relative normality. That can be seen below, with the Covid stringency index serving to highlight how the country continues to impose restrictions that are comparable to those seen earlier on in the pandemic. While this does provide a potential boost for markets when we finally see a change of tact, there are fears that we could be some way off yet.
Source: OurWorldInData
Beijing is one of the main areas that is under a fresh wave of cases, with the area reporting its first death in six months. This spike in cases has seen schools switch to online classes, and many businesses opting to close in a bid to stem the spread. The chart below highlights spike in China cases over recent weeks, although it is worthwhile noting that early numbers will be underrepresented due to a lack of testing at the outset. Nonetheless, the resurgence in cases does little to support the view that China will drastically remove restrictions in the near-future. The fact that the Hong Kong leader John Lee has also tested positive just two days after meeting Xi Jinping at the APEC summit serves to further highlight how the virus remains a major concern for the Chinese.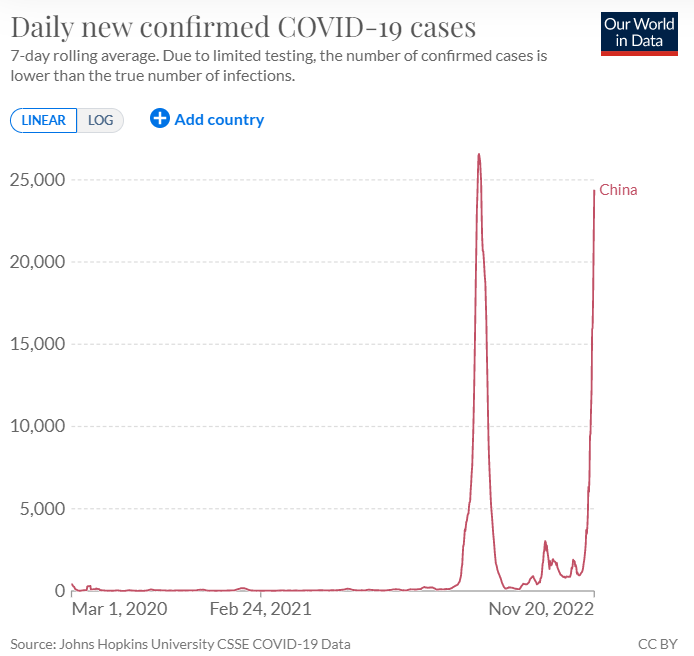 Source: OurWorldInData
The potential for a continuation of this drawn-out period of restrictions does provide a potential lag for stocks. Recent reports that China are easing quarantine and contact restrictions have sparked a period of gains across China-related stocks, with the Hang Seng gaining 25% in the first two-weeks of November. However, that rise has taken price up into a confluence of resistance between the 61.8% Fibonacci level and descending trendline. This signals a potential bearish turn from here, with momentum clearly shifting towards the downside. As such, sell positions are favoured unless price rises through the recent high of 18468.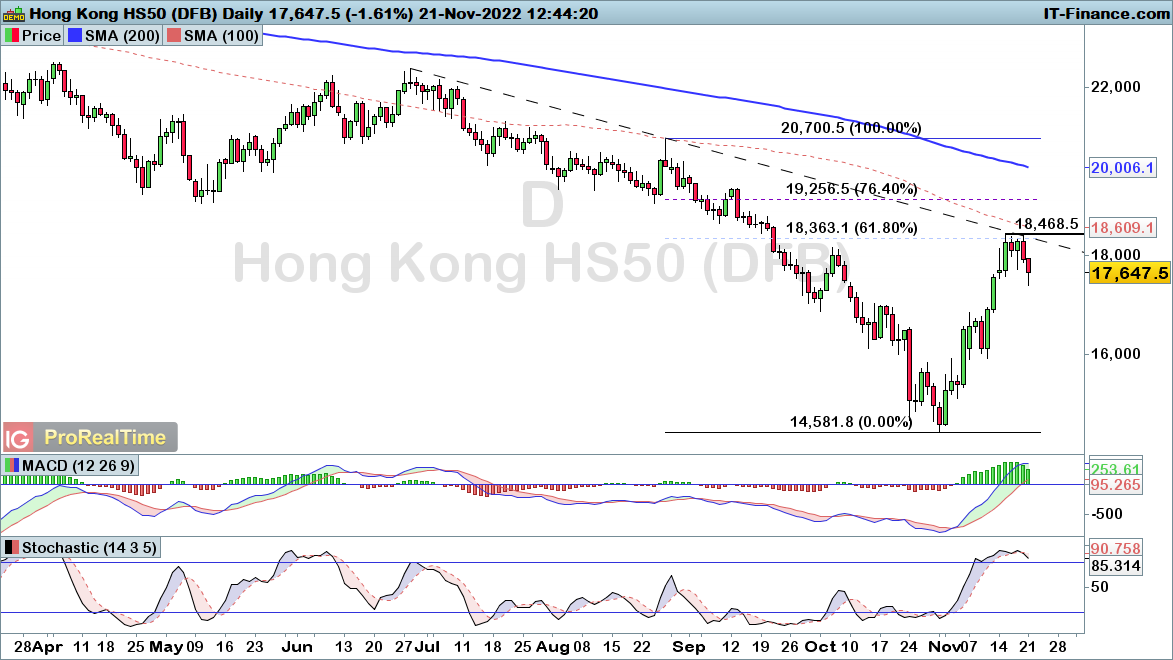 Source: ProRealTime