Key takeaways from Fed meeting: Nasdaq 100, Hang Seng Index, Gold
---
Major US indices reversed initial gains to end in the red overnight, as two consecutive months of downside surprise in inflation readings were insufficient to convince the Fed that the job is done.
Source: Bloomberg
Market Recap
Major US indices reversed initial gains to end in the red overnight, as two consecutive months of downside surprise in inflation readings were insufficient to convince the Federal Reserve (Fed) that the job is done. The Fed largely held firm on its hawkish stance at the recent meeting, potentially as financial conditions have been easing since mid-October, which goes against the central bank's aim of keeping conditions tight. Here are some key takeaways from the recent Federal Open Market Committee (FOMC) meeting:
Fed funds rate are raised by 50 basis-point (bp) to 4.25-4.5%, a downshift from the 75 bp in November. However, this is in line with expectations and are largely priced, leaving it as less of a market-moving catalyst.
Dot plot shows the median rate at the end of 2023 at 5.1% versus 4.6% in September. This is more hawkish than the 4.75-5% range priced by markets before the meeting, which calls for some recalibration in expectations. Only two Fed officials are going for a terminal rate below 5%.
Economic projections revealed downside risks to growth and upside risks to inflation. A muted 0.5% growth is forecasted for 2023 versus previous 1.2%. The unemployment rate estimate is revised higher to 4.6% from previous 4.4%, which is expected to remain higher-for-longer into 2024. Core Personal Consumption Expenditures (PCE) inflation estimate revealed the risks of persistent pricing pressures, with an upward revision to 3.5% in 2023 versus previous 3.1%.
The Fed will want to see 'substantially more evidence to have confidence that inflation is on a sustained downward path'. This seems to downplay recent lower-than-expected US inflation readings, which some market participants were hoping to sway the Fed. The Fed did not budge.
More increases in interest rates are guided ahead by the Fed, with another round of reiteration on the eventual terminal rate, rather than the pace. Fed remains data-dependent and stuck firmly to its 2% inflation target. For now, current inflation remains more than three-fold that of the target, which does not seem to be supportive of any 'pivot' anytime soon.
Fed Chair Jerome Powell's views on recession are vague. Chances of a soft landing are presented, but much is still cast into the unknown for now.
Despite some tints of hawkishness from the Fed's meeting, initial surge in two-year and 10-year US Treasury yields failed to sustain. Similarly, the US dollar index also pared all its initial gains, keeping it firmly on its downward trend with a lower low. While equity indices closed in the red, the VIX plunged more than 6% lower, potentially tapping on the clarity presented by the Fed meeting to unwind some hedges. The Nasdaq 100 index remains stuck in a tight range over the past month, but is still defending its 11,600 line of support. Any break below the 11,600 may prompt a move to retest its lows at the 10,700 level, where a Fibonacci confluence zone stands. On the upside, a downward trendline resistance is currently in the way, which will need to be overcome to provide conviction of a year-end rally.
Source: IG Charts
Asia Open
Asian stocks look set for a negative open, with Nikkei -0.55%, ASX -0.52% and KOSPI -0.67% at the time of writing. The negative lead from Wall Street has set the tone for a more downbeat session in Asia, although any further weakness in the US dollar index could be on watch to limit some losses. Signs of resilience are presented in Chinese equities however, with the Nasdaq Golden Dragon China Index eking out a 0.5% gain. This comes as a key annual economic policy conference will take place among China officials over the next two days, with surging Covid-19 infections and route to economic recovery likely on the agenda.
Elsewhere on the economic calendar, New Zealand's 3Q GDP growth rate delivered a positive surprise (6.4% versus 5.5% consensus), which could justify further tightening but with the data being backward-looking, it failed to trigger much of a move in the NZD. The day ahead will leave a series of economic data out of China on watch, which are expected to reflect a downbeat growth picture as the impact of recent easing restrictions will only be reflected over the coming months.
For the Hang Seng Index, it continues to hang just below its 200-day moving average (MA), with any upward break on watch to provide greater conviction of a longer-term shift in trend. Technical conditions thus far have provided an opposing view, with moderating levels in Relative Strength Index (RSI) from overbought territory while Moving Average Convergence/ Divergence (MACD) carries the risks of a bearish crossover formation. Any break of the key psychological 20,000 level will be on watch, while any near-term retracement will leave the 18,550 level in focus as a potential support from a Fibonacci confluence zone.
Source: IG Charts
On the watchlist: Gold prices continues to defend its key US$1,800 level
Having tracked US dollar moves and Treasury yields closely, an initial sell-off for gold prices overnight proved to be a knee-jerk reaction, as a sharp recovery thereafter allowed prices to defend its key US$1,800 line of support. The near-term higher highs and higher lows continue to provide an upward bias for now, with recent moves trading within a rising wedge pattern. However, the reservation is that recent highs for gold prices were met with lower highs on the RSI, suggesting that upward momentum is moderating. Holding above the key US$1,800 level may keep buyers in control, with the US$1,850 level on watch next for any retest.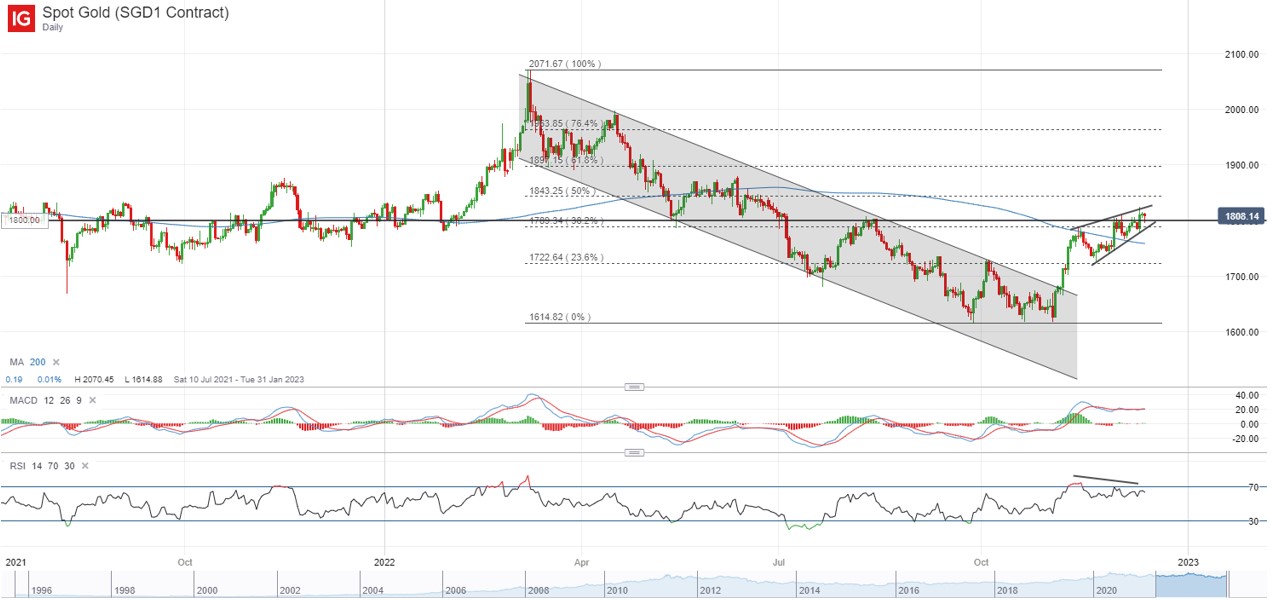 Source: IG charts
Wednesday: DJIA -0.42%; S&P 500 -0.61%; Nasdaq -0.76%, DAX -0.26%, FTSE -0.09%
1