Lead-up to US CPI, US debt-limit discussions ahead: US dollar, China A50, EUR/GBP
---
A quiet economic calendar to start the week and the lead-up to the key US CPI brought some wait-and-see for Wall Street, as further catalysts are being sought to follow through with last Friday's gains.
Source: Bloomberg
Market Recap
A quiet economic calendar to start the week and the lead-up to the key US Consumer Price Index (CPI) brought some wait-and-see for Wall Street overnight (DJIA -0.17%; S&P 500 +0.05%; Nasdaq +0.18%), as further catalysts are being sought to follow through with last Friday's gains.
Ahead, attention will be placed on an upcoming White House meeting between President Joe Biden and several lawmakers to discuss on the US debt limit. The 1 June debt-default deadline looms but some tendency for a compromise to be sought only at the eleventh hour suggests that a continued impasse could be on the table.
The uneasiness around any quick resolution on US borrowing limit led Treasury yields higher, with the two-year up eight basis-points while the ten-year is up eleven basis-points. However, the US Dollar was met with muted gains at best (+0.3%), with lingering signs of exhaustion. Intermittent attempts to move higher thus far have failed to find much follow-through, as rate expectations have remained well-anchored.
The latest CFTC aggregate positioning for US dollar against G10 currencies remains in net-short territory. Historical instances suggest that a move into net-long territory may coincide with some of the lows in the US dollar but that is still not presented currently. The 100.50 level will be a key support to watch, with any failure to hold potentially paving the way towards the 99.00 level next.
Source: IG charts
Asia Open
Asian stocks look set for a mixed open, with Nikkei +0.62%, ASX -0.28% and KOSPI -0.42% at the time of writing. An unexpected decline in Japan's consumer spending and the twelfth month of decline in real wages support a continued dovish take in policy settings from the Bank of Japan (BoJ). With rate expectations already pricing for a no-change in Japan's rate outlook at least over the next three meetings, the data release did not prompt much of a move in the USD/JPY.
Ahead, China's trade data will be in focus. Exports are expected to increase by 8% year-on-year while imports may turn in flat. An upside surprise may point to a better-than-expected recovery, although outlook remains challenging on external demand.
The China A50 index has been stuck in a phase of indecision lately, struggling to find a clear direction around its 200-day moving average (MA). Recent upmove is headed to retest its April high but greater conviction could come from a move above the 13,600 level, which could pave the way towards its 2023 high.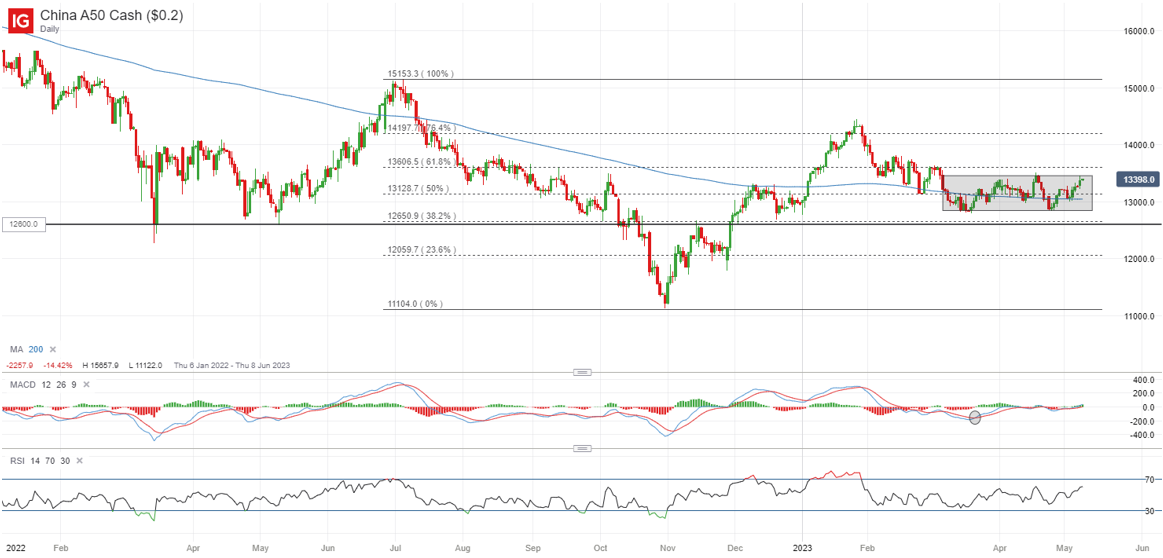 Source: IG charts
On the watchlist: EUR/GBP on watch ahead of Bank of England (BoE) meeting
The EUR/GBP has thus far failed to defend an upward trendline support and its key 200-day MA, which was broken down for the first time since August 2022. With the UK economic surprise index at its highest level since 2021, it provides some room for the Bank of England (BoE) to move ahead with further rate increases, at a time where year-on-year inflation persists in the double-digit. Market pricing is pointing to three more 25 basis-point hikes from the central bank. Any hawkish hike at the upcoming meeting will be on watch to provide downward pressure for the pair. Trading below the 200-day MA line could point to further downward bias for the EUR/GBP, accompanied by a move in moving average convergence/divergence (MACD) back into negative territory.
Source: IG charts
Monday: DJIA -0.17%; S&P 500 +0.05%; Nasdaq +0.18%, DAX -0.05%, FTSE +0.98%