Nasdaq 100: AI hopes drive Microsoft to fresh highs
---
How high can Microsoft's stock climb?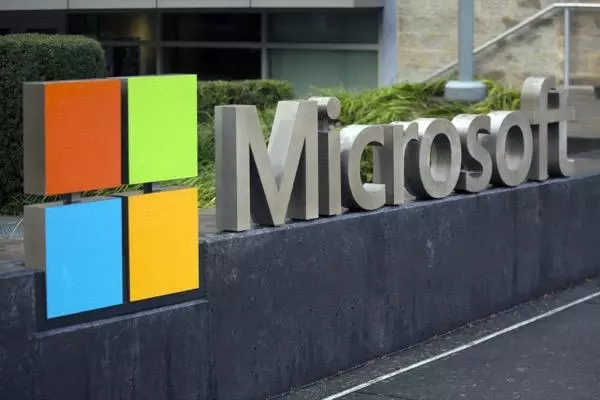 Source: Bloomberg
AI drives Microsoft share price to new all-time record high
Microsoft Corp (All Sessions), which has surged 45% this year, might initially seem to be an unlikely beneficiary of the AI frenzy currently consuming financial markets.

But as OpenAI's largest shareholder and with plans to overhaul its entire Office suite, Microsoft seems to be well-placed to reap significant rewards from the move to artificial intelligence.

Microsoft's most recent earnings saw the company beat expectations for both sales and earnings per share, with the cloud computing component once again driving performance. The division provided $22.1 billion of Microsoft's $51 billion overall revenue.

At 37 times earnings Microsoft does not fall into the 'cheap' category, and a dividend yield of 0.78% is not one that will excite income investors, but its outlook for earnings growth over time continues to look compelling.
How to trade the Microsoft share price?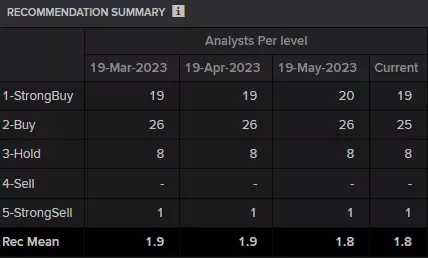 Source: Refinitiv

Source: IG
IG sentiment data shows that 72% of clients with open positions on the share (as of 16 June 2023) expect the price to rise over the near term, while 38% of clients expect the price to fall with trading activity over this month showing 51% of sells.
Technical analysis on the Microsoft share price
Last Friday Microsoft intraday rallied to a new all-time record high at $351.47 before closing at $342.33, marginally below its November 2021 peak at $349.67.
Microsoft Share Price Weekly Chart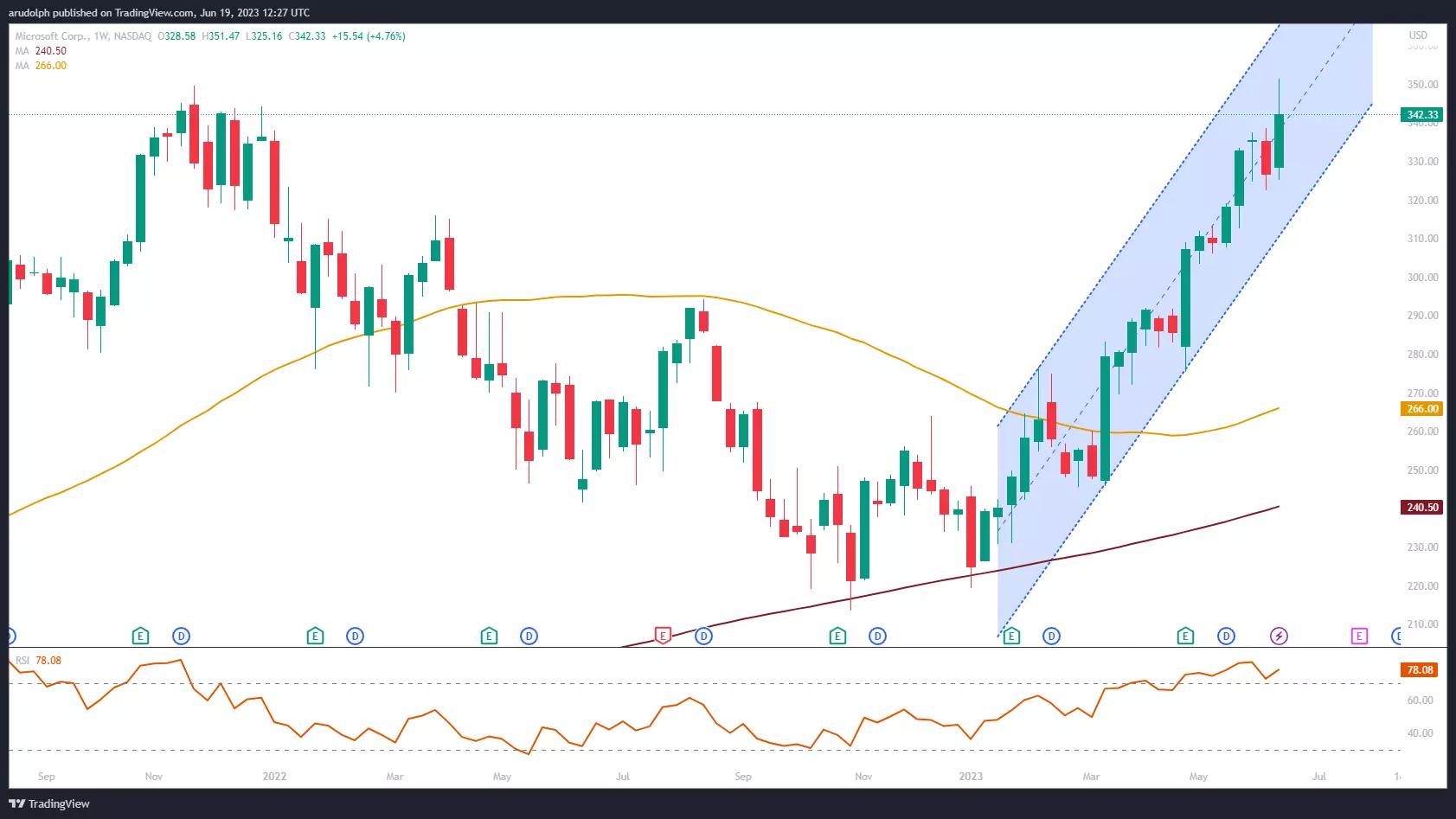 Source: Tradingview
On the daily chart the Microsoft share price doesn't look quite so rosy, though.

The reason for this is that last week's high has not been accompanied by a higher reading of the Relative Strength Index (RSI) which from its early June high is pointing downwards and thus creates negative divergence.

In the majority of cases negative divergence on the daily RSI acts as an early warning sign of at least a short-term correction against the trend being seen and sometimes points to significant top being formed.

For the Microsoft share price it means that, as long as Friday's all-time record high at $351.47 isn't overcome, Friday's Dark Cloud Cover on the daily candlestick chart is likely to lead to the early June lows at $322.50 being revisited.
Microsoft Share Price Daily Chart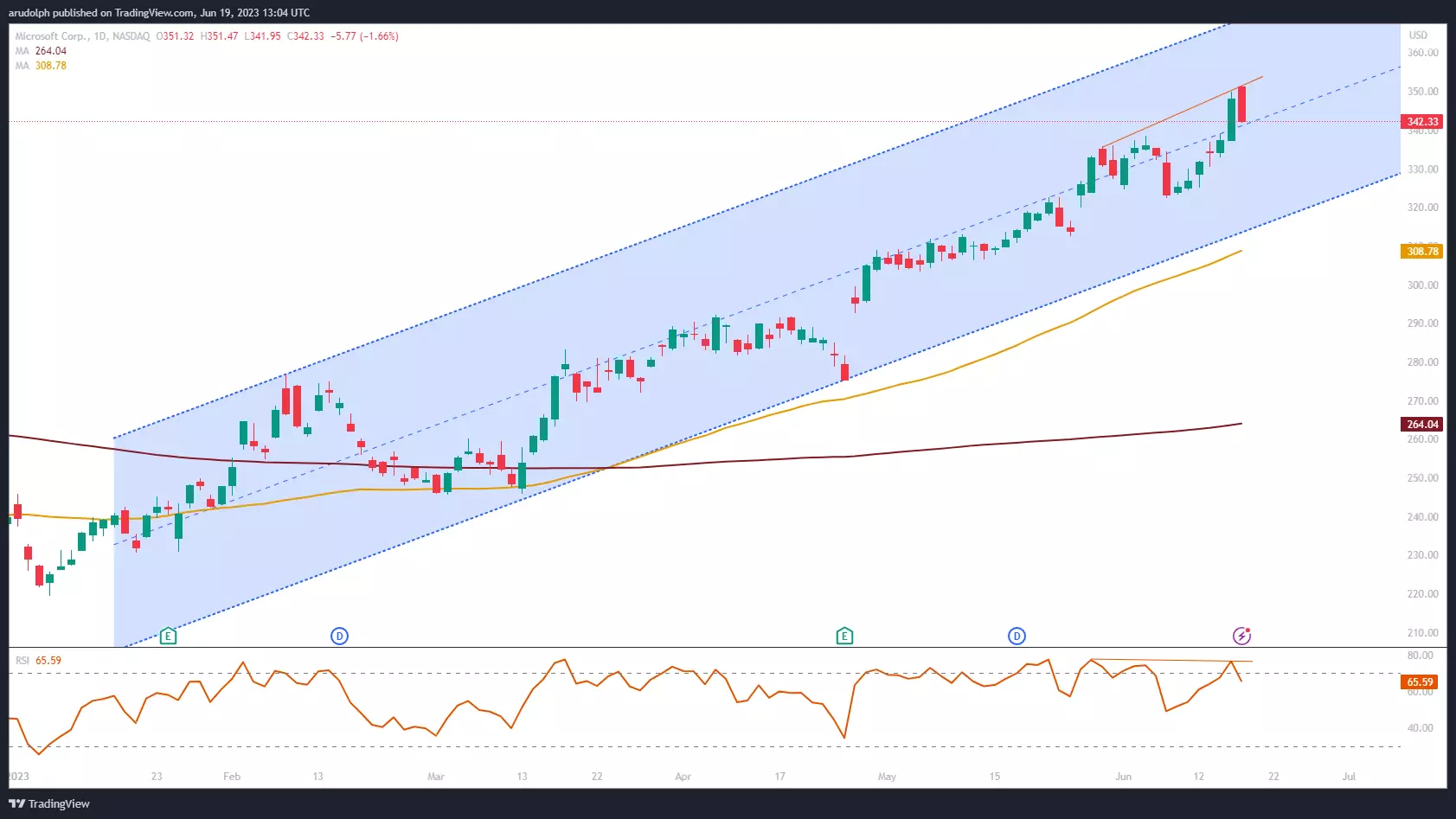 Source: Tradingview
If this level were to give way on a daily chart closing basis, a more pronounced correction may take the stock back to its 2023 uptrend channel support line and 55-day simple moving average (SMA) at $313.66 to $308.78 which are expected to hold.

Investors may make the most of the possible short-term correction lower in the Microsoft share price to buy the dip or add to their long positions as the medium- and long-term trends remain clearly bullish.

The medium-term uptrend would only come into question if a bearish reversal would take the Microsoft share price to below its $275.37 late April low, something which is very unlikely to happen anytime soon.

Instead, once the anticipated correction is done and dusted, a new all-time should be made in the Microsoft share price with the minor psychological $400 mark representing a possible long-term upside target.