FTSE 100 and S&P 500: the return of the market bubble?
---
The S&P 500's 2023 growth appears dependent on slowing rate rises and AI advances. But with high inflation seemingly implacable, the FTSE 100 seems similarly uncertain.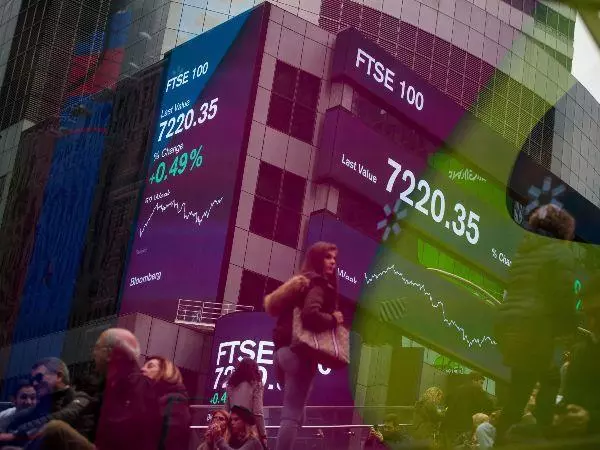 Source: Bloomberg
The FTSE 100 was the index star performer of 2022, rising by 1% in the year while its transatlantic counterpart, the S&P 500, fell by nearly 20%. Bear in mind, this performance excludes the FTSE'S 4.2% dividend yield, which puts even more water between the two.
The year was marked by surging inflation and monetary tightening; excellent news for the London index which remains chock-full of bankers, miners, and oil majors, but less fruitful for the big tech stocks of the US index which rely on the water of cheap money for explosive growth.
2023 has seen a return to form — the FTSE is broadly flat, while the S&P 500 has risen by 13.9% year-to-date and is now in a bull market when considering its October 2022 lows. But these macro performances hide some problems that may be bubbling just under the surface.
S&P 500 market bubble
The Federal Reserve finally issued a 'hawkish pause' on raising rates last week, leaving the benchmark rate at a target range of between 5% and 5.25%.
With US CPI inflation down from a high of 9.1% to just 4.0%, the Reserve has indicated that just two more quarter-point hikes are likely to take place in 2023, stating that 'holding the target range steady at this meeting allows the Committee to assess additional information and its implications for monetary policy.'
With inflation now less than half that of the UK and the end of the rate hike cycle in sight, the key US tech shares which drive the S&P 500 have rebounded. This movement has been encouraged by the AI effect — having left disruptive tech, blockchain, Web3, crypto, and the metaverse behind — investors seemingly have a new favourite buzzword to throw investing cash at.
For context, Mistral AI — at just four weeks old — managed to raise $113 million, despite having no product and simply because the founders previously worked Alphabet's DeepMind and at Meta Platforms. The start-up plans to challenge ChatGPT — whose owner OpenAI has enjoyed a $10 billion investment from Microsoft —and Bard in the text-based generative field, demonstrating that investors are still prepared to stump up for potentially explosive growth.
However, it's worth taking a step back. The US economy has been hammered by inflation and rate rises, and the AI effect may be just as short-lived as the previous buzzwords.
For context, the index remains top-heavy with the 'big seven' tech shares — Nvidia, Apple, Tesla, Microsoft, Alphabet, Meta, and Amazon — having contributed the entirety of the 13.9% growth in 2023. Excluding these seven for the so-called 'S&P 493' would leave the index flat for the year.
Tesla and Nvidia have together increased in value by over $1.1 trillion in less than six months; and Nvidia now sports a giddy price-to-earnings ratio of 224. Apple's price-to-earnings ratio stands at just 32.
The index may be back in bubble territory, especially if rates continue to rise further than is currently anticipated.
FTSE 100 dangers
While the FTSE 100 is often dubbed the bellwether of UK economic performance, this epithet could be more accurately attributed to the domestically focused FTSE 250. For perspective, FTSE Russell data indicates that circa 82% of FTSE 100 companies' income is derived from overseas.
However, even the domestically focused FTSE 100 stocks may soon start struggling. Housebuilders including Persimmon are being dragged down by concerns over a house price crash and affordability concerns, especially after the end of Help to Buy.
And according to Exane BNP Paribas analyst Guy Stebbings, the FTSE 100 banks — and especially NatWest — may soon find that ever higher rates could start hurting, rather than helping, their prospects. He notes that the banks are 'back in the danger zone. Higher rates lift bank earnings but at a certain level this equation breaks down...we are well past this point.'
The base rate is now at 5%, while CPI inflation remains stubbornly high at 8.7%. The markets are now pricing in an increase of the base rate to a terminal 6.25% — but dependent on sticky inflation, even this estimate may be optimistic as core rose from 6.8% to 7.1% last month.
As the UK base rate continues to rise even as US rate rises have been paused, it's causing sterling to strengthen against the US dollar. For context, £1 bought $1.08 in late September 2022 after the Truss mini-budget debacle — this is now up to $1.27.
For BP, Shell, Glencore and Rio Tinto, alongside most FTSE 100 stocks, this constitutes a revenue problem. As previously noted, these companies generate their income predominantly from overseas, and often in dollars; they then report in sterling. A stronger pound therefore weighs on the UK's premier index.
And if the anticipated global recession kicks in — with the UK suffering from higher inflation than the rest of the developed world — the FTSE 100's oilers and miners could struggle to maintain their financial health.
For long-term index investors, it's worth noting that both the S&P 500 and FTSE 100 have delivered positive returns over the decades. But there are always spikes and dips in this time, and past performance is no guarantee of future success.