Apple Inc Q4 earnings preview: what to expect, challenges and opportunities
---
Apple is set to release its Q4 2023 earnings on November 3, facing market expectations of a slight revenue decline but an EPS rise. Will challenges in the China market and big tech sentiment affect its performance?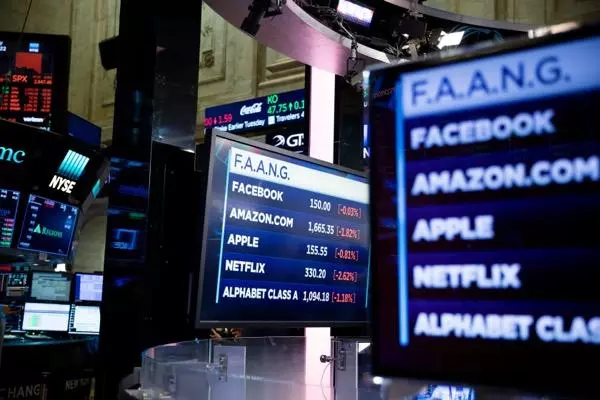 Source: Bloomberg
When does Apple Inc. report earnings?
Apple Inc. is set to release its Quarter Four (Q4) financial results on 3 November 2023, after the market closes.
Apple's earnings estimates
Current market expectations are for Apple's Q4 revenue to decline marginally by 1% year-on-year to US$89.3 billion, compared to US$90.1 billion a year ago.
On the other hand, Earnings Per Share (EPS) is expected to be at US$1.39, up 7.7% year-on-year and 10.3% from the previous quarter. Its Earnings Before Interest, Taxes, Depreciation, and Amortisation (EBITDA) margin is expected to improve to 32.2%, up slightly from the previous quarter's 31.9%.
Market impact of Apple's earnings
Being one of the "Magnificent Seven" stocks, which account for the bulk of the US indices' gains year-to-date, its upcoming earnings may play a crucial role in determining the indices' trend into year-end.
Historical performance
Apple generally has a strong record of outperforming, only failing to meet earnings estimates once over the past 20 quarters. That said, the recent sell-off in big tech share prices, despite delivering top and bottom beats, indicates that market participants also have high expectations as to whether current earnings momentum can be maintained.
Historical revenue and EPS chart
Source: Refinitiv
Challenges in the Greater China market
The Greater China market accounted for one-fifth of Apple's revenue last year. Thus far, there isn't much conviction that demand on that front can hold up. A report from Counterpoint Research suggests that iPhone 15 sales for the first 17 days in China have underperformed last year's iPhone 14 sales (an estimated 4.5% lower). Unit sales of the higher-end Pro Max and Pro models are down 14% and 11% year-on-year, respectively.
Competition from Huawei
Apart from attributing the weaker iPhone demand to cautious Chinese consumers, Huawei's newly launched Mate 60 series has also proven to be strong competition. Reports suggest that Huawei's smartphone sales growth has increased 37% year-on-year in Q3 2023 (versus Apple's estimated 10% decline), as its new Kirin chips, launched as a response to US tech sanctions, seem to be well-received.
Positive signs in the US market
On the other end of the globe, reception for the iPhone 15 series in the US (Apple's main market) may offer some cushion, with estimated double-digit increases from a year ago. Current expectations are that the overall net effect may still drive a slightly lukewarm 2.4% year-on-year increase in iPhone revenue for the Q3 2023 results.
Hardware performance overview
Conversely, other hardware products are expected to weigh longer, with further contraction anticipated year-on-year (estimated iPad -14.6%, Mac -24.7%, other products -2.2%).
Source: Refinitiv
Services business: a bright spot
Unsurprisingly, expectations are for growth in Apple's services business to continue accelerating to 11.4% year-on-year in Q3 2023, up from the previous quarter's 8.2%. This segment has been Apple's crown jewel in recent years, being its highest-growth and highest-margin business, along with a recurring revenue model. It includes subscriptions, warranties, licensing fees, and Apple Pay.
Upcoming products and innovations
Any guidance around Apple's growth catalysts will also remain under scrutiny to diversify the company's revenue stream away from iPhone sales (48.5% of total revenue) over the longer term. Apple has previously announced its Apple Vision Pro headset, expected to launch early next year.
Focus on Artificial Intelligence
More notably, Apple's work on generative Artificial Intelligence (AI) may be in greater focus. Given that the company is reportedly investing millions of dollars per day on multiple AI models across several teams, any fresh updates on generative AI tools, models, or services will be closely watched.
Technical analysis
Apple's share price has broken below its Ichimoku cloud support on the daily chart back in August of this year, and subsequent attempts to reclaim this zone have been unsuccessful.
Buyers will now face the challenging task of having to reclaim the 200-day MA to provide some conviction of near-term upside. Failing that, prices may potentially head lower to retest the US$161.04 level, where a near-term lower channel trend line may coincide with a key Fibonacci retracement level.
Apple daily chart
Source: IG charts
IGA, may distribute information/research produced by its respective foreign affiliates within the IG Group of companies pursuant to an arrangement under Regulation 32C of the Financial Advisers Regulations. Where the research is distributed in Singapore to a person who is not an Accredited Investor, Expert Investor or an Institutional Investor, IGA accepts legal responsibility for the contents of the report to such persons only to the extent required by law. Singapore recipients should contact IGA at 6390 5118 for matters arising from, or in connection with the information distributed.

The information/research herein is prepared by IG Asia Pte Ltd (IGA) and its foreign affiliated companies (collectively known as the IG Group) and is intended for general circulation only. It does not take into account the specific investment objectives, financial situation, or particular needs of any particular person. You should take into account your specific investment objectives, financial situation, and particular needs before making a commitment to trade, including seeking advice from an independent financial adviser regarding the suitability of the investment, under a separate engagement, as you deem fit.

No representation or warranty is given as to the accuracy or completeness of this information. Consequently, any person acting on it does so entirely at their own risk. Please see important Research Disclaimer.
Please also note that the information does not contain a record of our trading prices, or an offer of, or solicitation for, a transaction in any financial instrument. Any views and opinions expressed may be changed without an update.