3 Stocks To Watch In The Coming Week: Netflix, Johnson & Johnson, IBM
---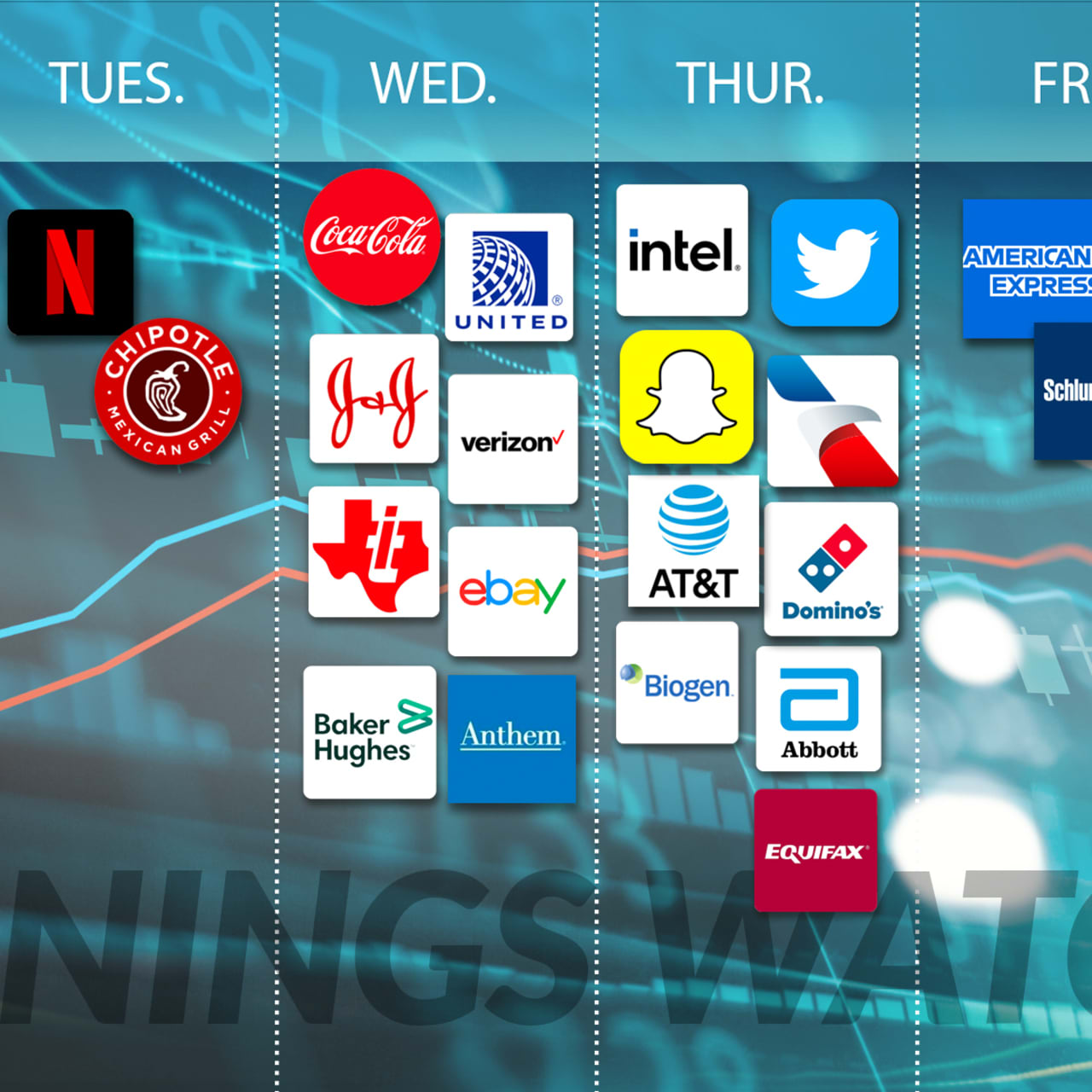 Earnings will take center stage in the week ahead as some of the largest U.S. companies from different sectors report Q2 2021 earnings. 
As the U.S. economic recovery accelerates after the successful rollouts of COVID vaccines, investors will focus on inflationary pressures and whether they are squeezing corporate margins. Riding on earnings optimism, all three major U.S. indices continued their upward trajectory this year, with the S&P 500 and the NASDAQ 100 Index trading near their record levels.
Below, we've short-listed three stocks from different sectors we're monitoring as Q1 earnings season ramps into full swing:
1. Netflix
Streaming entertainment giant Netflix (NASDAQ:NFLX) reports Q2 earnings on Tuesday, July 20 after the market close. Analysts are expecting $3.1 a share profit on sales of $7.32 billion.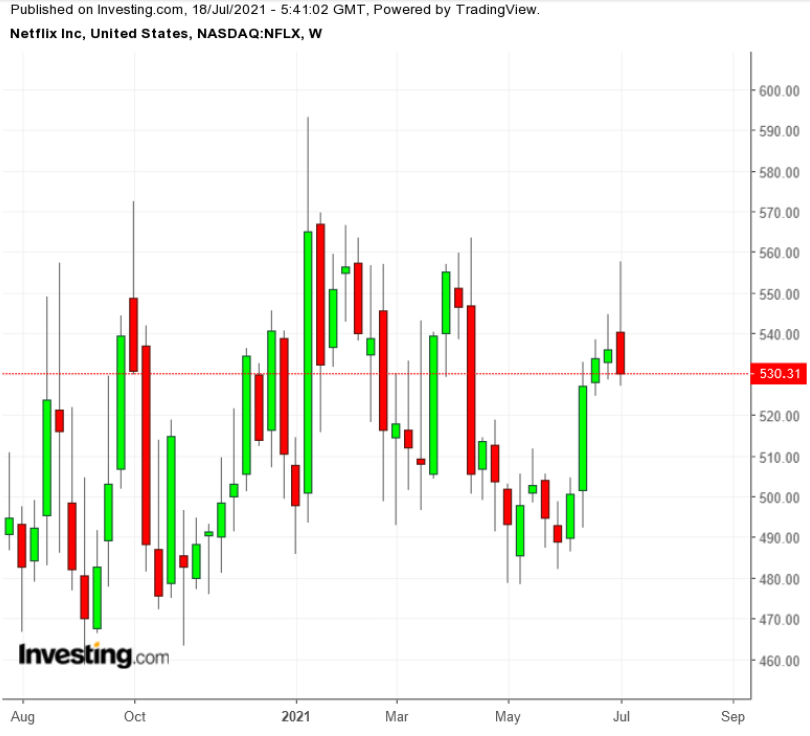 After rebounding strongly during the COVID-19 pandemic, Netflix stock is losing some steam as subscriber growth slows and competition in the streaming market heats up. In April, the Los Gatos, California-based company reported that the number of net new members during Q1 was 2 million short of its own forecast. 
As of Friday's $530.31 close, Netflix's shares are down 2% this year, compared with the tech-heavy NASDAQ's 12% expansion over the same period. This coming week's earnings report will be crucial if the stock is to break this sluggish cycle and move higher.
Netflix has to show it's well-positioned to outperform its rivals even when the pandemic-triggered surge in user growth is cooling fast.
2. Johnson & Johnson
Global healthcare giant Johnson & Johnson (NYSE:JNJ) will be reporting Q2 earnings before the market opens on Wednesday, July 21. According to analysts' consensus forecast, the company is forecast to report $2.29 EPS on sales of $22.5 billion for the period.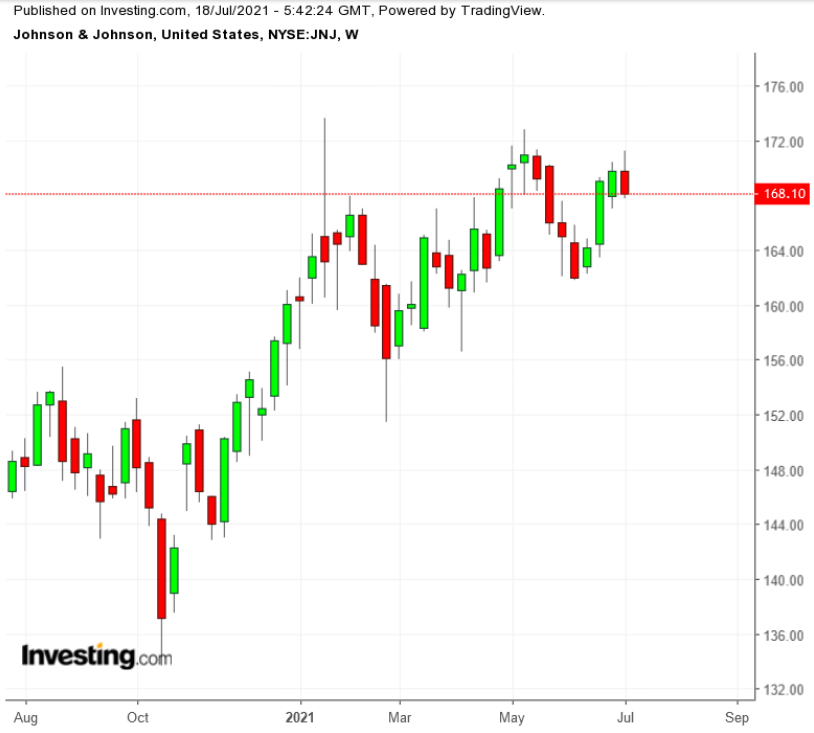 Besides the quarterly numbers, investors will be eager to know more about the rollout of its COVID-19 vaccine and its efficacy in protecting against the fast spreading Delta variant.
J&J's shot has struggled to get broad traction amid production problems and after a brief pause in use as regulators investigated reports that some people suffered dangerous blood clots after receiving it. The pause was lifted after 10 days on Apr. 23.
Despite the vaccine setback, J&J's underlying business remains strong as the U.S. economy reopens and hospitals gradually increase elective surgeries after the COVID-19 disruption, which hurt the company's device business in 2020. Shares of J&J are up 7% this year. They closed on Friday at $168.10.
3. IBM
International Business Machines (NYSE:IBM) will report its latest quarterly numbers on Monday, July 19, after the market close. Analyst consensus on IBM is for EPS of $2.32 on revenue of $18.29 billion for the quarter ended June 30.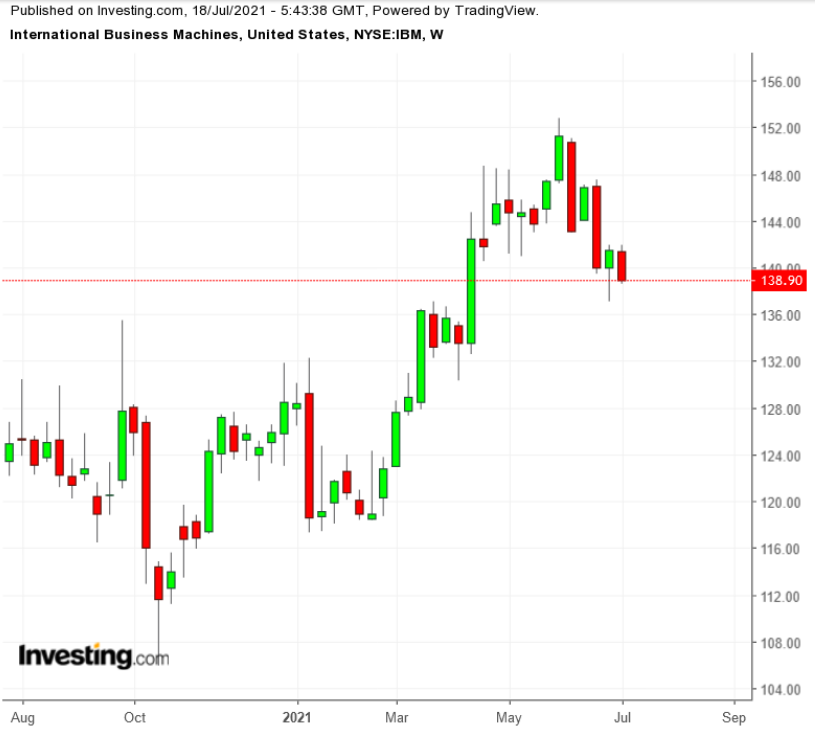 Big Blue, which is in the middle of a major turnaround, is showing some signs that it is succeeding at bringing additional sales from its cloud business. IBM posted its first revenue gain in 11 quarters in April, driven by demand for cloud services. IBM also reported revenue from Red Hat—which it bought in 2019 for $34 billion—had increased 17% in the first quarter.
Arvind Krishna, who took over as CEO from Ginni Rometty last April, is focusing on artificial intelligence and the cloud to revive growth. Krishna has reorganized the company's business around a hybrid-cloud strategy, which allows customers to store data in private servers and on multiple public clouds.
Shares of IBM, which closed Friday at $138.90, have gained 10% this year.
By Investing.com (Haris Anwar/Investing.com) 18th July 2021.
1