Microsoft stock at a record high ahead of earnings
---
After a stellar year, Microsoft looks well-positioned for further growth and further gains in its shares.
Source: Bloomberg
When is Microsoft earning's date?
Microsoft reports earnings on 27 July.
Microsoft earnings – what to expect
Microsoft is expected to report revenue of $44 billion, up 16%, while earnings per share (EPS) are expected to rise 30% to $1.90.
Earnings season this time rolls around when Microsoft stock has already hit a new record high. The last set of quarterly results beat forecasts, accompanied by strong guidance for the remainder of its year, together with the largest overall growth in revenue since 2018. Growth prospects for its key cloud computing division look good, after a year in which its share of the SaaS market rose to 19.7%. Other parts of the group, including its Dynamics business, are also increasing market share and projecting a further shift towards a subscription-based model.
Microsoft earnings – valuation and broker ratings
At 38 times earnings and with a yield of 0.8%, Microsoft is hardly a bargain. But it is still a quality stock, with good growth in earnings expected, and solid momentum behind the share price.
Unsurprisingly, Microsoft remains popular with brokers, with 37 'strong buy' or 'buy' recommendations and just two 'holds', with no sell recommendations.
Microsoft shares – technical analysis
After the plunge of early 2020, Microsoft shares have recovered their poise, rallying steadily since April and showing no sign of slowing down. Repeated higher highs and higher lows have maintained the trend, and the price is still holding firmly above the 50-, 100- and 200-day moving averages (DMA). Trendline support from late September is some distance away, and after a 17% rally from the May low some consolidation and weakness might not be surprising.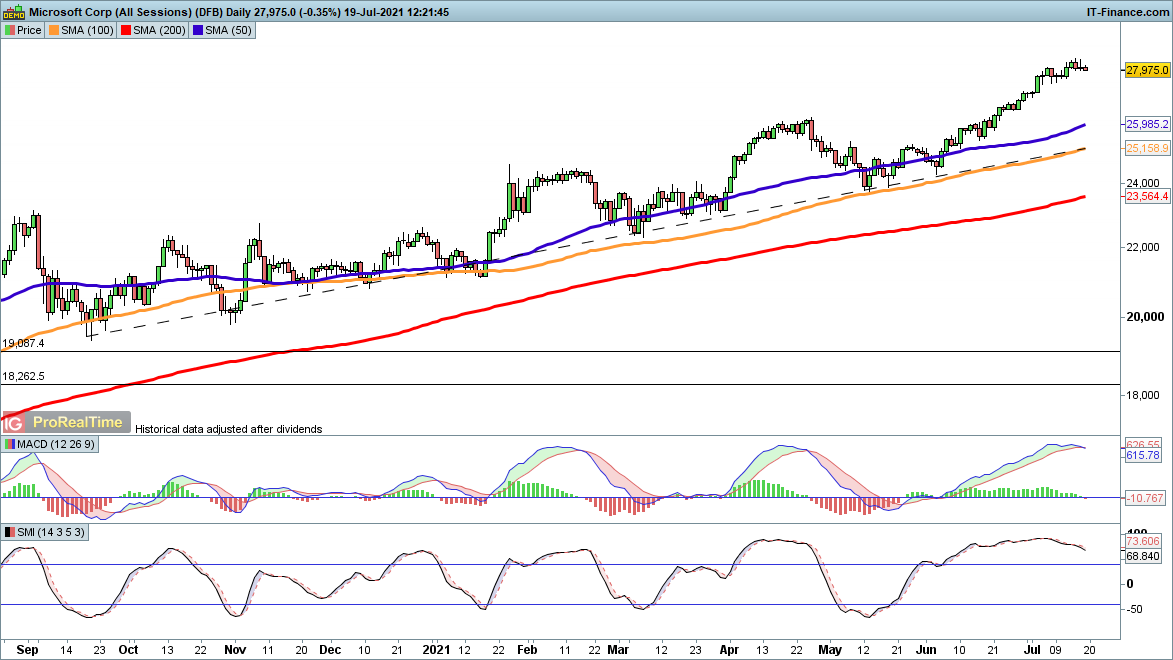 Source: ProRealTime
A solid performer, with more to come
This is a market that looks for quality in its winners, and Microsoft falls squarely into this category. Revenue growth is strong, the group has a solid plan for the quarters to come and the stock price continues to rally. So far, there seems little sign of a major shift in performance or sentiment.
Chris Beauchamp | Chief Market Analyst, London 
19 July 2021