The ASX in 5: Volatility drops with reflation trade revived
---
We highlight five things that investors and traders need to know
Source: Bloomberg
Volatility falls and reflation trade revives
After Monday's panic-attack, financial markets have a risk-on flavour to them today, with volatility dropping across the globe. The US VIX plunged over 9% overnight, while for the Australia 200, the A-VIX has dropped by more than 5%. Diminished fear about the Delta variants spread and impact on the global economy has underpinned a revival of the so-call "reflation trade". Global bond yields are higher today, commodity prices are up, cyclicals are outperforming and the risk-sensitive AUD/USD has pushed above 0.7350.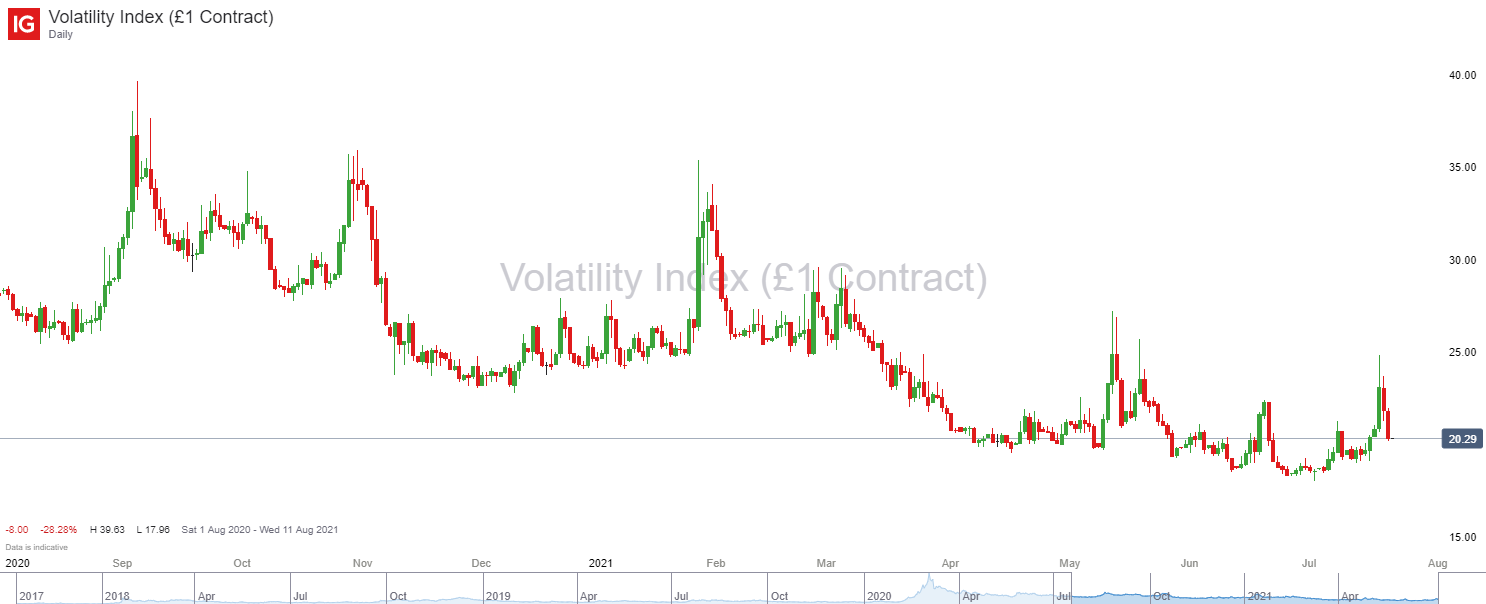 Source: IG charts
Oil prices rise despite increase in US inventories
The renewed optimism surrounding the global economic outlook has boosted oil prices, despite what was un expected build in Oil - US Crude Inventories last week. The data for last week was published overnight in US trade, with oil stockpiles shown to have increased by 2.1 million barrels, versus a forecast -4.5 million barrel decrease.
Chinese debt markets remain a concern
Fears about Chinese financial stability continue to linger in global markets, after reports of an asset freeze of Hong Kong listed Chinese property developer Evergrande Property Services Group Limited. Chinese stocks have chopped throughout the day's trade, with credit spreads widening once more, as investor doubts grow about pockets of financial vulnerability in China's notoriously opaque financial system.
ASX200 climbs on bounce in commodity prices
The Australia 200 has caught the wave of the global relief rally, to be trading around 1% higher in mid-afternoon trade. The rally for the index has been quite broad-based, with every sector bar health care in positive territory. But it's been the energy and materials sectors that have performed best, courtesy of the bounce in global commodity prices in recent days.
European Central Bank (ECB) to outline new strategy tonight
All eyes will be on the meeting of the ECB tonight, as the central bank prepares to outline the results of its recent strategy review. It's expected the ECB will shift its inflation target to 2% and announce a future tolerance of inflation overshoot, as it fights to stoke inflation after years of disinflation in the Eurozone. The dynamic is putting some downward pressure on the EUR/USD, with the pair floating around the 1.18 handle currently.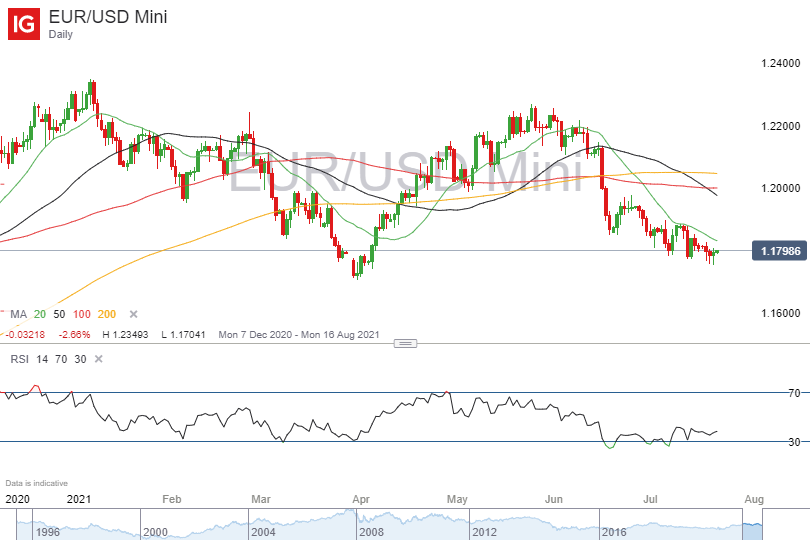 Source: IG charts