The ASX in 5: Volatility drops with reflation trade revived
---
We highlight five things that investors and traders need to know on Monday, 26 July.
Source: Bloomberg
Wall Street hits fresh record highs
After what was a volatile week, US stocks managed to cap it off at fresh record highs on Friday night, with the Wall Street rallying by over 1% to crack the 4400 mark for the first time in history. The strength in the US stock market came off the back another rally in big-tech stocks, with the tech-heavy US Tech 100 also rallying to record highs and cracking the 15,000 mark.
US earnings season delivering strong results
Despite jitters about the growth outlook and the spread of the Covid-19 Delta variant, investors appear to be buoyed by what's proving to be a very strong earnings season for US companies. Roughly a quarter through the reporting period, 86.7% of companies have delivered earnings beats, with the consensus estimate for annualized EPS growth for the quarter up to 74%. Investors prepare now for the busiest week of the reporting period in the week ahead, with approximately 36% of the S&P500 scheduled to deliver results. Amongst these will be the US tech titans, with Tesla Inc (All Sessions) the first (electric) cab off the rank to deliver earnings tomorrow morning.
China tech stocks hammered on regulatory crackdown
Chinese and Hang Seng TECH Index ETF shares have been hammered today, with the region's tech stocks tumbling after China announced a crack-down on its private education companies. Chinese authorities have accused the sector of becoming "hijacked by capital", and has outlined rules that will keep these companies from raising capital or turning a profit. The decision comes as China looks to tighten regulations against its tech-sector, with this move the latest to spook investors amidst increasing regulatory risk in China's tech-stocks.
Bitcoin surges
A resurgent Bitcoin has also garnered attention to kick-off the new trading week. The price of the crypto has surged by as much as 15% today, with commentators left scratching their heads as to what's driven the move. Some reasons given have included reports Amazon is preparing to accept cryptocurrencies as payment, along with rumours famed investor Michael Burry has had liquidated a sizeable short position in Bitcoin.
Learn more about trading Bitcoin and IG extended hours trading.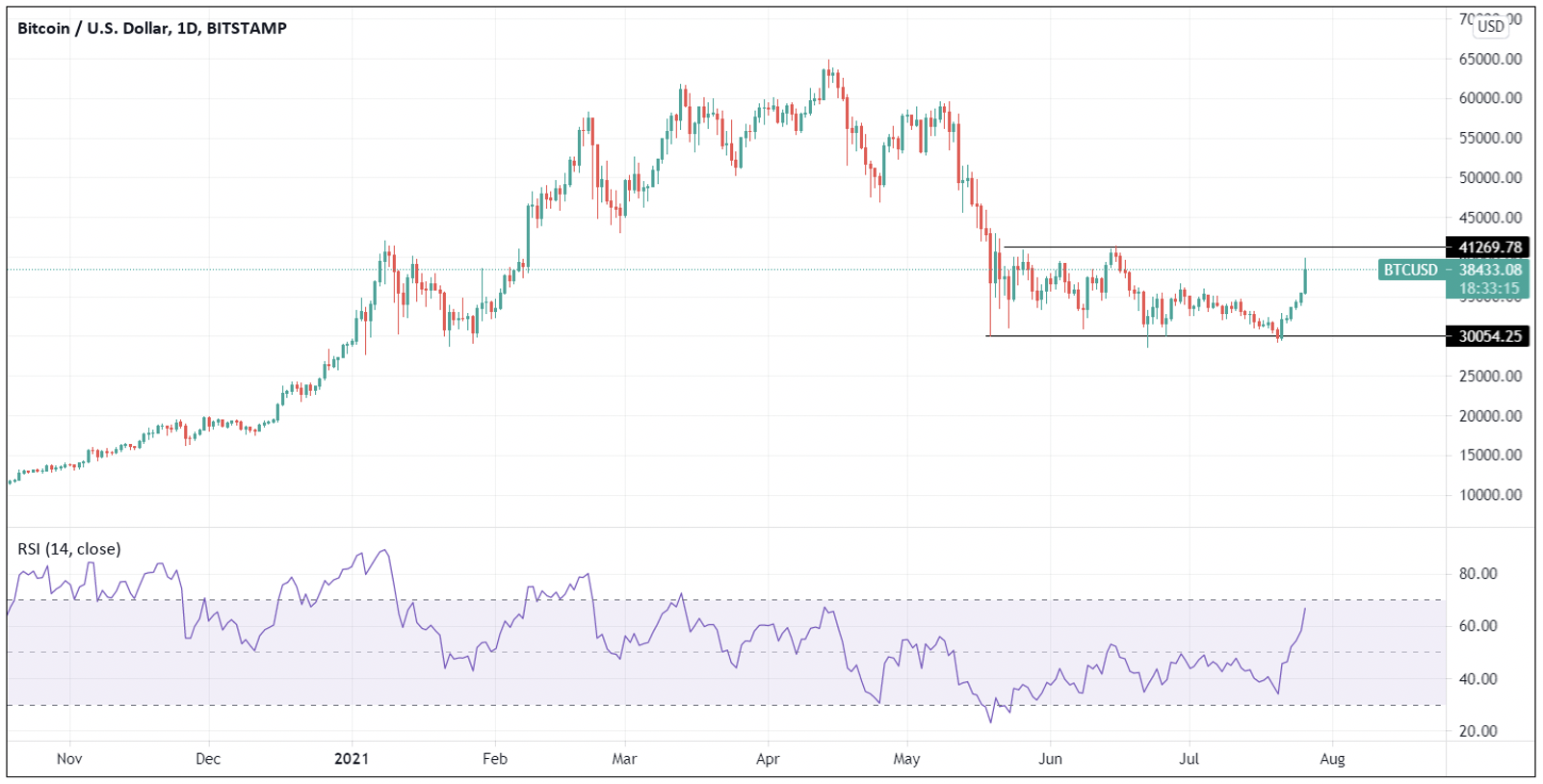 Source: TradingView
ASX 200 tests record highs
The Australia 200 reset an intraday record high this morning, before investors faded the move with the index trading flat for the day moving into the market's close. It's been a mixed day's trade overall, with a 1.2% rally in materials stocks offsetting what's been an otherwise weak day for Australian equities.
Source: ASX