NIO share price on watch ahead of Q3 earnings
---
NIO's share price has risen by close to 24% over the past month. Can its Q3 results provide a boost for share price?
Source: Bloomberg
When does NIO report earnings?
NIO is set to release its quarter three (Q3) financial results on 9 November 2021, after market closes.
NIO earnings – what to expect
Current expectations are for NIO's upcoming Q3 revenue to come in at RMB 9.3 billion, a 106% increase year-on-year (YoY) and a 10.3% increase quarter-on-quarter. Overall net loss is expected to shrink to RMB 726 million from RMB 996 a year ago, with an improvement in overall margins.
The ongoing growth momentum for the upcoming quarter may have been reflected in its vehicle deliveries for July-September, where total deliveries for that period saw an increase of 11.6% since quarter two (Q2). October's delivery numbers may be in focus, where the restructuring of manufacturing lines and preparation for introduction of new products have led to a sharp dip in production. While the impact may not be reflected in the upcoming Q3 results, markets may look out for guidance pertaining to the resumption of production in the upcoming earnings call.
As the issues seem temporary, some focus may be on overall demand for NIO's vehicles, which has remained robust with new orders reaching another all-time high in October.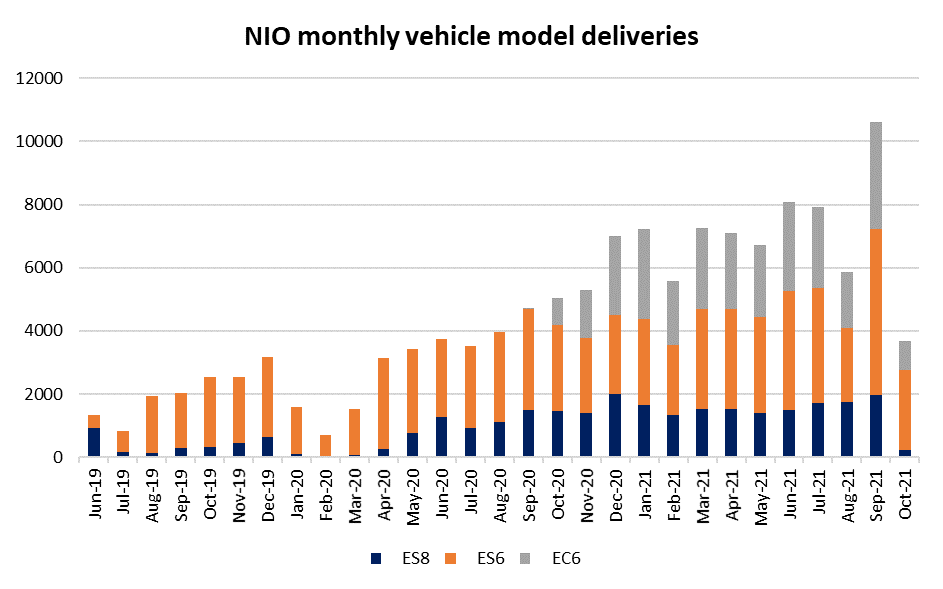 Source: NIO
In line with global supply chain issues, NIO's production capacity remained capped by shortages of input components, such as semiconductors. A key risk that may further aggravate production capacity ahead may be the recent Covid-19 resurgences in China. With China's zero Covid-19 stance, aggressive measures have previously disrupted production for NIO's partners located in high-risk areas. With that, markets will be on watch for any guidance from management regarding the supply chain situation, alongside the potential impact from recent Covid-19 risks.
Growth catalysts for share price may include a list of three new product launches next year, which includes the NIO ET7. As the specific timing and pricing for the other two products have not been laid out yet, this will also remain in focus for the upcoming results.
Currently, the stock has 26 'buy' recommendations, four 'holds' and one 'sells'. The Bloomberg 12-month consensus target price of $59.00 suggests a potential 16.3% upside from the price at the time of writing.
NIO shares – technical analysis
From its technicals, NIO's share price seems to be trading within a wedge pattern since the start of the year. The flattening of the moving average convergence/divergence (MACD) over the past months suggests some stalling momentum near term as sentiments remain on hold. The upper trendline of the wedge pattern will serve as a resistance to overcome, having weighed on prices for the fourth time recently. This may put the $44.50 level on watch. Near-term support may be at $38.50, where the lower base of recent consolidation lies.
Source: IG Charts