Could Darktrace shares rapidly rebound after today's 5% drop?
---
As the AI cybersecurity firm's 180-day lock-up period ends, one of its largest shareholders, Deep Defence, has sold a third of its holdings totalling 11 million shares. And there could be more to follow.
Source: Bloomberg
Darktrace (LON: DARK) shares have been volatile since the company's IPO on 30 April. Originally offered at 250p each, strong investor demand saw the Darktrace share price surge 294% to a high of 985p by 23 September. But over the past fortnight, Darktrace shares have fallen by more than a third to 600p today.
The company's current £4.2 billion market cap means that it's still worth more than double its initial IPO price. However, with the lock-up period now concluded, there might be further falls to come.
Darktrace investors
It's not just the end of the lock-up period that's hurt the Darktrace share price. On 25 October, an analyst note entitled 'Reality Check' from Peel Hunt said that there was a 'disconnect between the valuation and the ultimate retail opportunity' of the company. Worryingly, it said that some customers of the AI cybersecurity firm had described its technology as 'snake oil.' It downgraded Darktrace to a sell position and gave it a target price of 473p. Coming just two days before entering the FTSE 100, the note kickstarted a rapid share price decline.
The lock-up was designed to stop insiders from selling their stakes in the firm for 180 days after the IPO. And now that it's over, insiders are now free to sell their shares in the company. Yesterday evening, Deep Defence, which owned 7% of Darktrace's free float, sold a third of its holdings for roughly £70 million.
Other major investors include Summit Partners, KKR, and Balderton Capital. And over the past two months, they've sold a combined 48 million shares after the lock-up agreement was waived.
Then there's Mike Lynch, who owns a 16% stake in the company. As the former CEO of Autonomy, he has been accused of fraud by HP, who claim that Lynch inflated Autonomy's value by $8.8 billion when he sold them the company in 2011. While Lynch does not have an executive role at Darktrace, the company has previously warned that his involvement carries the potential for 'reputational risk.' And if he were to sell his stake, it would likely cause another fall in the Darktrace share price.
While profit-taking is common, confidence in Darktrace as a growth stock may be falling. Larger investors who believe in a growth story should be increasing their stakes, not shrinking them. And with smaller investors concerned about a potential widespread sell-off, investor capitulation is a possibility if the share price doesn't recover some ground soon.
Where do you think the Darktrace share price will go next?
Take your position on UK shares for just a small initial deposit with spread bets or CFDs. Spread bets are completely tax-free, while CFDs are free from stamp duty. You can also buy and take ownership of UK shares for just £3 with us. Open an account to start trading or investing in UK shares.
1. Tax laws are subject to change and depend on individual circumstances. Tax law may differ in a jurisdiction other than the UK.
2. Deal three times or more in the previous month to qualify for our best rate.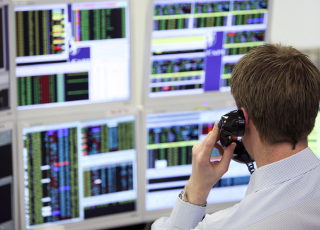 Source: Bloomberg
D
arktrace share price: where next?
But Darktrace calls itself a 'world leading provider of AI…with the first at scale deployment of AI in cyber security, and a pioneer of autonomous response technology.' The company protects clients from ransomware, cloud, and SaaS attacks in over 100 countries, and has more than 1,600 employees.
In its recent Q1 2022 trading update on 13 October, CFO Cathy Graham said that 'we have continued our strong performance into the first quarter of FY 2022, growing our customer base, ARR and revenue.' And the figures back her up. Darktrace has increased its customer base to 5,957, up 42.7% year-on-year. Consequently, Annualised Recurring Revenue was $381.5 million as of 30 September, up 45.9% year-on-year.
And revenue for the quarter was $93.1 million, up 50.8% over Q1 2021. Moreover, due to currency fluctuations, the company has upgraded its year-over-year revenue growth expectations to between 37% and 39%.
The future for the Darktrace share price is uncertain. It's adding customers and growing revenue, so a recovery is very possible. But an institutional sell-off shortly after an analyst downgrade is putting pressure on the stock for now.
Charles Archer | Financial Writer, London
04 November 2021