Australia's inflation rate beats expectation, ASX dips further to break long-term trendline
---
Australia's annual inflation rate rose to 3.5% in Q3, above market estimates of 3.2%.
Source: Bloomberg
The Australian Bureau of Statistics reported the nation's yearly inflation rate today.
The annual inflation rate, ending December 2021, rose to 3.5% from a 3.0% in the third quarter (Q3), above market estimates of 3.2%. The reading is likely to be viewed as powerful evidence for a rate hike sooner rather than later.
Underlying inflation hit 2.6 %, ahead of the Reserve Bank of Australia's (RBA) official forecasts of 2.25% until mid-2023. The strong December reading is expected to force the RBA to rethink its monetary policy roadmap, including ending its $350 billion bond-buying programs in February and raising the current historic low cash rate two years ahead of the previous schedule.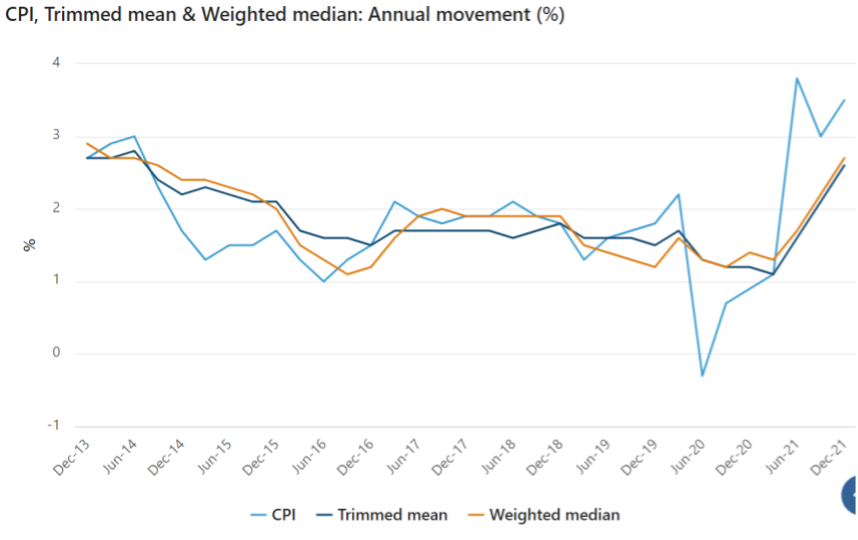 Source: Australian Bureau of Statistics
ASX
After ten consecutive days of dropping, the ASX has now broken through the trendline support from mid-2020, and the weekly RSI is at its lowest level since the pandemic started, suggesting the momentum has shifted to bearish.
Technical support can be found next at 6885, the high back to one year ago. Technical resistance can be found at 7150.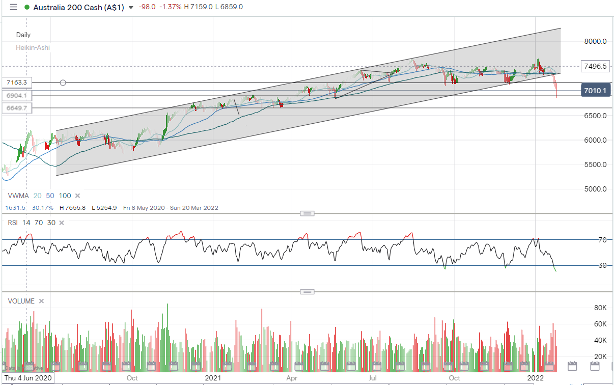 Source: ProRealTime
AUD/USD
The AUD/USD pair rebounded from a four-week low following a stronger-than-expect inflation reading (referring to the 4-hour chart).
From a short-term perspective, the pair will eye the next resistance level at 0.719, coinciding with the 20 day moving average, should the trend persist.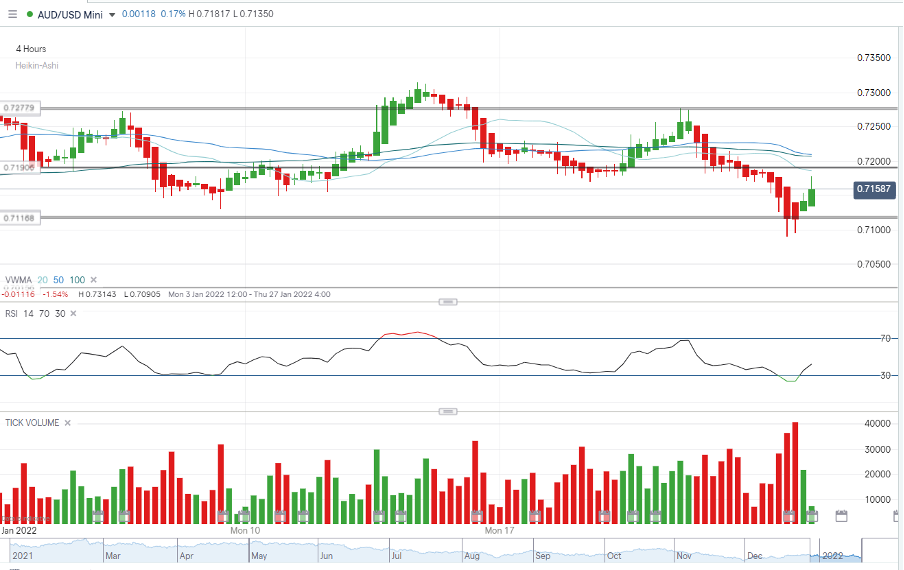 Source: ProRealTime
However, from a longer-term perspective, the slide from the past two weeks has brought the pair under all the major moving averages fuelled by the market's prospect of a Federal Reserve lift-off as early as March. The concern will continue to weigh on the Aussie dollar as the greenback is anticipated to gain more support.
Based on the daily chart, the level of 0.711 is currently providing strong support, while if broken could send the pair to its yearly low at 0.7015. On the other hand, the next challenge will sit on 0.7190 for the currency pair.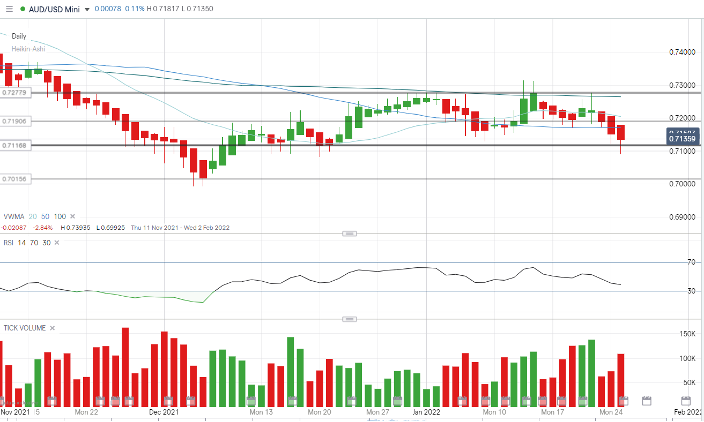 Source: ProRealTime