BoE to hike, providing a boost for sterling?
---
Expectations of a rate hike at the upcoming BoE meeting have driven a rise in GBP/USD. Will the bank be hawkish enough to keep the rally going?
Source: Bloomberg
What do markets expect from the BoE?
The Bank of England (BoE) is almost certain to hike, given commentary from the governor in recent weeks. In addition, the fact the bank was willing to hike in December, despite the uncertainty caused by Omicron, suggests that it is no longer prepared to let Covid uncertainty hold back its policy decisions. Now that cases are dropping further, there is even less rationale to hold back from any further increases.
Other considerations to note
The last meeting saw an 8-1 vote in favour of raising rates. This time around, more members may vote against. Further disagreement will probably build as the year goes on, particularly if inflation begins to moderate.
Traders might also want to watch for an announcement that the bank will stop reinvesting the proceeds of bonds purchased under its quantitative easing (QE) programmes. It has said this will begin when UK rates hit 0.5%, which is what we expect to see at this meeting.
While the bank will most likely suggest that more tightening in terms of rate hikes will come later in the year, it may not meet the currently rather-aggressive pricing suggested by markets, which are forecasting five more hikes this year.
GBP/USD outlook
While the pound enjoyed a strong rally against the US dollar in December, it fell back from mid-January.
While this looked like a resumption of the downward move that has been in place since May 2021, the price has been able to form a higher low at the end of January. Since then the pair has rallied, moving back above the 50- and 100-day moving averages.
If the BoE can issue a suitably hawkish forecast then further gains may result, potentially bringing the January peak at $1.37 back into play.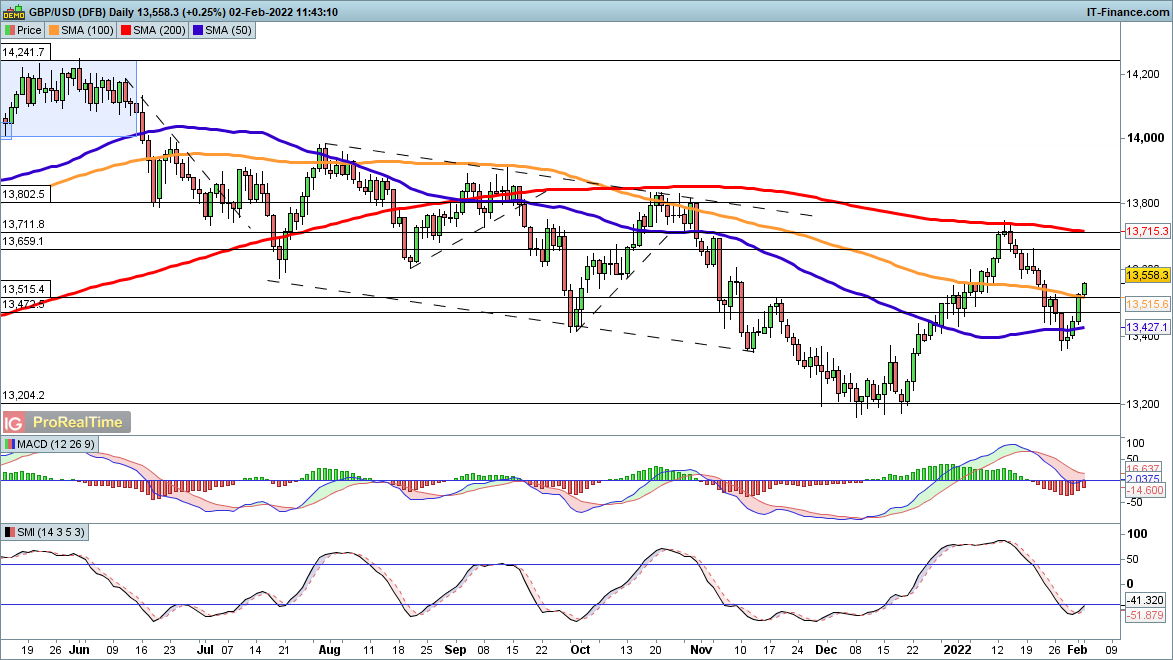 Source: ProRealTime