Tesla Q2 earnings: will earnings help or hinder plight to break from bearish trend?
---
Tesla report Q2 earnings on Wednesday, with rising inflation and Chinese Covid-19 lockdowns expected providing key headwinds over recent months.
Source: Bloomberg
When will Tesla report their latest earnings?
Tesla report their earnings for the second quarter (Q2) pre-market on Wednesday 20 July, 2022.
Tesla hoping to change the tide after prologued selling pressure
Tesla will hope to chance the tide after the stock found itself on the receiving end of selling pressure in recent months. The company has been suffering from Covid-19 pandemic-related lockdowns in China, with production and costs likely to be a big focus as a result. That being said, the company has recently announced that they produced a record high 78,906 China-made vehicles last month (145% on May figures). The question is at what cost that ramp-up in output took shape. The company shipped a total of 255,000 vehicles in the Q2, underperforming against their Q1 2022 figure of 310,000.
A look at their Chinese competitor BYD has highlighted the potential to perform well despite ongoing problems in the country. The 21% rise in production and improvements to their implied net profit margins do provide some hope for Tesla shareholders.
The company faces a number of pressures for the coming months, with rising inflationary pressures putting businesses on the back-foot. Elon Musk has floated the idea of cutting prices in the event that inflation continues to push higher, thus raising fears over both margins and sales. Meanwhile, the company continues to lay off employees, with head count expected to be reduced by roughly 10% by the time the expected recession hits.
Highly elevated stock valuations have come into focus given the affordability and disposable income issues coming into focus. This will likely ramp-up as interest rates surge higher, with financing costs expected to react in response to dramatic hikes seen across the Western world. Meanwhile, recession fears will ensure that traders keep a close eye out for guidance on the second half of the year.
Tesla earnings – what to expect
Revenue – $17.28 billion vs $11.96 billion (Q2 2021) and $18.76 billion (Q1 2022).
Earnings per share (EPS)

 

– $1.86 vs $1.45 (Q2 2021) and $3.22 (Q1 2022).
Tesla earnings – valuation and broker ratings
Analysts are largely positive for Tesla, with the majority looking for a return to strength despite current struggles for the stock. Out of 45 analysts, there are 16 'strong buy' or 'buy' recommendations, 10 'hold' recommendations, and nine 'sell' recommendations.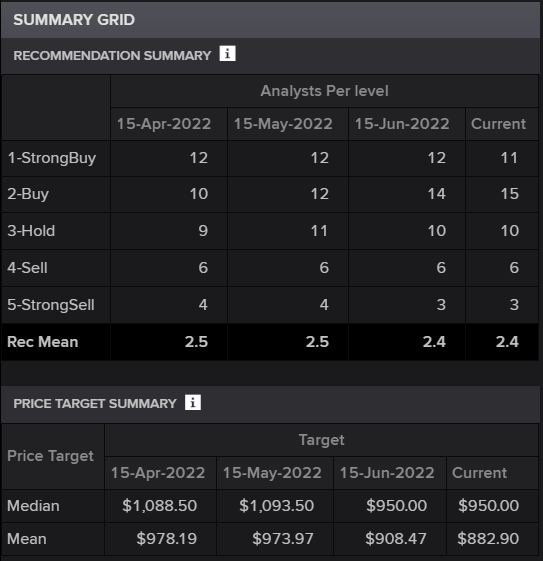 Source: Eikon
Tesla shares – technical analysis
What was previously perceived to be a one way-train, Tesla shares have finally hit the buffer after falling 37% in the last three-months alone. The weekly chart highlights the key support zone below, with the August 2020 peak and 2021 lows bringing a critical level to watch. A break below that $538.38 threshold would signal a potential wider collapse coming into play for the stock.
Source: ProRealTime
The daily chart highlights the consolidation taking shape over the course of the past two-months. Interestingly, this looks much like the price action in Q1, highlighting how we could see another pop higher even if it is a retracement. A push through $792.55 would signal such a move coming into play. As such, watch for a break through either $792.55 (bullish) or $648.73 (bearish) to bring about a signal of where we go from here.
Source: ProRealTime