Higher-for-longer tightening path remains the dominant theme: Nasdaq 100, Hang Seng Index, USD/JPY
---
Another lift higher for US Treasury yields overnight translated into the third straight day of negative performance for major US indices, as market pricing for a higher-for-longer tightening path remains the dominant theme.
Source: Bloomberg
Market Recap
Another lift higher for US Treasury yields overnight translated into the third straight day of negative performance for major US indices (DJIA -0.96%; S&P 500 -1.10%; Nasdaq -1.12%), as market pricing for a higher-for-longer tightening path remains the dominant theme. The US two-year yields have delivered its highest level since 2007 at 3.46%, while the US dollar continued to hang around its 20-year high. Pre-market gains took a turn with the higher-than-expected August inflation figure in Germany (7.9% versus 7.8% expected), before the release of the US job opening numbers exacerbated the sell-off.
To recall, US job openings increased to 11.2 million in July, coming in higher from June in what was largely expected to be a decline. US consumer confidence data towered above expectations as well, coming in at 103.2 versus the 97.7 consensus. The latest job-opening figure is in line with the numbers at the start of the year, suggesting that demand for labour may not have cooled as much as some may expect. With that, it could bring a mood of caution in the lead-up to the August US non-farm payroll later this week, where another blowout reading will further fuel calls for more aggressive tightening from the Federal Reserve (Fed). A 200,000-300,000 pre-Covid range could be much needed to relieve some tightening fears, coming after four straight months of outperformance.
Further push back of a dovish pivot also came from voting Fed member, John Williams, which firmly sit in the higher-for-longer stance for rates. This largely echoed the tone from Fed Chair Jerome Powell at its recent Jackson Hole speech, with market pricing for the rate-cut timeline being pushed back to July-September next year on recent hawkish comments, as compared to previous market expectations in May.
Yesterday's sell-off has dragged the S&P 500 below its key psychological 4,000 level, with all three major US indices closing below their 50-day moving average (MA) overnight. For the Nasdaq 100, an upward trendline connecting higher lows since June has also given way. The index may attempt to hang above the 12,200 support level over the coming days but overall bearish bias remains, with the 12,500 level on watch as a key confluence of resistance to overcome.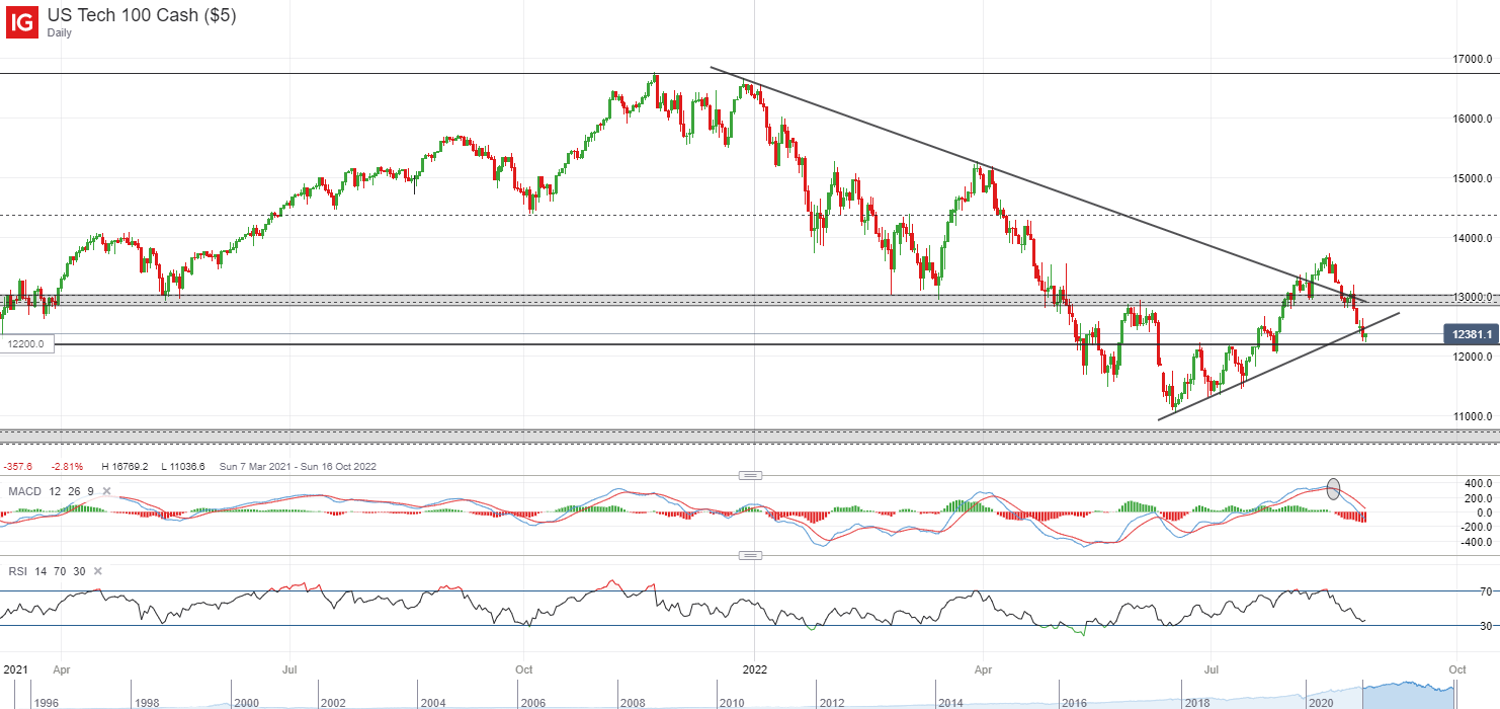 Source: IG charts
Asia Open
Asian stocks look set for a negative open, with Nikkei -0.80%, ASX -0.59% and KOSPI -0.73% at the time of writing. The dented risk sentiments from tighter-for-longer central banks' policies are likely to weigh on sentiments in the region once more, without any positive lead from Wall Street over the past few days. Further headwinds will leave Chinese equities on watch today for some downward pressure. For one, the implementation of virus restrictions in several parts of its biggest cities (Shenzhen, Chengdu, Dalian) continues to highlight its struggle in containing spreads, with its tough zero-Covid-19 stance presenting a lower-for-longer growth picture. Rising tensions between China and Taiwan remain a headwind for risk sentiment as well, with Taiwan firing warning shots at a Chinese drone for the first time ever, coming shortly after Taiwan President ordered its military to take 'strong countermeasures' against what she termed as 'Chinese provocations'. While further escalation could be the less-likely scenario, the lingering uncertainty of potential retaliation could still drive some paring of risks until greater clarity is presented.
Other catalysts driving market moves may include the kickstart of audit inspection of several US-listed Chinese companies, including Alibaba, next month by US regulators. Aside, latest results from Baidu has shown its first quarterly revenue contraction in two years of 5%, but still beat the already-low market estimates from growth in its cloud business. Revenue for its Artificial Intelligence (AI) cloud unit grew 31% year-on-year (YoY).
Overnight, the Nasdaq Golden Dragon China Index was down close to 2%. Futures in Hong Kong pointed to a 2% drop as well. Despite earlier gains on some relief in delisting fears, the Hang Seng Index seems on route to retest its previous support level at the 19,500 level. Further downside could leave the 18,800 level on watch next.
Source: IG charts
On the watchlist: USD/JPY back to retest its highest level since 1998
The recent rise in US Treasury yields has placed the yield-differential narrative back in focus, which has been the key driver for the USD/JPY over the past two years. With that, the currency pair is back to retest the 139.20 level, which marks its highest level since 1998. The upcoming days could be a make-or-break moment, considering that the US 10-year yield is hanging at a key resistance around the 3.12% level. While the USD/JPY continues to trade on an upward bias since early-August, the four-hour chart has revealed a bearish divergence on moving average convergence divergence (MACD). Failure to break past the 139.20 level could translate into a near-term retracement to retest the 136.50 level for a new higher low.
Source: IG charts
Tuesday: DJIA -0.96%; S&P 500 -1.10%; Nasdaq -1.12%, DAX +0.53%, FTSE -0.88%