Counting down to FOMC meeting: Brent crude, USD/CNH, US Dollar Index
---
Cautious sentiments seem to have caught up with further yields rise this week, coupled with some de-risking in the lead-up to this week's FOMC meeting.
Source: Bloomberg
Market Recap
While the relief rally in Wall Street last Friday was able to shrug off higher US Treasury yields, cautious sentiments seem to have caught up with further uptick in yields this week, coupled with some de-risking in the lead-up to this week's Federal Open Market Committee (FOMC) meeting. The US dollar regained some strength, seeking to challenge its recent near-term downward bias at its three-day high. While current market pricing is firmly in the camp of a 75 basis-point (bp) hike this week, it has shifted to be more undecided between a 75 bp and 50 bp for December. There are also some brewing expectations that a move above 5% for Federal Reserve (Fed)'s terminal rate could be warranted to curb more persistent inflation, with the market indecision likely to continue over the coming days until clarity is sought from Fed Chair Jerome Powell.
The economic calendar yesterday saw higher-than-expected inflation reading out of the Eurozone, which increases pressure for the European Central Bank (ECB) to stay the course on tightening through a likely recession this winter. The US Chicago Purchasing Managers' Index (PMI) also contracted more than expected, but seems unlikely to sway Fed's decision, with a move towards 4.5% seemingly in place no matter what. The defending of the 3,800 level for the S&P 500 could still leave hopes of further upside alive, but much may revolve around the single Fed meeting to determine the trend over the coming weeks.
US President Joe Biden called for oil and gas companies to use their record profits to increase production or pay higher tax rate, but a decision on taxes will be hard to pass through and seem like a move to put the onus of elevated oil prices on the companies ahead of the mid-terms election. Brent crude prices have been largely in consolidation over the past days, with a recent attempt to retest the upper channel resistance. An upward break could pave the way for the key psychological US$100.00 level next but mounting recession risks will remain a key factor in keeping downside risks for oil prices intact.
Source: IG charts
Asia Open
Asian stocks look set for a mixed open, with Nikkei -0.08%, ASX +0.32% and KOSPI +0.82% at the time of writing. Sentiments are largely trending on some wait-and-see, with some doubts on whether recent hopes of a downshifting in Fed's rate hikes after November has been too optimistic. The day ahead will place focus on the Reserve Bank of Australia (RBA) interest rate decision. After switching to a smaller 25 bp hike in the previous meeting, recent outperformance in quarter three (Q3) inflation figure has placed the RBA under some pressure to reconsider its decision. Consensus expectations are still leaning towards the stance that the RBA will stay the course on 25 bp hike but the rate hike process seems likely to continue at each meeting, with market pricing for a terminal rate at 3.85% before any consideration of a 'dovish pivot'. The AUD/USD remains in a wait-and-see mode, consolidating around a key Fibonacci level. A break above the downward trendline may be warranted to suggest a greater shift in sentiments to the upside.
Source: IG charts
Underperformance in China's official manufacturing PMI figure reinforced the economic challenges faced by China, as renewed virus curbs dampened hopes of a clear recovery ahead. The USD/CNH seems headed to retest a previous bearish shooting star, with the overall upward trend firmly anchored by a trendline support for now. This places the 7.40 level on watch ahead.
Source: IG charts
On the watchlist: US dollar index trading within near-term descending channel pattern
After coming off its September peak, the US dollar index seems to be largely trading within a near-term descending channel pattern. The overall upward trend may remain intact, but the formation of recent lower highs and lower lows are a reflection that markets are hoping to see signs of peak hawkishness from the Fed, which can only be confirmed by Fed officials in the upcoming meeting. Near-term resistance for the US dollar could be at the 113.00 level, where the upper channel resistance resides. For more conviction of a broader trend reversal, a move below 108.70 may be warranted as it will mark the breakdown of a longer-term trendline.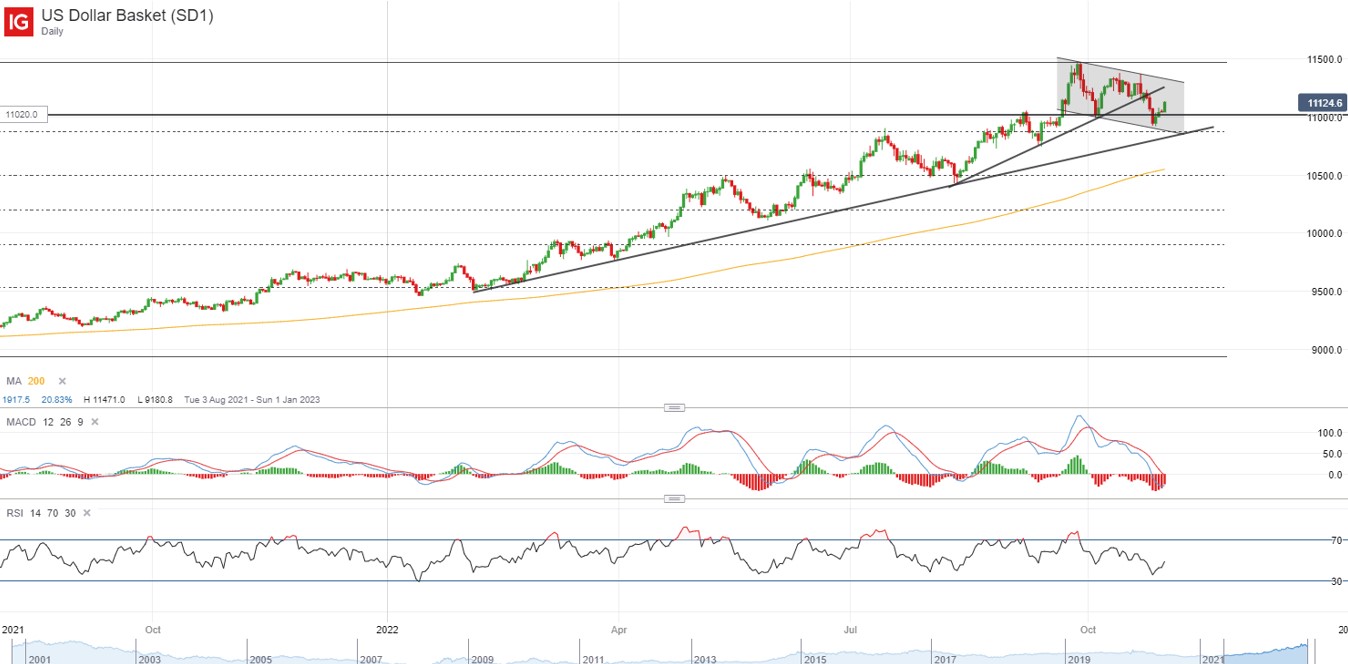 Source: IG charts
Monday: DJIA -0.39%; S&P 500 -0.75%; Nasdaq -1.03%, DAX +0.08%, FTSE +0.66%