​​Where to next for FANG stocks post Nvidia's stellar results?
---
The resumption of the FANG stocks long-term uptrend calls for new record highs.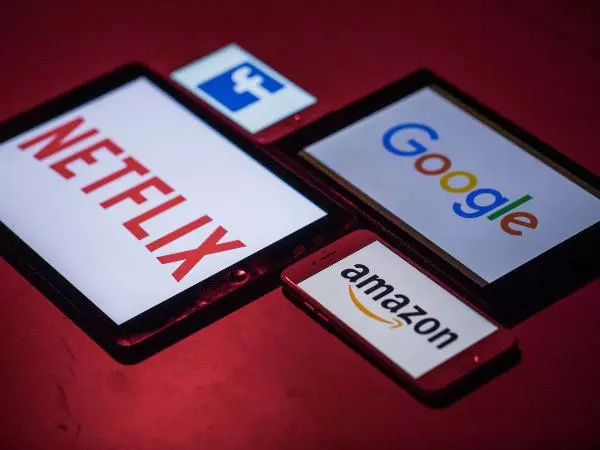 Axel Rudolph FSTA

 

|

 
Senior Financial Analyst
,
London
| Publication date:
Thursday 24 August 2023 13:47
Where to next for FANG stocks?
Following much-better-than expected results by the chip maker Nvidia and a surge in its after-hours share price by close to 10%, taking it to an all-time record high, how do FANG stocks fare?
(Former) Facebook (Meta), Apple, Amazon, Netflix and Google (Alphabet) shares have benefitted from the ongoing Artificial Intelligence (AI) mania and have resumed their collective long-term uptrend when looking at the FANG index.
FANG Daily Chart
The fact that the July-to-August resistance line at 7,660 has been breached and that a daily chart close above the 55-day simple moving average (SMA) at 7,747 has also been made with Wednesday's close, indicates with a high probability that the recent correction has run its course.
Once the June peak at 7,925 has also been overcome, not only is the current July all-time high at 8,298 likely to be exceeded but a new record high is also expected to be hit before the end of the year.
FANG Weekly Chart
Only a currently unexpected slip back and fall through last week's low at 7,179 would question the bullish outlook.
Which stocks are likely to outperform?
When looking at the FANG constituents one can clearly see that Meta has been a great outperformer year-to-date with its shares rising by 135%, driven by AI- and Threads- related profits, followed by Amazon's near 58% rise, ahead of the other FANG companies' around 45% advance.
FANG comparison chart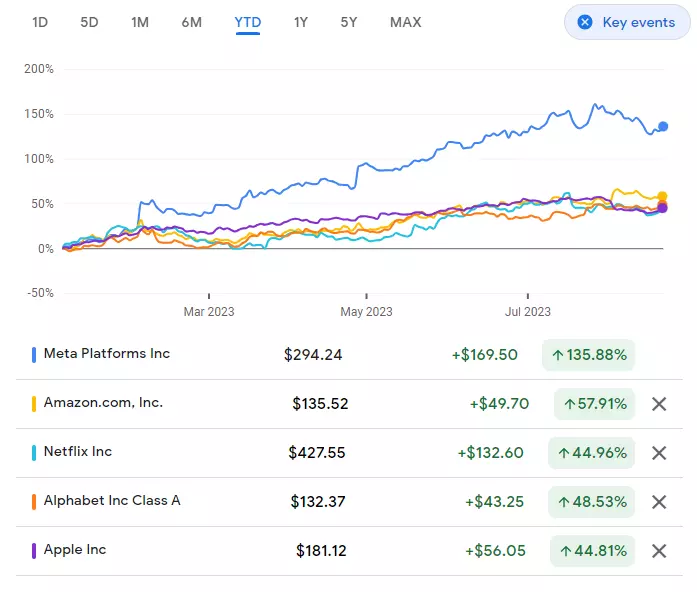 Source: Google Finance
Over the past month Alphabet and Amazon have outperformed Meta, though, rising respectively by around 9% and 5%, compared to Meta's 1% advance, as their AI projects have also gained investors' attention and Meta's share price took a nosedive over the past few weeks.
Since much of the past month was spent in a downward corrective phase for all U.S. stocks, the relative out- or underperformance of individual FANG stocks during this time might not be representative. It is therefore hard to say which of these stocks will outperform on a relative basis until the year end.
What about Microsoft?
Stocks like Microsoft, although also involved with AI, still lag FANG stocks with a year-to-date gain of around 37% and are unlikely to outperform these in the near future.
And Nvidia?
Nvidia's stellar share price rise of around 240% year-to-date dwarfs all others with the share expected to open above the psychological $500 mark in new record highs on Thursday.
A 170% increase in Nvidia sales this quarter, doubling of its revenue quarter-on-quarter and significantly increased profits due its 60% market share and the growth in AI have propelled it and other technology mega stocks significantly higher.
This upward momentum is likely to continue for the foreseeable future.
1