Best tech stocks to buy in Q4 2023
---
What are the best technology stocks to buy in Q4 2023?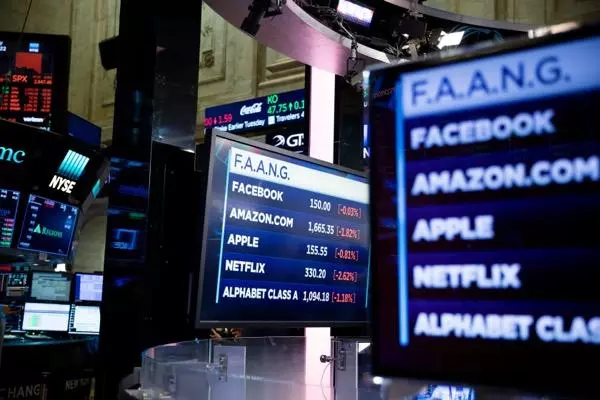 Concerns about rising US interest rates have hit major technology stocks for six. Robust economic data has meant that the US Federal Reserve is expected to continue to increase rates going forward, instead of trimming them, as some traders had expected.
The NASDAQ index fell by 2.6% last week, as did the FTSE AllWorld Index. Major technology shares have taken a drubbing, with the likes of Alphabet, Apple, Meta, Amazon, Tesla and Nvidia losing a combined $900 billion in market value, according to the Financial Times.
However, this means that there are a number of bargain tech stocks available, which could recover in time when the market comes back, although investors may need to be patient, given the economic climate.
Here are some of the shares we think could be worth investing in. These stock selections have been made based on their market capitalisation, growth prospects and earnings quality. However, only invest money you can afford to lose.
Apple – buying opportunity?
Shares in the iPhone giant have dipped this summer after a strong run earlier this year and are now down 0.2% for the year. The shares reached $196 in July but have fallen back to $174.50, which could represent a buying opportunity. The company posted record service revenue in its recent third-quarter results.
"We are happy to report that we had an all-time revenue record in Services during the June quarter, driven by over 1 billion paid subscriptions, and we saw continued strength in emerging markets thanks to robust sales of iPhone," said Tim Cook, Apple's chief executive.
Apple also generated operating cash flow of $26 billion, returning more than $24 billion to shareholders, while Apple's chief financial officer Luca Maestri says its installed base of devices "reached an all-time high in every geographic segment". However, quarterly revenue fell to $81.8 billion, down 1% year-on-year, which has also weighed on the shares. Nevertheless, analysts at broker Wedbush think Apple shares could hit $230.
Source: Bloomberg
Microsoft – solid returns
These days in some ways Microsoft Corporation is perhaps more like a utility firm than a pure-play tech company, albeit it doesn't pay a utility firm dividend. Recent fourth-quarter results were strong, with revenues up 8% to $56.2 billion, while operating profits increased by 18% to $24.3 billion. Microsoft is seeing strong revenues for its Cloud product – with sales up 30% during the period – although Windows OEM (original equipment manufacturer) sales are down 12%. Full-year net income was slightly down on last year, however, at $72.4 billion ($72.7 billion in 2022).
Its planned takeover of gaming firm Activision Blizzard has hit snags with regulators in the UK. However, Microsoft is receiving buzz related to its efforts in artificial intelligence and its new product Chat GPT, which is translating into orders.
"Organizations are asking not only how – but how fast – they can apply this next generation of AI to address the biggest opportunities and challenges they face – safely and responsibly," said Satya Nadella, chairman and chief executive officer, told investors at the recent results. "We remain focused on leading the new AI platform shift, helping customers use the Microsoft Cloud to get the most value out of their digital spend, and driving operating leverage."
At $316.48, Microsoft shares are up 9% this year but off their recent 10 year highs of $351.47. The shares are admittedly highly rated, on a price earnings ratio of 32, but analysts at broker Redburn think they could bounce back up to $440, having recently trimmed their target price from $450.
Cisco Systems to benefit from Artificial Intelligence
Shares in Cisco Systems are up 11% this year to $55.04 but, on a price earnings ratio of around 18, they are relatively lowly rated compared to other technology firms in the sector. The likes of Apple, Alphabet and Microsoft trade on PEs of around 30. Cisco shares also have a dividend yield of around 3%, which may appeal to income seekers. The US firm provides networking, cloud computing and IT security services.
While recent figures were a little lacklustre, with earnings forecasts relatively flat for 2024 with full-year revenues expected to be around $57-$58 billion again, Cisco Systems' chief executive Chuck Robbins says the company may benefit from AI going forward.
"The acceleration of AI will fundamentally change our world and create new growth drivers for us," Robbins told investors on the recent results conference call. "While AI has been an important element in our products for several years, this quarter we announced new market-leading AI technologies across our collaboration and security portfolios designed to boost productivity, enhance policy management, and simplify tasks. This is a huge opportunity for Cisco."
Analysts at broker Raymond James recently increased their price target on the shares to $65 from $64. They are currently trading below their three-year highs of $63.
Alphabet – buy on dip?
Like the other so-called 'Magnificent 7' tech stocks, shares in the owner of Google have fallen to $133.74, hit by the flight from growth shares following concerns over rising US interest rates.
However, the recent fall may represent a buying opportunity. The shares are trading below their five-year highs of $148, last seen in July 2021, on a rating of around 28. Fourth-quarter revenues rose 7% to a healthy $74 billion, with resilience in Google search, which generated $41.6 billion in sales (up from $40 billion in the same quarter last year).
Another firm benefiting from the buzz in artificial intelligence, the company is seeing growth from AI-powered search, YouTube and Cloud and has been trimming its cost base.
Analysts at broker Susquehanna think the shares could reach $150, while those at Oppenheimer think they could hit $160.
Past performance is not a guide to future returns.